By Aurora Meunier Mott
Editor's note: In this most recent Coop's Kaper, an enthusiastic young sailor enjoyed her first taste of overnight sailing on a delivery after the Bermuda 1-2 Race.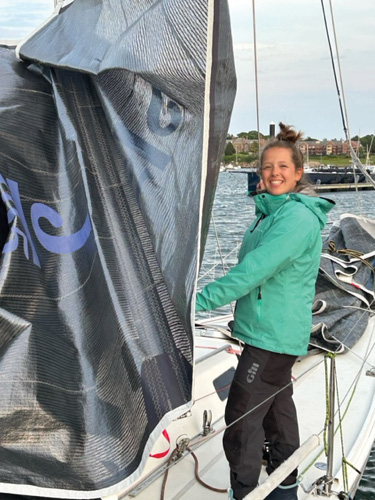 I recently got an amazing opportunity to sail with Peter Becker on the Young American Sailing Academy's J/105 Young American from Newport, RI to Rye, NY. While I was at work I got a text from Joe Cooper, my high school sailing coach, asking if I was free to sail that night. I immediately said, "Yes!" A few hours later I was at Sail Newport nervous, excited, scared, all of the emotions that you get doing your first mini offshore adventure. I said "Hello" to Peter and he said to get on board, see where everything is, and get comfortable. Coop instantly started giving me a flood of information about the boat, and what everything does. You should've seen my face when he started telling me all this. I was just trying to retain half of it.
In no time, Peter and I were putting our foulies on and getting launched off the dock by my dad, Coop and Peter's wife. The sun was setting, the wind was blowing and the waves were coming over the deck. I thought to myself, "I'm really doing this." It seems small but I'd never sailed this far from home before. The sun further set and the stars came out. Looking at them I discovered a new type of love for the ocean. There's minimum light pollution offshore, and just an amazing view.
I'm from Westerly, so when I was passing Misquamicut Beach I texted my mom and dad "passing westerly." I instantly got a text from my mom which was a picture looking out from the beach with a small green light gleaming in the background. At this time I was feeling a little homesick but at the same time I felt proud of myself and I knew that my parents were proud of me, too.
It was now dinnertime. I'd never had freeze-dried food and was a little hesitant at first but I was hungry so I went for it. While Peter was showing me how to make the food down in the cabin I was getting a little nauseous. At this point I was thinking, "How do I tell Peter Becker, the winner of his class in Bermuda 1-2, that I am getting seasick? How unbelievably embarrassing!" I asked, "Peter, is it okay to eat my food in the cockpit? I don't feel so well." There I was, trying to eat this freeze-dried Shepherd's Potato Stew with Beef, but I only ate half. In my defense it was for two people.
A couple hours later it was sunrise and we were in Long Island Sound. We put up the spinnaker, and what a difference. After around three gybes we were in Rye and it was time to derig and get on the mooring. I cannot thank Coop, Peter and my parents enough for this amazing experience. The most important lesson that I learned on this trip is that I am capable of more than I thought. I just need to gain the knowledge and believe in myself and I will be on my way to become a successful sailor. ■
Aurora Meunier Mott is a 17-year-old resident of Westerly, RI. She attends The Prout School (Class of 2024) where she sails on their 420 Sailing Team. She began sailing at 14 and hasn't been on land much ever since. She can often be found teaching kids how to sail at New England Science and Sailing in Stonington, CT or in her own ILCA with Newport Fleet 413, the MudRatz Sailing Team out of Mystic, CT, or NESS.