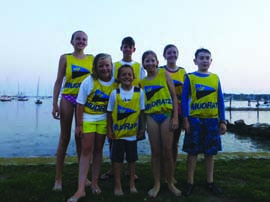 Twelve Optimist sailors started their summer sailing early this year by joining the Eastern Connecticut Sailing Association (ECSA) MudRatz Opti Race Team, which began May 19. Open to any sailor in ESCA and based out of Ram Island Yacht Club in Noank, CT for the spring, MudRatz was created to help keen juniors develop and improve their sailing and racing skills. MudRatz is a US Sailing Certified Member Organization, with startup funding provided by the ECSA and the Mystic River Mudhead Sailing Association.
Learning how to dress for the spring conditions was the first lesson taught by coaches OJ O'Connell and Corey Fast. The six sessions offered the MudRatz opportunities to experience sailing in a variety of conditions, fine-tune boat handling skills, and learn about updated racing rules.
Competing in the Center for Hospice Care Stonington Dinghy Club Benefit Regatta in Stonington, CT, these MudRatz raised over $2,600 for the Center for Hospice Care of Southeast Connecticut. In the front row are (l – r) Bella McCarthy, Dylan Flack, Megan Gimple and Evan Spalding. In the back row are Lily Flack, Jacob Freeman and Lisa Spalding. © Tori Gimple
As this issue went to press, the MudRatz were on their way to Newport, RI to compete in the Narragansett Bay Junior Race Week and US Sailing Olympic Festival, a three-day event hosted by Sail Newport in mid-August. "I am so excited to sail in Newport," said Megan Gimple, age 13." I would never think of going to a big regatta by myself, and having my teammates and coach there will be awesome!"
The goal of MudRatz is to provide options for enthusiastic kids who want to sail competitively before and after the summer season. Starting in mid-September, MudRatz fall clinics will be held at Niantic Bay Yacht Club in Niantic, CT. For more information, check out mudratz.com.