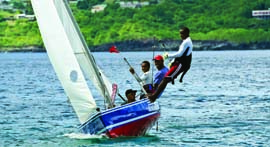 A group of enthusiastic young sailors on the tiny Caribbean island of Bequia are anxious to test their skills in regattas in the United States, but significant financial hurdles have thus far prevented them from making the leap from their home in the northern Grenadines into America's competitive waters.
If you have never heard of Bequia (pronounced "bek-way"), look on a map for a seven-square-mile pinprick approximately 100 miles west of Barbados in the West Indies. Bequia has a great sailing tradition and has provided crew for countless ships, from cargo schooners to today's cruise liners.
When Jan Costelloe, the manager of the West Marine store in Stamford, CT, visited Bequia this past winter, she had no idea of the memories she would take back. Jan, an avid sailor, found a way to make her stay on Bequia much more than just a holiday memory. "West Marine gives managers a six-week paid sabbatical when you've worked as a manager for ten years, so I took my sabbatical in Bequia," Jan explained. "Bequia is a quiet island with great, protected harbors, and they have good services for cruising sailors. I've visited five times. It's a very special, lovely place, and I would like to spend a lot of time there when I retire!"
"I was staying at a guest house last winter," Jan continued. "Someone asked, 'Do you know about the Bequia Youth Sailors?' I did not, so they brought me down and introduced me to Andy Mitchell, the founder of the program. Andy is a longtime sailing captain who has worked on big yachts in Newport, Rhode Island. He realized that Bequia has tremendous natural resources – the water and the kids – and he created this program to develop world-class sailors and give them a broader career outlook."
Finding that, over the years, there had been diminishing interest in sailing among Bequia's youth, Andy decided to create Bequia Youth Sailors and tackle that problem head-on with a structured training program for children from 6 to 16. He and co-founders Coach Eddie and Christian Schijver obtained an original four Optimists – later increased to eight – and the club was born.
As Tom Calthrop of TradeWinds, a Bequia-based charter company that is a generous sponsor of Bequia Youth Sailors put it recently, "We are always looking for qualified charter captains, and it has irritated me for many years to have to look outside our Caribbean base for the right people. If in a few years time some of the kids that have come up through the training program get qualified and we can employ them, then I'll know all our efforts have been worthwhile."
"These kids are some hot sailors!" Jan enthused. "They're fearless, they understand the water, and they understand their wind conditions. Bequia is a volcanic island. The wind comes down the slopes and is quite shifty. I went out with them on an old, island-built 'double-ender' whaling boat and had one of the rides of my life! It made a huge impression on me. West Marine has a matching policy for associates who make charitable donations up to $250. I put up my funds, and got another sponsor to double my donation. West Marine kicked in their $250, so I purchased some life jackets, sailing gloves and waterproof VHF radios and sent them to the island."
"True North, a Volvo 70 that competed in the 2008 – 2009 Volvo Ocean Race, visited Bequia in January and the crew invited the kids out for a day," said Jan. Members of the Bequia Youth Sailors team have been victorious in several events at home and on neighboring islands, including the Bequia Heineken Easter Regatta, the Canouan Whitsuntide Regatta and the Carriacou Regatta. Andy has even greater ambitions, with his eyes firmly set on Bequia children winning cups in international races. "My team can win!" he said. "What we have to do is get them experienced in sailing in different waters, against different teams and under race conditions."
But Bequia Youth Sailors has its difficulties. Bequia a small, not-very-well-off island with much of the population dependent on fishing or tourism, both of which have been in decline thanks to the world economic situation. Airfares of nearly $1,000 per child to attend distant regattas have become a big obstacle without serious sponsorship. Whilst local support – and some international support – has been forthcoming, that has all gone on getting more and better kit, such as sails and safety gear, rather than air tickets.
Other problems have also arisen. "We were invited to the Optimist Regional Championships in Puerto Rico earlier this year," Andy recounted. "We even had sponsorship lined up to pay for our air flights, but three of our children were refused visas by the embassy in Barbados. We have no idea why – and they didn't explain – so it makes getting the team to experience international competition very difficult."
"Andy subsequently received a call from the U.S. government, apologizing for the kids being denied entry into Puerto Rico," said Jan. "They offered Bequia Youth Sailors an opportunity to compete at the Sail Newport Youth Challenge in June." Unfortunately, the club could not afford to send a team to Rhode Island.
Not being able to achieve every dream is not uncommon, but we believe that one day we will succeed if we keep trying. In the meantime, the existing teams keep sailing and racing where they can, whilst newcomers arrive each weekend for our summer program. Kids know sailing's a good way of having fun, keeping cool in the sea and learning – all at the same time!
"I was very impressed with these kids and their skills and attitudes," said Jan. "They have so much raw talent, but they don't have anything similar to what we have here. With a helping hand, they could be participating in all of the big races and perhaps have careers as captains. I hope other sailors who cruise the Caribbean will be interested in sponsoring Bequia Youth Sailors and help the kids along on their path."
Bequia Youth Sailors, a registered charity in St. Vincent & the Grenadines, depends completely on the generosity of its sponsors and supporters, as well as the time given by so many who help run the charity, train the young people and help in many different ways. Visit bequiayouthsailors.org for more information. If you're able to help, please click on 'Making a donation.
Richard Ashton is the CEO of Bequia Youth Sailing. Born in Wales, he started sailing in the challenging waters of the Bristol Channel, which has the second highest tidal rise and fall in the world. He has crossed the Atlantic twice, both times in (different) Prout catamarans.