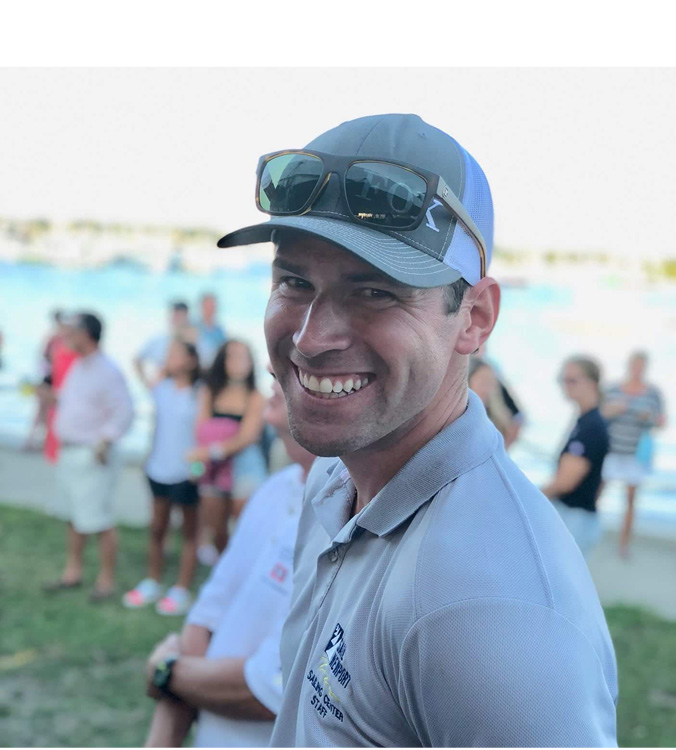 An abiding love of sailing was Matt Duggan's inspiration for a career change, and he hasn't looked back. As the Regatta Manager at Sail Newport, Rhode Island's Public Sailing Center, he's a man who loves his work.
"I grew up in Sandwich, a town on Cape Cod," says Matt, who now resides in Newport. "I started sailing Beetlecats when I was 6 or 7 years old, and eventually moved into Optis. My first boat was a red Opti, #5234. It was a Christmas present, and I remember getting in the boat in snow for pictures. I was so excited and couldn't wait to get on the water."
Matt attended "The School by the Sea," Tabor Academy in Marion, Massachusetts. "I sailed with some incredible people at Tabor," he recalls. "I can think of seven or eight other All-Americans that were at Tabor over my four years there. It was an amazing environment for team racing. I was fortunate enough to have some amazing coaches throughout my life. Brian Swingly, who is now the head coach at Stanford, was my 420 coach for a while. I have so much respect for him and his coaching abilities. I would say that the largest impact was Amanda Callahan, who was my coach in my junior and senior years at Roger Williams. Amanda's talent, work ethic and drive are something to be admired."
Matt earned a bachelor's degree in International Business from Roger Williams University in Bristol, Rhode Island. "I interned and eventually worked at Brown Brothers Harriman through most of my 20s before changing career paths and starting at Sail Newport. Balancing academics and sailing two seasons is difficult, but creates great structure to stay on track."
Founded in 1983 and located in historic Fort Adams State Park, Sail Newport is New England's largest community sailing center. The mission of this non-profit 501 (C) (3) organization is "to promote and operate affordable public sailing instruction, rental programs and to create opportunities to attract new sailors to the sport." With a world-class team, beautiful facility and innovative programs for people of all ages, Sail Newport received US Sailing's Captain Joe Prosser Award for Excellence in Sailing Instruction in 2007 and the 'More than Ten Years of Hallmark Performance' award (2010), and Executive Director Brad Read was honored with the 'Outstanding Organizational Leader' award in 2018.
"I've been at Sail Newport for just over a year now," says Matt. "As Regatta Manager, I am responsible for recruiting events and also the on-the-water organization that goes into planning a regatta. Sail Newport is small in the off-season, so I help out in other departments and areas of work as well. The largest regatta we've hosted, boat-wise, was the U.S. Optimist Dinghy Association New England Championship, with over 220 boats," Matt notes. "This year's Newport Regatta had 145 boats and about 600 sailors, which was the biggest as far as volume of competitors. I think the biggest challenge of running big regattas is managing such a wide range of personalities. There are so many moving pieces to a big regatta, and everyone has different stress levels and styles of learning/managing. I think we do a great job of meeting sailor expectations and valuing our incredible race committee team. We simply would not be successful if it were not for them."
Sail Newport hosted 175 youth teams at the C420 National Championship in July, and this month they're hosting the J Fest Regatta and the Opti New Englands. "We also have the Herreshoff S Class 100th Anniversary Regatta in August, which will be really cool to watch as well," says Matt. "We have a great mix of youth events and adult events this year, which is always fun."
Sail Newport has hosted two stopovers of the event formerly known as the Volvo Ocean Race (now The Ocean Race), and will hopefully host one during the 2021-22 edition. As WindCheck readers know, the City by the Sea was by far the best Host City in the last two editions of that race around the world, thanks to the Sail Newport team and their partnership with a group called Volvo Ocean Race Newport. "During the Newport Stopover in 2018, my role was the Stopover Regatta Manager for Sail Newport," says Matt. "This included recruitment of over 100 on-the-water volunteers, managing media teams and their support boats, and helping ensure overall safety during the In-Port Race and other races that took place that week."
"Sail Newport is unlike anywhere else in this country. We are very passionate about making sailing accessible to our community with programs like the Pell School fourth grade program, and our youth programs during the summer. We also have 'Try Sailing,' which allows people to get a stress-free introduction to sailing at an incredible facility. I think what separates us is being able to do those things while hosting events like the Volvo Ocean Race Stopover and the I-420 Worlds. We love sailing here, and we want to share that passion with as many people as we can."
On Wednesday evenings, Matt races with Newport's Shields Fleet 9, the largest Shields fleet in the United States. "It's the most fun I've had sailing since college," he enthuses, adding that the best thing about his job is "I get out on the water a lot. I can't think of a better place to be." ■