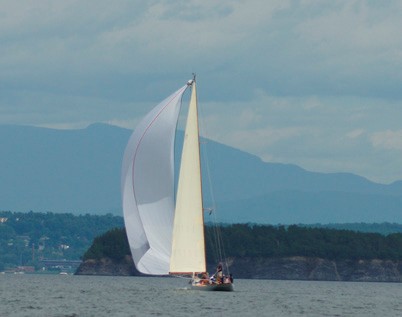 The 12th Annual Regatta for Lake Champlain was held on Saturday, July 25. It was a beautiful day on Lake Champlain, with variable clouds and a pleasant 8-12 knot southerly breeze. There were 45 boats registered to race, ranging in size from 24 to 55 feet.
© John Dupee
Mashnee (pictured) a Herreshoff-designed and built Buzzards Bay 30 owned by Jan Rozendall of South Burlington, VT, finished first for the third time (she also won the R4LC in 2010 and 2013). Mashnee was originally built in 1904, and was completely rebuilt at Darling Boatworks in Charlotte, VT between 2004 and 2007. Rosina, a Swede 55 owned by Noah Dater finished second, followed by Corbeau, a Farr 400 skippered by Jean Pierre Turgeon.
Racing was followed by a festive awards party on the Burlington waterfront. The trophies for the Regatta are engraved rocks from Lake Champlain. In addition to trophies for the top three boatsin the Spinnaker and Non-Spinnaker classes and Overall, the Regatta also awards trophies for Middle of the Fleet, Last Place, Oldest Boat, and a few other things.
The R4LC supports ECHO Lake Aquarium and Science Center at the Leahy Center for Lake Champlain, the Lake Champlain Community Sailing Center, the Lake Champlain Committee, the Lake Champlain Land Trust, Rozalia Project for a Clean Ocean, the Cumberland Bay Community Boating Center, and the Lake Champlain Maritime Museum. For more information, visit RegattaForLakeChamplain.org or contact Jamie Leopold at Jamie@AbleAdvertising.com.