By David Ornstein
Photos by Mary Alice Fisher
High school sailing programs across the country have expanded as a whole, now numbering in the many hundreds across the seven districts that comprise the U.S. high school sailing circuit. But few programs have grown with the speed and success as those of the schools that sail out of Greenwich Harbor in Greenwich, CT, an area that now consistently churns out top finishers, college recruits and world champion sailors.
While the competition is fierce, it's really the close collaboration between the different schools' coaches, parents and kids that has catapulted the teams across the board.
Six years ago, Brunswick, Greenwich Academy and Greenwich High School worked together to purchase an identical fleet of twenty-four boats. After much research, they chose Zim C420s and in the winter of 2016, Brunswick and GA took delivery of six boats each, with twelve for GHS. In 2021, Greenwich Country Day School established its team by chartering six boats. Just one year later, they purchased six boats, bringing the total in Greenwich Harbor to four schools with thirty 420s.
Having identical boats is a great tool. Not only does it give teams equal access to training, but they're also able to host events. This translates to visibility, which in turn attracts more sailors.
Together, the schools co-host two annual spring "Super Saturday" team races with up to twenty teams competing. Other than the host clubs, the other teams are from outside Fairfield County, which helps satisfy the Interscholastic Sailing Association's (ISSA) 15% out-of-league requirement.
The concentration of such a large number of schools and boats has allowed the schools to recruit outstanding coaches. Each of the school teams is led by world-class athletes who have been champions in a variety of classes for many years. These coaches bring their world of experience to the sailors, elevating the level of competition year after year.
And the future looks no less exciting. The schools recently recognized the need to learn about and train in the FJ, which is widely used in high school and college, where there are nearly 200 active teams across the seven regions. Local student-athletes have gone on to sail with some of the country's strongest collegiate programs, including Boston College, Bowdoin, Brown, College of Charleston, Cornell, Dartmouth, Georgetown, Jacksonville U, Stanford and Tufts.
Just this year, the four teams chartered six FJs and share them equally. In the winter of 2024, it's expected that the schools will replace the existing fleet of thirty C420s with thirty new E420s, which will give them the benefit of eight more years of identical equipment.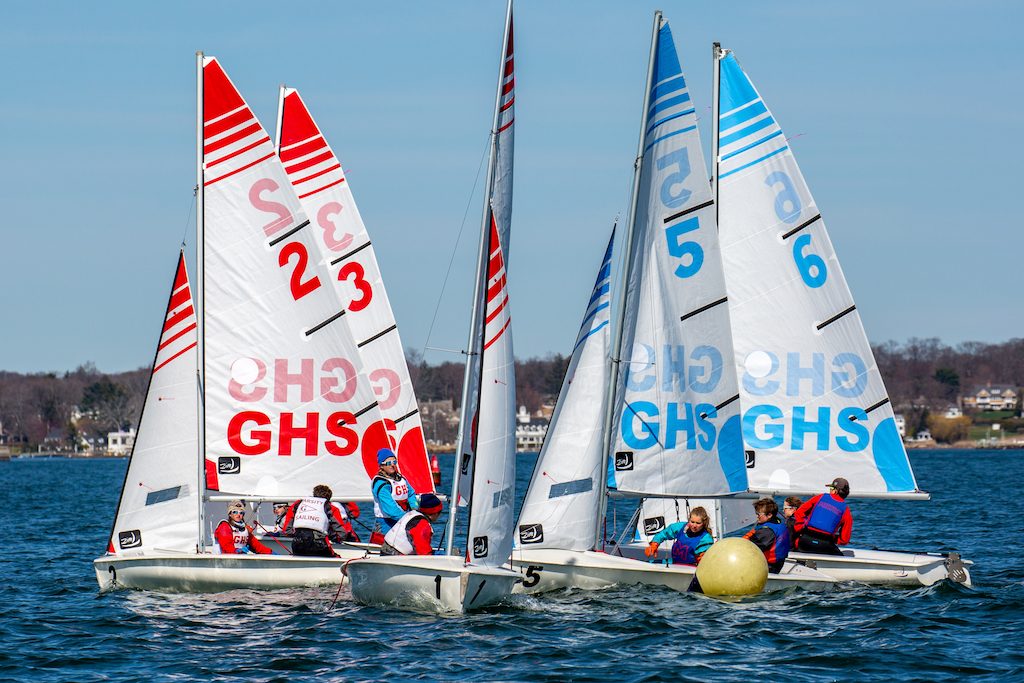 How many future collegiate All-Americans can you spot in this picture?   © Mary Alice Fisher/maryalicefisher.com
"The coordination and effort between the four schools is the secret sauce to having one of the best sailing venues in the country," says GHS Head Coach TJ Danilek. "We all work incredibly hard together for the benefit of the kids and it shows every day at practice."
The teams practice out of Grass Island and Indian Harbor Yacht Club, which has long supported high school sailing. Back in 1930, IHYC Commodore Clifford D. Mallory established an award that still anchors high school fleet race Nationals. It is school sailing's oldest trophy. IHYC is working with ISSA to host the Centennial and having equipment that is all the same will be a very important part of that bid.
The coming of spring in Greenwich has a lot of classic signs. One of them just happens to be a lot of high school sailors afloat, which bodes well for the future of the sport. ■