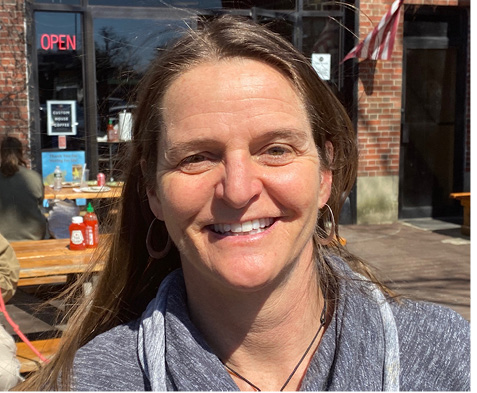 Women on the water need not be elite sailors in Newport. We even have polar expedition leaders in town.
Coop: Kit, thanks for coming out. Where did you grow up, and was sailing a 'thing' in your family?
Kit: (Laughs) You have an hour? I was born in New York City. My dad was in the banking business, and we moved to Japan when I was young – my brother was born there. Then to the UK, then Norway. My dad got an 18-foot daysailer and we sailed that all around the fiords from Oslo.
We had always been around the water: kayaking, swimming, waterskiing, so sailing was just an extension of those experiences where he could spend time with us kids on the water. And we loved that boat! My brother and I would sleep on it in the yard in the winter, in Norway. And then we moved back to the UK. When I was a sophomore in high school, we moved to New Hampshire. I got my first dinghy with an outboard motor, and we would go and play in the water with our friends.
After college I went to work for a marine science institute in the Florida Keys. I taught kids all about the coral reefs, eco-systems, and mangroves. We instructors would bring groups of about fifteen kids on flat top, pontoon-type boats with twin engines and show them the underwater sights. They'd jump in and generally play in the water. It was not a stretch for me, because it was very similar to what I had been doing as a kid myself. I did that on and off for about four years. I started working on dive boats, and earned my Divemaster rating. The diving work led to a job in the British Virgin Islands.
Coop: What was that all about?
Kit: I worked for a charter group called Sail Caribbean, at a three-week summer camp for kids on 50-foot Beneteaus. We'd have ten high schoolers on board, and we would skipper the boats while instructing them in the operation of the boats. We would sail around the islands, teaching them to sail and dive. And that was my foot in the door into the sailing world. I did that for four years and worked my way up to Program Director. I had a fleet of seven boats I was in charge of, 70 students and a whole staff. At that point I was in grad school studying Marine Science.
Coop: (Smiling, nodding and scribbling hard to keep up.)
Kit: From there I got an offer from a woman I had met in the BVIs. She worked for a firm that ran small expedition ships. I never knew such a thing existed. Well, they were looking for someone for the BVI area, and she told them, "I know the person," so I started working on expedition ships.
Coop: How big were those ships?
Kit: One hundred guests, 100 meters.
Coop: Like Blount Small Ship Adventures?
Kit: Yeah, similar size. I started working on that ship in the BVI; the Yachtsman's Caribbean they called it. Then that rolled into Central and South America, Costa Rica, then New England in the summer. That led to work in Alaska.
Coop: Wow!
Kit: Well, it was all well and good, but I had student loans from grad school, and figured I needed a "proper" job. I started working for a land conservation group in Florida, doing education outreach. That work was not too much around the waterfront and I was still doing some expedition work on the side. Then I got a job offer in Rhode Island.
Coop: What was that?
Kit: It was a partnership between NOAA, RI Department of Environmental Management, and the Audubon Society of RI. There's a small research station on the south end of Prudence Island, and I would take the ferry out of Bristol, to the center, and I worked there, I ran a small research vessel we used. I loved it, and worked there for about five years. But then the travel itch flared up again and I quit a perfectly good job to go out and travel the world. Over the next ten years, I visited 130 countries and territories working on small expedition ships. I've been all through Indonesia, Papua New Guinea, Alaska, Artic, Antarctica, and the Russian Far East.
Coop: Was all this with the firm from the BVIs?
Kit: No. I was freelance, and I was a lecturer and Zodiac driver. I would take groups of six or eight guests out on a Zodiac, show them the coastline, the wildlife, amazing stops, into small villages, to see the culture…
Coop: Show them where Shackleton landed…
Kit: Exactly. Elephant Island, South Georgia. I did all this for about ten years. I was at sea seven or eight months a year. I had a little apartment here in Newport, empty, but a great place to come home to. But it all came to a grinding halt with the pandemic. I was on a ship, on a trip from the tip of South America to the tip of South Africa, and we stopped in some of the remote islands across the South Atlantic.
Coop: Tristian Da Cuna?

Kit: We stopped there but were not allowed to land. Because we were COVID-free we were allowed to off load our guests in South Africa, then we turned around and steamed north with no destination…no idea what was going to happen. Anyway, we all survived and now I am working for Confident Captains, Kent Dresser, and the Professional Captains Association.
Coop: What has Kent got you doing?

Kit: I am Director of Operations, and I am back in school again studying Instructional Design and Educational Technology. I have always been interested in education, outreach and technology. I am halfway through an online program with the University of Maine, and it's been great because I am able to help with Kent's online programs. We had a client out on the West Coast last year, and they needed all sorts of standard operating procedures and all kinds of training, so we were able to produce an online learning management system and in-person training, so that was how I started with Kent. Now I'm collaborating with him to grow the business, handling the day-to-day nuts and bolts of it all.
Coop: (Feigns a big exhale) AND then…?

Kit: (Laughing) And I sail here in the summers on Neith.
Coop: Oh, the restored Herreshoff Woodie?
Kit: Yup, with Captain T, and I get to do some of the Classic Yacht regattas in the summer.
Coop: What was the most "Wow!" moment in all those places you have been?
Kit: Oh, that is very hard to say. For a while there I was living this very peripatetic lifestyle. Living, I felt like a citizen of the world, rather than an American. I'd wake up every morning and kinda ground myself by going up on the bridge and asking, "Where are we?" There are lots of beautiful moments that come to mind. Beautiful sunrises and sunsets, leaving tiny indigenous towns in Alaska with fireworks going off on their Founder's Day celebration as we were ferrying the last load of gear back to the ship. I was chased by a bear in eastern Russia. Hiking wild remote areas, without really any plan: "Hey, there is a high point over there. Let's go see." Amazing stuff like that. And meeting local people all around the world.
People ask me what my favorite country was, and it is so hard, they all have great assets. The country that was really profound to me was Indonesia. It is a nation of 15,000 islands, so if you visit one a day it takes a lifetime to visit the country. It's incredibly diverse, stunning visually, and the people are so welcoming.
Coop: What kind of, if any, experiences have you had around the issue of being a woman in a man's environment? The dismissive approach to you because of the "Oh, you're just a woman. What do you know?" type of thing?
Kit: Yes, it is still out there. I have thought it would make an amazing case study or thesis. The firm I spent the bulk of my time with was active around promotion on merit, skill, and ability to do the work. It was not unusual for our company to have women expedition leaders, but if you rewind ten or fifteen years it was very unusual. Do I think I was second-guessed? Yes, there is always that person who thinks they know better. I once had a British couple aboard the Zodiac. They sat down and the woman remarked (Kit adopts a Maggie Smith Downton Abbey voice) "Oh, a lady driver." And I replied, "Oh don't worry. I'm not a lady." They were speechless. But you just take that stuff from the guests in stride and press on and hope they will see the skills and knowledge you have, which is why you, even as a woman, are the driver.
Coop: What would you say to your 16-year-old self?
Kit: Look at every new position as an opportunity to gain experience, especially from your mistakes. Be humble, and willing to fess up to mistakes. Always take advantage of every opportunity for training. Get the licenses and certifications, and take the training, early and often. Having that credibility builds your own confidence, and helps when you are talking to potential employers.
Coop: Kit, thank you. I could listen to you for another hour.

Kit: Thank you. ■