by MARGUERITE KOEHLER
This fall over 40 kids did just that; they came down to the Din-ghy Shop in Amityville, NY and raked masts instead of leaves at Fall Series XIV. For six consecutive Sundays from September 18 to October 30, kids from all over (some as far away as Tred Avon Yacht Club in Maryland and the Royal Bermuda Yacht Club in Bermuda) raced on the Great South Bay while their parents chased them around the racecourse in a kayak or watched from "parent beach." Many had the chance to learn about sail-ing, while others perfected their starting prowess on a line with 30-plus boats. But each sailor was challenged by the conditions on the water and many made new and lasting friendships. My Dad, Jim Koehler, owns the Dinghy Shop, and every fall since my sisters and I started sailing he's opened up our beach to host what has become the largest youth sailing series in the nation. It's something that's really special to him.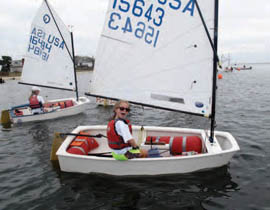 There are two special events in the Series, the Mum Regatta and the Great Pumpkin Regatta. It was a blustery fall day on the bay when the Mum Regatta arrived. Bob Terry, a well-known District 8 Laser sailor ventured out onto and into the water (wearing his drysuit) to film this year's "Great Mum Movie." Sailors competed in a fierce west wind that climbed to 22 knots sustained with recorded gusts of 27…there may have been more bailing then sailing. Big breeze and large waves funneled straight down the bay, making reach legs tricky and mark roundings dicey. It was a test of skill to keep your boat under control. Many sailors stepped up to the plate, stayed out on the water, and did their best to get around the course. At the end of the day, while we all warmed up with great cups of Mrs. Koehler's hot cocoa and cider, Alex Ellis' consistent scores and upright boat "flow-ered" him the 2011 Mum Champion! Alex, who sails out of Unqua Corinthian Yacht Club in Amityville, started racing in the Fall Series six years ago when he was 7.
This year's Series Champion, JC Hermus from Bellport Bay Yacht Club, broke Matt Wefer's (Seawanhaka Corinthian Yacht Club) record by winning the Fall Series three consecutive times. Congratulations to JC. Katrina Catallo from Port Washington Yacht Club was the top girl.
Fall Series XIV was a lot of fun. It's a delight to run this series for junior sailors. I don't know how many of them will keep sailing, but I do know that they'll have good memories from this fall, and it is an honor to be a part of them. I will admit part of me can't believe we've been doing this for 14 years. Each year we have no idea how the Series will turn out, and every one is different. Next September will be the 15th Fall Series, and to commemorate Fall Series XV one lucky sailor will receive a brand New McLaughlin Optimist! For more information, visit dinghyshop.com.