by HOWIE MCMICHAEL
The Storm Trysail Foundation and the Larchmont Yacht Club teamed up to run the world's largest college regatta on October 8 & 9, with 400 collegiate sailors competing in the 2011 Intercollegiate Offshore Regatta on a fleet of 47 boats ranging from 35 to 44 feet. School teams came from across the country to race in the placid waters of Long Island Sound off Larchmont, NY. Three light air races were sailed on Saturday and the race committee started two races on Sunday, but had to abandon each after the wind shifted too much. After the second abandonment the wind died away to nothing and never returned.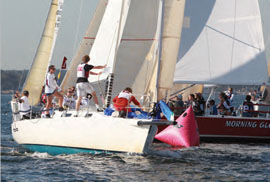 The overall winner was Maine Maritime, which won the eight-boat J/109 fleet with a perfect score of three firsts aboard Jack Forehand's Strategery. They were leading the fourth race when it was abandoned. The other division winners were the US Naval Academy, which won two divisions: the 12-boat IRC 40 class on Jan Smeets' J/133 Bacchanal and the seven-boat J/44 class on Bill Ketcham's Maxine. Tufts University won the five-boat IRC 35 class for the second year in a row on Dave Kellogg's Corby 33 Eclipse. First time participant USC won the 15-boat J/105 class on Julian Croxall's Jouster, prevailing in a tie-breaker with last year's overall winner, the US Merchant Marine Academy at Kings Point, NY. USC traveled all the way across the country to attend the regatta with their coach Mike Segarblum.
Even though no races were sailed on Sunday, both college sailors and the boat owners who lent their boats had a great weekend. Connor Sestudies, the tactician for the Purdue team, summed things up well when he said, "This was a fun college regatta that was a great learning experience for me and my crew. It was a great opportunity to sail on these boats that the owners generously let us use. I'm looking forward to next year." His teammate Matt Steiner followed up saying, "I had very little experience on big boats before this event. After this weekend, though, I'm looking forward to getting into more races. This event definitely opened my eyes to the world of big boats, and I like what I see!"
In this regatta, the boat owners don't give their boats to a college team. Instead, they sail with the teams as coaches and safety officers. In some cases less experienced owners sign up to learn as much as the kids; the Storm Trysail Foundation assigns experienced coaches where needed. One such case was John Maltz, who recently bought the J/105 Sunnyside Up. This is his first year with the boat and he is beginning to climb the learning curve. He sailed with American University, where he was a student, and had experienced J/105 sailor Mike Quaglio as a coach. Within minutes of the regatta finish, Maltz texted regatta chairman Adam Loory to say, "Great regatta. Sign me up for next year. Mike was the best! Thanks."
Thanks to the financial support of the Storm Trysail Foundation and sponsorship from Rolex, vineyard vines, Caithness Energy, Safe Flight Instruments, UK-Halsey Sailmakers, Coke, Heineken and Gill, the regatta was totally free to the participants and the boat owners. Larchmont YC provided free moorings for over 30 visiting boats. For more information, photos and a link to the results at yachtscoring.com, visit stormtrysailfoundation.org/intercollegiate.htm.
Barby MacGowan of Media Pro International contributed this report.