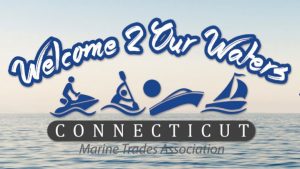 The Connecticut Marine Trades Association supports far more of our waterfront activities than most boaters realize. When Connecticut boaters think of the CMTA (if they ever do think about the CMTA), they typically think of yacht brokers, marinas and the specialized tradespeople who support their boats. But the CMTA is much, much more than that.
We asked Jeff Freidag, Waterfront Manager at Riverside Yacht Club in Greenwich, CT and a CMTA Board Member, about his take. "For sure, most people do not realize the work that the CMTA does to make your love of the water and its pleasures real. The CMTA represents us in Hartford, to the Coast Guard, and to the broader Federal agencies like the EPA. Issues like dredging, environmental best practices, and yes, taxes on recreational boats are all impacted to our benefit by the efforts of the staff and members of the CMTA."
For example, it was the professional lobbying efforts of the CMTA staff that were instrumental in keeping boat yards, marinas, yacht clubs and boating clubs open during the pandemic lockdown. It was the CMTA that got the new boat purchase tax lowered from 6.35% to 2.99% in Connecticut.
Further, did you know that the sales tax on a marine engine, often the most expensive part of a boat, is also 2.99%, rather than 6.35% because of the work of the CMTA? All of this plus training programs and recruitment to grow the marine workforce in Connecticut, something we all need for the present and future. So, is your boat or yacht club a member? Please encourage your membership to become part of the CMTA community! Membership is $299 per year, a very small investment in the health of our sport.
To learn more, log onto ctmarinetrades.org.■