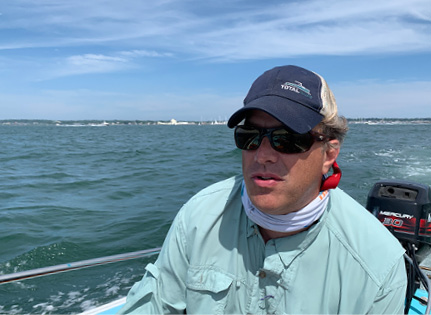 Readers of this magazine will recognize John K. Fulweiler, Jr. as the author of our informative and always entertaining monthly column, "The Boating Barrister." Recognized by the Maritime Law Association as holding Proctor in Admiralty Law status, John is a licensed U.S. Coast Guard Master, an arbitrator with the Boat Owners Association of the United States (BoatU.S.) Salvage Arbitration Program, an adjunct professor at the Roger Williams Law School, and a published author. He also has the helm at Fulweiler llc, a maritime law firm based in Newport, Rhode Island with offices in New York, New York and Fort Lauderdale, Florida.
"I grew up splitting time between New York in the winter and Rhode Island in the summer," says John, who now resides with his family in Jamestown, Rhode Island. "We started living here full time when I was around eleven. My first boats were a 15-foot Lawley sailboat with, oddly for its size, a keel, and a 13-foot Boston Whaler."
As young John began exploring Narragansett Bay, two legendary Ocean State watermen, George Varga and Ron Ackman, served as his mentors. "George and Ron knew a lot, were good teachers, and sailed their own side of the course," he says. "They weren't afraid to let you have responsibility. When it came to racing, my father, John Fulweiler, Sr., taught me competition."
After graduating from the University of Rhode Island, John worked for a towing and salvage company before he started law school. "In the late 1980s and early '90s, the Coast Guard largely stopped supplying towing and salvage services, giving way to the private sector," he explains. "It was a very competitive time. I remember racing other companies to aid vessels in distress, long nights working salvages, and some crazy moments. Funny thing, my big competition became a friend and client after I'd finished law school. It was great experience operating small vessels in all kinds of conditions, night and day."
With a law degree from the University of Arkansas at Little Rock ("one of my top ten best decisions," he says) and plenty of hands-on working knowledge of the maritime environment, John naturally gravitated toward maritime law. "I like to write and I like boats. Plus, I liked the idea of helping injured crewmembers who weren't treated right by their employers."
Licensed in Rhode Island, New Jersey, New York, Florida and Arkansas, John has recovered more than one million dollars in maritime salvage awards. "At Fulweiler, llc we represent folks with claims," he says. "Whether it's a recreational boat owner against an insurance company which declined coverage or an injured passenger or crewmember, we sue for justice. We're pretty good at righting wrongs. We like fighting uphill battles. We're battle tested. Maritime law has got some quirks that allow you to do things, say, procedurally which are really different than other areas of law. It has a lot of special protections for seaman. The rest, well, we maritime practitioners like to keep things mysterious…job security!"
When John introduced himself to WindCheck's Publisher Emerita at the Providence Boat Show several years ago he proposed a monthly column about maritime law, noting, "I can write like the wind." Indeed, "The Boating Barrister" is among the most consistently excellent features in WindCheck. John maintains a blog on WorkBoat Magazine's website (workboat.com/author/john-k-fulweiler/), and you'll find The Saltwater Law Blog on his firm's website, saltwaterlaw.com/SaltWater-Law-Blog.aspx.
John has also written a book. A SWIM: The Rhode Islander Who Refused to Drown, published by Flood Tide Press in 2013, is the true story of a fisherman from Westerly who fell off his 22-foot boat seven miles out in the Atlantic and was not wearing a life jacket. Determined to survive, he treaded water for eleven hours before being rescued by the U.S. Coast Guard. A SWIM is available at Amazon, where it has garnered a well-deserved 5-star rating.
As he observes on page 29 of this issue, John wishes folks were able to treat one another with more kindness. "I'm surprised daily by the lack of humanity," he says. "Makes me sound like a hippie, but it's true. Maybe it's my line of work, but I don't think we're very kind to each other. The mega-wealthy act like royalty and the masses scratch and claw. We could do better."
When he's not handling all types of maritime claims including boating accident litigation and arbitration services for clients along the East and Gulf Coasts, John relishes spending time on the water with his family. "It's me, my wife, our daughter and a Pug," he says. "The girls are good sports and will follow my lead, provided it's not too windy and not too bumpy. The Pug is not a boater – we've tried!"
Expectation is the best thing about being on the water, John maintains. "Nothing's stopping you from setting off for Spain. Hope drives the world and boating is the doorway to anything you can conjure, from a year in the 'islands' to sailing the Mediterranean," he says. "As I've joked, no one sells a boat – they sell someone on where that boat will take them!" ■