Bringing an abiding love of the sea to a grassroots organization dedicated to eliminating marine debris, improving coastal water quality and preserving shoreline access, Jessica Frascotti is the Program Coordinator at Clean Ocean Access in Middletown, RI.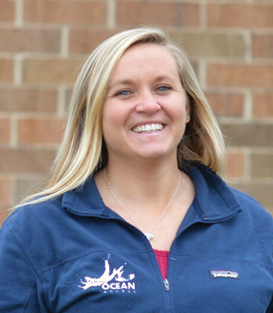 "I have always been drawn to the ocean," says Jessie, who lives in Newport. "The vastness and beauty of the ocean and underwater world is something that has always left me in awe. I grew up in Needham, MA and spent most of my weekends and summers on Martha's Vineyard. I remember swimming, snorkeling, and boogie boarding from sunrise to sunset. I've been fascinated with what lies beneath the ocean's surface ever since my parents got me my first snorkel and mask when I was 6. My first time snorkeling was at State Beach in Martha's Vineyard, where I came across a tiny pufferfish. From that moment on, I was addicted. This was a world I had only read about and seen in pictures. Snorkeling and diving are different every time, and I'm always left with a sense of wonder, wanting to learn more and see more."
Jessie first traveled to St. John, USVI at age 12. "My family visited Jumbie Bay, a tiny white sand beach on the north side of St. John in Virgin Islands National Park," she recalls. "We came across a beautiful and healthy reef full of colorful fish, and Jumbie Bay became my favorite beach. I've returned to the islands a few more times, each year noticing fewer fish on the reef at Jumbie Bay. In 2011, I noticed drastic change as the corals had lost their beautiful color and the fish seemed to have disappeared. I realized something was wrong and decided to do everything in my power to save the reef and protect and preserve our oceans."
Jessie earned her degree in Environmental Science and Marine Biology at the College of the Holy Cross, graduating in 2015. "I had a wonderful college experience at Holy Cross," she says. "My Marine Biology professor, Justin McAlister, was and still is an inspiration to me and always encouraged me to keep learning and following my passion for ocean conservation. I spent the spring of 2014 on South Caicos, a small island in Turks and Caicos, studying at the School for Field Studies under the guidance of some of the best professors I've ever had. Many of my classes were in the field, diving and snorkeling to learn about marine life and the challenges these organisms face. I also conducted research examining the behaviors of spotted eagle rays. During this time, I was inspired and determined to pursue a career in ocean conservation to protect and preserve the ecosystems and marine life I was getting to experience."
"After graduation, I moved to St. John and became an eco-tour guide, taking people on educational snorkeling, kayaking, hiking and paddleboard trips and teaching them about local flora and fauna and the history of the islands," says Jessie, a Professional Association of Diving Instructors-certified Divemaster who holds a 50-ton U.S. Coast Guard Captains License. "I created a guide handbook detailing the local marine life, plants and more, as a training manual for fellow guides. I also worked as a first mate on multiple charter boats for day trips around the USVI and BVI. I took guests on educational snorkeling trips, teaching them about the coral, fish and other marine life and ways they can help to protect these amazing species." Jessie also organized a community screening of the documentary Chasing Coral and created a newsletter to share information on preserving local and global marine ecosystems.
"After returning home, I learned about Clean Ocean Access through a friend at Save The Bay. COA's mission is action today so future generations can enjoy ocean activities. We focus on eliminating marine debris, improving coastal water quality, and protecting and preserving shoreline access. As Program Coordinator, I'm responsible for planning, executing and reporting on all major projects, and leading our education and outreach events and volunteer management program."
"Clean Ocean Access is working diligently to solve the problem of marine debris by hosting beach cleanups, implementing marina trash skimmers, educating the public, and advocating to eliminate single-use plastics. Another problem we face is impaired water quality along our coast and in our watershed. We test twelve coastal locations and eight watershed locations every week throughout the year, and collaborate with local decision-makers to reduce pollution and improve water quality. We also monitor all 50 right-of-ways to the shoreline on Aquidneck Island and work closely with municipalities and the Rhode Island Coastal Resources Management Council to designate new right-of-ways and ensure safe and protected access to the shoreline."
"One thing I love about COA is that everyone gets involved with everything. We're always looking for volunteers for beach cleanups, testing water as citizen scientists, helping to ban single-use plastic bags, and protecting public shoreline access. If you're interested, you can visit cleanoceanaccess.org/get-involved/ or email me at Jessica.frascotti@cleanoceanaccess.org."
"The ocean makes me feel alive and at peace, all at the same time," says Jessie, and the best thing about my job is getting to interact with hundreds of people from different backgrounds while advocating for our ocean. You need to understand the problems our ocean faces before you can solve them. I love educating and reaching more and more people every day, not only about the problems our ocean faces, but also about the ways they can help. I am able to see the difference I make, whether with a child at an education event, a volunteer at a beach cleanup, or a member of the city council. I love instilling a sense of hope and confidence in people that the ocean can be saved, and that we are the ones to help save it!"