By Robert B. MacKay
Published by Arcadia Publishing   128 pages   paperback   $21.99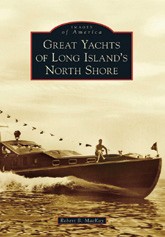 Around the turn of the 20th Century, the North Shore of Long Island was the most prized residential area in the United States. As captains of industry and financial titans built lavish estates on the bluffs and bays along the shoreline from New York City to Eaton's Neck, the area became known as the Gold Coast. With Long Island Sound literally in their backyards, affluent families including the Astors, Morgans, Sloans, Roosevelts and Vanderbilts commissioned fast, luxurious yachts that they used for everything from commuting to the city to racing and voyaging.
In this recent addition to Arcadia Publishing's Images of America series, author and historian Robert B. MacKay has compiled more than 200 archival photographs. Comprising four sections titled "Long Island's North Shore: A Yachting Paradise," "Great Yachts and Estates: Great Neck to Lattingtown," "Great Yachts and Estates: Bayville to Northport," and "The Visitors: Itinerant Yachts and Yachtsmen," the book offers a fascinating look these magnificent homes and yachts and the people who commissioned them
Although many of these motoryachts and sailboats were built elsewhere, others were constructed locally. The boat gracing the cover, the 70-foot commuter Saga, was built by the Atkin & Wheeler Shipyard in Huntington, NY. Aphrodite, perhaps the most beautiful commuter ever built and one of the few still in existence, was built by the Purdy Boat Company in Port Washington. A photo (circa 1926), depicting fast launches of various sizes under construction in the Purdy shop, evokes images of one of those mahogany beauties tucked away in a barn, awaiting discovery (by this reviewer) and needing only a new battery and fresh fuel for its Packard V12 engine!
Robert B. MacKay is the Director of the Society for the Preservation of Long Island Antiquities. His other books include America by the Yard: Cirkut Camera: Images from the Early Twentieth Century, Gardens of Eden: Long Island's Early Twentieth-Century Planned Communities, and Long Island Country Houses and their Architects, 1860-1940. A resident of Cold Spring Harbor, NY, he enjoys sailing on Long Island Sound. Great Yachts of Long Island's North Shore is available through the usual channels and from the publisher at 888-313-2665 or arcadiapublishing.com.