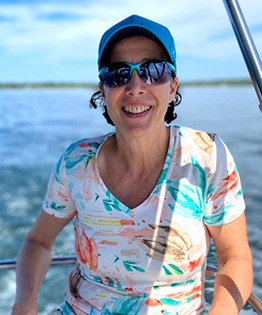 The Program Manager at Clean Ocean Access (COA) in Middletown, Rhode Island, Egidia Vergano is committed to helping others reduce waste and pursue sustainability, and she loves her work.
"I grew up in Attleboro, Massachusetts, not near but not too far from the ocean," says Egidia, who lives in Exeter, RI. "Starting at age seven, my family began spending one week every summer in Provincetown. It was there that my love of the ocean was ignited. I was a wiry, energetic child, an avid swimmer, and an explorer who loved going out at low tide to wade in the shallow water. I vividly remember the excitement of observing the life around my ankles in the water below. Decades later, when I began bringing my daughter to the same location, I flashed back in time marveling at her excitement when we put a shell next to a newly discovered hermit crab, and watched the tiny creature vacate its small home to upgrade to a larger residence. During those weeks of sun-baked bliss, we always spent time walking the beach carrying trash bags to collect washed up and windblown trash hiding in the sand and beach grass. The call to revel in and protect the environment was ever present."
Egidia earned her Mechanical Engineering degree at Tufts. "While spending the early part of my career as an engineer in the medical device industry, I relocated to the San Francisco Bay area and spent eight years thoroughly enjoying the incredible weather, outdoor activities, and atmosphere of engaged communities focused on building a sustainable environment. When I moved to Rhode Island in 2001, I was frustrated by the difference in environmental awareness and practices on the East Coast. When my daughter enrolled in school, I was shocked to learn the school didn't recycle. I worked with the administration to initiate recycling in the elementary schools and educate students and staff. Through that experience, I decided to change my career path to focus on environmental issues."
As the Town of Narragansett's Recycling Coordinator, Egidia created a solid waste and recycling ordinance that boosted the town's recycling rate from 23.4% in 2012 to 39.3% in 2014, exceeding the state's mandate of 35%. Later, as an Education and Outreach Specialist with the Rhode Island Resource Recovery Corporation, she developed educational programs and materials about waste reduction, recycling, composting, food waste prevention, and proper waste disposal.
"My love of the ocean and admiration for their dedication to addressing environmental issues by educating the community and building partnerships attracted me to COA, a nonprofit organization with the vision of a clean, healthy ocean that is accessible to all. Grounded by our values, we strive to achieve our vision through our mission to inspire and educate the community to take action through environmentally responsible behaviors. As a Program Manager, I am responsible for researching, planning, developing, and implementing a strategy to achieve our programmatic goals."
"COA (cleanoceanaccess.org) is focusing on two circular economy initiatives that foster environmentally responsible behaviors centered on composting and recycling. Both programs, Healthy Soils Healthy Seas RI and the Shrink Wrap Recycling and Lifecycle Analysis Project, help people think about single-use materials they use in their daily lives and taking actions to keep them from entering our landfill and negatively affecting our oceans. We're a small organization with a big impact because of the dedication and hard work of our volunteers. We offer year-round opportunities to engage with our coastal environment as a community scientist through our beach cleanups, water quality testing, and access point monitoring programs."
"This summer, you can join us for our two signature events. Our World Oceans Day Family Fest event takes place on June 11 in Newport in celebration of our commitment to a clean, healthy ocean that's accessible to all. Friends of all ages are invited. Paddle for Access is a 3- or 6-mile race in Newport Harbor to help us achieve our goal to preserve and protect public shoreline access. The event also sheds light on other issues including erosion, sea-level rise, and healthy water quality. Whether you like to kayak, paddleboard, or cheer from shore, we invite you to support our work for the ocean on August 20."
"I'm an avid sailor thanks to my husband. He grew up around sailboats, spent ten years in the U.S. Coast Guard, and always dreamed of spending lots of time out on the water in his own vessel. We bought our first boat, a 2000 Hunter 320, in 2007. The first few years we spent most of our time in Narragansett Bay, learning the ropes and acclimating me and our daughter to life on the water. It didn't take long for me to fall in love with the exhilaration of being propelled through the water by the wind, and the mesmerizing effect of the sights and sounds. Although we've tried our hand at racing, we're cruisers at heart. We now own a 2011 Hunter 41 DS, and enjoy weekend sailing to our favorite spots in the bay, including Dutch Harbor, Potter's Cove, Bristol and Newport."
"By far our most anticipated and enjoyable excursions happen during our yearly two-week summer cruise. Our favorite destinations include Block Island, Cuttyhunk, Oak Bluffs, Edgartown, Falmouth, Hadley Harbor, and Provincetown. Some of my most treasured moments happen during the quiet times when we're anchored in a cove or moored in a harbor while the gentle rocking calms my mind and soothes my soul. I find strength and solace in the sea." ■