By the time this issue hits the newsstands, the sailors and yachts in The Ocean Race will be bearing down on Newport, RI, and the finish of Leg 4. For the third consecutive edition of the globe-girdling race, Newport is the lone North American stopover port. The previous stopovers in 2015 and 2018 attracted more than 247,000 visitors to the City-by-the-Sea. Will you be part of it this year?
Leg 4 of The Ocean Race, a 5,550-nautical mile "sprint" from Itajaí, Brazil to Newport, began on April 23. The leaders are expected to finish sometime between May 10 and 12. Upon finishing, the five high-tech, hydrofoil assisted IMOCA 60s will berth at Fort Adams State Park and be visible for all to see as a central attraction of Ocean Live Park, the name of the race village.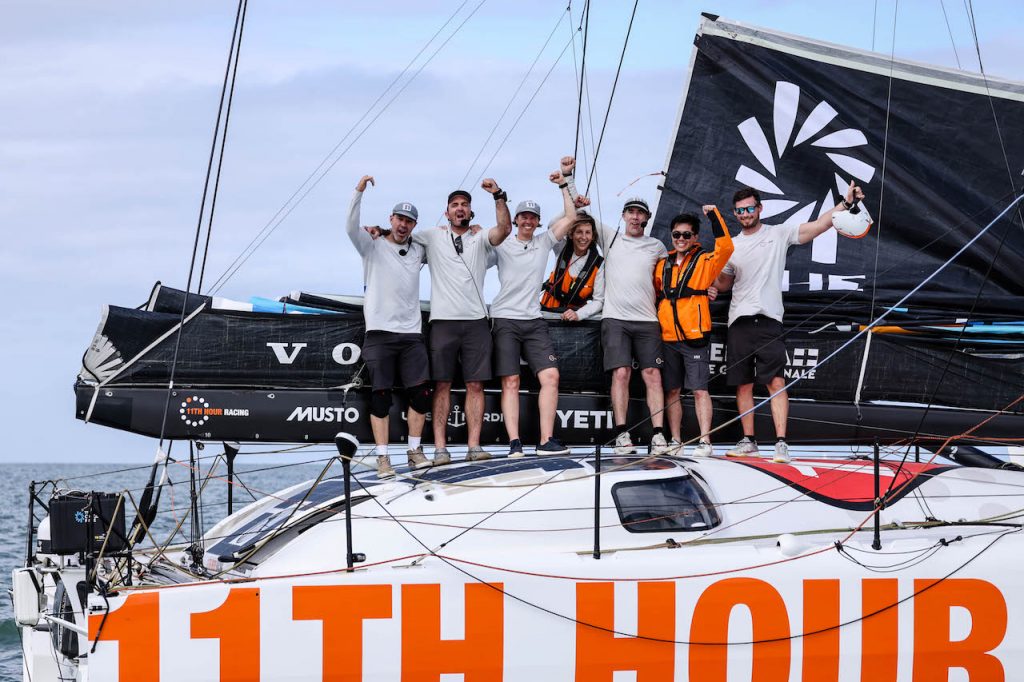 11th Hour Racing Team celebrates victory in The Ocean Race 2022-23 In-Port Race in Itajaí, Brazil. Leading from the start, skipper Charlie Enright and crew crossed the finish line more than two minutes ahead of the fleet. The win moved Rhode Island's home team to the top of the In Port Race Series leaderboard.   © Sailing Energy/The Ocean Race
"Sailing is in the DNA of Newport. It's arguably the sailing capital of the U.S., and it's an incredibly important part of the city's profile," says Newport Mayor Xaykham "Xay" Khamsyvoravong. "The Ocean Race is a unique sporting event. More than an athletic feat, it integrates an important environmental message, which is the health of our oceans.It's the type of event Newport values hosting, one with an athletic component and an environmental message."
Co-Hosts of The Newport stopover include the State of Rhode Island, Sail Newport, the non-profit community sailing center, and 11th Hour Racing, the Newport-based global organization that mobilizes sailing, maritime, and coastal communities with an innovative approach to inspire solutions for the ocean.
ENTERTAINMENTPALOOZA
Key dates for special events around The Ocean Race Newport Stopover
May 10-12 – Approximate finish of The Ocean Race Leg 4 in Newport
May 13 – Ocean Live Park Opening Day
10:00 a.m. – Ocean Live Park opens to the public with
free admission
11:00 a.m. – Ocean Live Park Opening Ceremony; includes
a parade, performers, music, and a salute to the
international sailing event
2:00 p.m. – Grand Opening of The Exploration Zone-
presented by BankNewport
4:00 p.m. – Live Music with Americana jam band
"Comanchero"
7:00 p.m. – Ocean Live Park closes
May 14 – 1:00 p.m. Wing foiling regatta in front of Fort Adams State Park

May 16 – 4:30 p.m. Audrain Auto Museum Car Parade and Classic Car Viewing
May 17
1:00 p.m. Ocean Race Newport with live commentary
4:00 p.m. Live music with "Z Boys" followed by
"Teledynes" (5:30 p.m.)
May 18 – 4:00 p.m. Live music with "Wooden Leg" followed by
"Void Union" (5:40 p.m.)
May 19 – View the IMOCA 60s practicing on Narragansett Bay
1:00 p.m. – Genoa Pesto Competition
3:00 p.m. – Friday Night Lights high school regatta
4:00 p.m. – Live music with "Honky Tonk Knights"
5:40 p.m. – Live music with "Chelley Knight & the Dope Things"
May 20 – The Ocean Race Newport In-Port Race Day
2:00 p.m. – Newport In-Port Race with live commentary
4:30 p.m. – In-Port Race Awards Ceremony
4:00 p.m. – Live music with "Dan Burke and the
Royal Treatment"
May 21 – The Ocean Race Leg 5 Start Day
12 Noon – Dock-Out Show begins
12:30 p.m. – Sailors' Parade
1:30 p.m. – Blessing of the Fleet
2:10 p.m. – Leg 5 Start to Europe, viewable from Fort
Adams State Park
(Schedule subject to change. Visit theoceanracenewport.com/schedule for more information.)
OCEAN LIVE PARK
Ocean Live Park, the race village at Fort Adams State Park, will be open daily, May 13-21 from 11 a.m. to 7 p.m., and admission is free. It will offer visitors a boatload of exhibits, experiences, photo opportunities, and live music and entertainment. An official ceremony opens the race village on Saturday, May 13 at 11 a.m.
11th Hour Racing's message of sustainability of the world's oceans will be a central theme of Ocean Live Park. Interactive exhibits highlighting sailing, marine life, coastal environments, climate solutions, ocean restoration, and blue technology, with learning activities for all ages.
Guests to the park will have an opportunity to visit the One Blue Voice Immersive Experience, presented by 11th Hour Racing at The Ocean Race Newport. The multi-sensory show takes viewers out to sea on an IMOCA 60, and deep into the ocean.
After the show, visitors can take a deeper dive with engaging ocean-themed activities, including a quiz to discover their ocean voice, snap a sea-themed selfie and help create a better future for our blue planet by signing the petition to make waves for ocean rights.
The park is open to the public daily, 11 a.m. to 7 p.m., and admission is free. On May 13-14 and 20-21, the park opens at 10 a.m. and on the final day, May 21, The Ocean Race Newport Stopover closes at 6 p.m.
EXPLORATION ZONE—PRESENTED BY BANKNEWPORT
All ages will be entertained, inspired and educated at The Exploration Zone-Presented by BankNewport, uniquely created to feature the sport of sailing and the importance of sustaining a clean ocean. Over two dozen displays highlight science, marine life, technology, and art. The exhibition is designed to engage people of all ages to take action to protect the ocean and discover sailing. You may even catch a sea creature or two for a photo op in the park.
THE BOATS
The centerpiece of Ocean Live Park will be the IMOCA 60s (International Monohull Open Class Association), the class featured in The Ocean Race. IMOCA 60s are featured in global and trans-oceanic singlehanded races and were embraced for the crewed The Ocean Race because of its developmental nature. Constructed primarily of carbon fiber and weighing approximately 7.5 to 8 tonnes (16,500 and 17,600 pounds), the IMOCA 60 features hydrofoils extending from the hull amidships on each side that enable the boat to lift out of the water when sailing at speeds above 8 to 10 knots. In The Ocean Race, the boat has a crew of four or five, men and women. Visitors to the park will also have an opportunity to see the team bases.
FAMILY-FRIENDLY
Visitors to the park who've never sailed before will have an opportunity to TrySailing! Sail Newport's experienced staff will take visitors aboard a J/22 for a sail around Newport Harbor to experience the sensation of sailing. Ocean Live Park will feature a variety of food from local food trucks and vendors. Bring the family along and enjoy family outdoor activities like mini-golf (weekends only), lawn games, bumper boats, corn hole, and more.
HISTORIC BACKDROP
Ocean Live Park is located in historic Fort Adams. Visitors can explore one of America's most complex coastal fortifications. Self-guided tours provide access to the Fort's Parade Field as well as the top of the fort's walls for a spectacular view of Newport Harbor. Guided tours can take guests further into the fort's land defenses, into the underground listening tunnels. Tickets are required, so check the Fort Adams website for schedule and ticket prices at fortadams.org. ■