Editor's note: We had insufficient space in our October print edition for our entire conversation with Dave Reed. Citing freedom as the best thing about growing up in Newport, Dave has returned to his sailing roots.
An affable Newport, Rhode Island native and the editor of Sailing World for nigh on two decades, Dave Reed loves his work.
"As one of seven children growing up at the south end of Aquidneck Island, what's known as "The Fifth," my youth was defined by where my bike could take me, and all roads in Newport lead to water," says Dave. "I believe my parents sent each and every one of my siblings to Newport Yacht Club for sailing lessons, but I was the only one that took a real liking to it. I learned the fundamentals in those beater wooden Turnabouts, then it was onto 420s and all the Narragansett Bay Yachting Association youth regattas."
"Those were the best days of my sailing life. The club had no trailers so if we wanted to race off island we had to sail the boat up to Bristol, Barrington and elsewhere. My crew and I would just take off—no VHF, maybe PFDs—and we'd somehow get there safely. We tent-camped a lot and ate Spam and white bread sandwiches. We had old boats, old sails and no coaches but we didn't know any better, and frankly it didn't matter. We still came home with little trophies."
"I'm not sure exactly how old I was when I started. Whenever the age was for beginner sailing lessons back then. Thirteen? Fourteen? I started surfing a few years later. I will never forget my first surfboard: it was red, white and blue with a fan of channels shaped into the bottom back near the fins. I wish I still had it, but I got it for my birthday in late February and I can remember to this day my first day of surfing, no wetsuit…in March. Maybe that's why I dislike cold water so much."
"There are a couple 'first boats.' My crew's dad had a Laser 2 and whenever the club's 420 racing was canceled because of too much wind, we'd ride our bikes down to his aunt's house near Ida Lewis YC where they kept it, wheel it down on the trailer and just go high-speed reaching back and forth to Jamestown. Man, the laughter and fun we had with that boat…That was my first real trapeze experience and I loved it. It may also be the reason why I dislike straight-leg hiking…I mean trapeze versus hiking strap? I'll take the trap any day."
"At some point in my youth, my parents bought a Windsurfer and I spent hours upon hours on that thing, playing in the open-ocean waves off Ocean Drive. I believe that's where I really learned the most about balance and sail trim. I have not windsurfed in decades, but if someone gave me one today, I'd go for it in a heartbeat. I would love to feel what the foiling windsurfers are experiencing these days."
"The first boat I ever 'owned' was a used Laser with the name "Goon Thing" on the transom. I was a teenager at the time and sailed with Newport Laser Fleet 413 started by the late, great Pete Milnes. We used to frostbite out of the basement of what is now the National Sailing Museum. It was a perfect place because the giant heating pipes overhead kept it nice and toasty."
"I've had many sailing mentors, but the most influential is my longtime skipper Ian Scott. He brought me onto his J/24 when I was in high school and put me straight on the very same bow that I command to this day. I'm guessing that would be about 40 years ago. And across those four decades I can say with absolute truth that Ian has never—ever—yelled or criticized anyone. I've spent a lot of time with him on the water and at regattas and his generosity and kindness is a constant reminder that sailing is supposed to be fun. Yes, we want to win like everyone else, but ultimately that's not the point."
"Believe it or not, the Rogers High School sailing team started when I was a junior. It was crazy that a Newport public school had no team. I immediately quit the football team and looking back on those days I realize we were lambs at the slaughter against the regional private schools like Tabor Academy and St. Georges."
"College sailing is the one chapter of my life I look back on with some regret. My high school teachers pretty much told me to avoid any career that involved numbers and math. Words were safe. So, I went for a Communications degree at American University in Washington, DC. They had a club sailing team listed in the activities pamphlet, but when I showed up on campus and looked for the sign-up table on the quad, it was not to be. Disbanded and non-existent. I do wish I had the proper college sailing experience, but luckily my father was a pilot for American Airlines at the time so getaway tickets came easy and I flew to regattas in cool places like Miami, Key West and California. So, I say I raced "during" college…but not at college. I'm envious today when my Instagram feed comes alive in September. Oh, to be young again."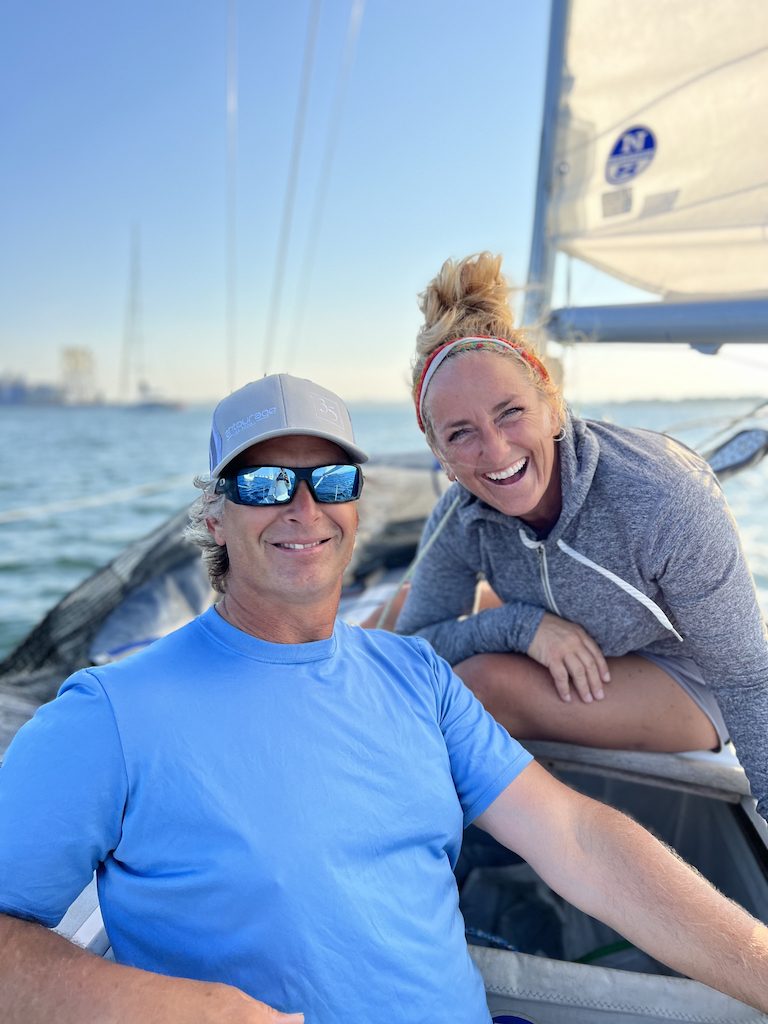 Thursday night racing with Newport's J/24 Fleet 50 onboard Ian Scott's Crack of Noon with younger sister Kathie, visiting from South Carolina and enjoying her first sailboat race.   © Dave Reed
"For a long time Ian's J/24 boat partner was Herb McCormick, who started in the mailroom at Sailing World and eventually became its editor and then the editor-in-chief at its sister publication, Cruising World. Both magazines were owned by The New York Times and I remember Herb calling me as I was packing up to leave DC after graduation. I put my California plans on hold and jumped at his offer of a paid internship at Cruising World. Back then, the two magazines were together under one roof and there must've been twenty or more staffers. Man, did we have fun in that old-school office kind of way."
"When the internship ended in the fall I did a bunch of deliveries from Newport to Bermuda and the Caribbean before taking a junior editor gig at the trade magazine Sailing Business—also owned by The Times. I knew if I stuck around long enough something would come up at Sailing World, and it did."
"I spent many a weekend writing and copyediting the "Finish Line" section with reports and scores from around the country and eventually, I was tasked with editing all of Stuart Walker's columns, which would come in via fax machine or snail mail. I had to retype it and then try to make sense of what he was saying (not easy). Then, I would give it a serious grammatical workover to try and break up some of his insanely long sentences into coherent bits. Dr. Walker and I had our battles, but in the end, we had an incredible relationship and understanding. He was such an important contributor to the sport, right up to the day he passed, and I am honored to have worked with him. In fact, I still find myself citing in my head a few of his wise nuggets. 'Cross 'em when you can' is my favorite."
"It was late 2005 when then editor John Burnham called me into his office and handed over the proverbial keyboard. It's been a blur ever since but I've had a lot of time to reflect on the changing media landscape since I started in 1993. There was no Internet or social media, just twelve issues that took a lot of committed people and time to piece together. It was a glorious time where a writer could go off to a regatta to cover it, find a way to get on a boat, and then come back and write a story about it. Social media has obviously changed all that."
"Sailing World's longevity (it started in 1962 as One-Design Yachtsman) is rooted in its authenticity and commitment to sailboat racing, or "performance sailing." Other magazines cover some racing and some cruising, but Sailing World and Cruising World have always remained true to their respective niches. Together, both magazines cater to the wider sailing audience, but individually they speak to their respective readers."
"The formula for Sailing World is tried and true: celebrate the sport through profiles of the greats, showcase classes and fleets from grass roots to grand-prix, highlight the pinnacle events like the America's Cup and the Olympics, and never have enough "From the Experts" type of stories. At least one new sailor comes to the sport every day and they want to know how to start, tack a jib, or do a dip-pole jibe. We can never do enough instructional content."
"There's also the Helly Hansen Sailing World Regatta Series, previously known as the NOODs, which is like another full-time job. There's no regatta series like it, and the effort that goes into running it—before, during and after—is another reminder of how lucky we are to travel to these great clubs, put on a great party, and make new friends and experiences every year. As a perk of working insanely long days at all five regattas, however, I do get to play with the champions in the British Virgin Islands every October. Tough job, I know. And trust me, that's what I tell my wife."
"People often ask me how I've stuck it out for so long at Sailing World, and the honest answer is that I keep it fun. Every issue is different, every day comes with a different call to someone doing great things in the sport. Instagram, Facebook, and a weekly newsletter that goes to 30,000 in-boxes leaves little to no downtime, so I'm never bored. And I've always kept a promise to myself to never become a slave to my desk. When I plan out my editorial calendar for the year I ask myself what would I love to do and then go make it happen and share the experience with the reader."
"So, that said, my competitive sailing experiences are all over the map. I try to find one program to commit to and give it my all for a season or two, but eventually I have to move on because otherwise the stories get repetitive. That's the beauty of Newport…there's always a new opportunity."
"The doublehanded Chicago to Mackinac Race I did on a Seascape 24 a few years ago was one of my all-time favorite experiences. On the tiller, blast reaching in 20 knots and jibing through Gray's Reef in the dark was a night I will never forget. So much fun. I could do Block Island Race Week until the day I die. The new one-race-per-day Navigator fleet is an outstanding way to take in all that Block has to offer and I highly recommend it."
"One Caribbean regatta per year is a must, and then I'll bake in a regatta that's completely different or unique in some. The Santana 20 Nationals in Oklahoma was a keeper, for example, and that spawned my desire to someday do a regatta in every state and write a book about it. Rolex Swan Cup in Sardinia is high on my list…but nothing has yet to top RS100 racing on Lake Garda. I was a bit of a tumbleweed that week, but it was worth every capsize."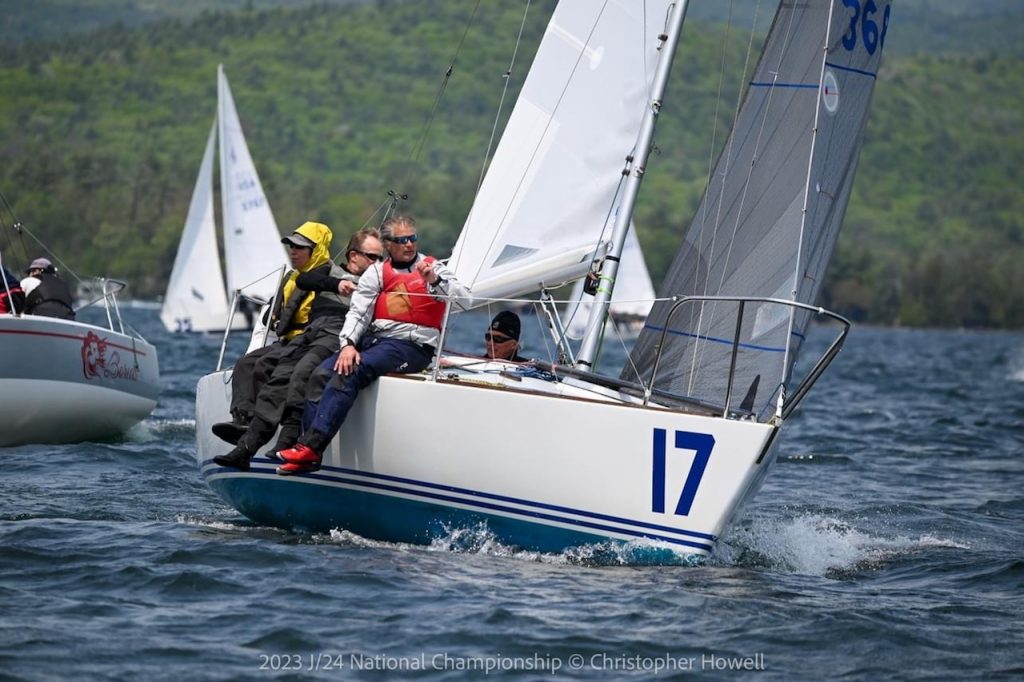 I look back fondly on the aforementioned Rolex Swan Cup in Sardinia. I was a trimmer with Charles Kenahan's Club Swan 42 Mahalo and that was my first experience racing internationally with a bigger keelboat team. It was windy the entire week and I remember working our tails off as we tacked and jibed through these incredible little islands with Mark Mendelbatt as our tactician. It was such a fun group and the crew house we had was otherworldly. I think we finished second in our class, but the whole experience was amazing. It certainly makes me envious of the pros that go there all the time like it's no big deal."
Dave sailed this year's Ida Lewis Distance Race presented by Bluenose Yacht Sails on the Swan 36 Coco. "Coco is Ian Scott's 'cruising' boat, which leaves its slip once, twice or maybe three times a season, but Ian loves the Ida, mainly because he loves to stay up all night and, as he says, 'not miss a minute of the race.' We could probably strip a few more hundred pounds of stuff off the boat, including dishes, fenders, docklines and whatever else is in those bottomless cockpit lockers. But as an old-school heavy-displacement Swan 36, it probably wouldn't have made a difference in this year's windy edition. Onboard for this overnighter was Ian, our navigator/floater Stuart Streuli, Bea Grimmett, Dave Tabor and young Jack Cummins, an Irish lad who was in Newport for the summer teaching adult sailing at Sail Newport. We recruited him a week before the race and he was a great addition!"
"What made this race special was the forecast. It was Swan weather for sure, and Ian had a brand new Doyle genoa that was our one and only workhorse. With a reef in the main and that big beautiful genoa the boat was easy to manage when others nearby were getting blown sideways.
"Ian was the hero of the race though: after rounding Montauk in the middle of the night, the prudent call was to hold the spinnaker set until first light. We poled out the genoa and went wing-on-wing right down the rhumbline. Those who were out there that night know the nasty and unpredictable sea state, and it was all Ian for several hours on the wheel fighting to keep the Windex pinned on centerline. He said it was the most difficult night of driving he's ever done. He was toast. But the guy knows how to drive his boat."
"I've sort of 'inherited' the company sailboat, an Albin Express 26, which is a Swedish one-design very similar to a J/24 but with a lot more interior space. It's called Another Opinion, which was the name of a Cruising World back-of-the-magazine column a long time ago. It was an alphabetical listing of boats and you could pay a nominal fee to be connected by phone with willing owners who were happy to share their opinions. Remember, this was before Internet forums became a thing."
"Anyway, the boat is such a perfectly balanced design but it's long in the tooth and suffering from years of half-assed maintenance. There is no battery, no lights, no bilge pump and no propulsion, which makes it strictly a harbor or cove cruiser. I love taking my kids and especially my 13-year-old daughter and her friends and for laps around the harbor. My wife and I sail it over to Mackerel Cove in Jamestown for our date days. Anchor, swim, read a book, listen to tunes. It's a good life."
"We also keep my wife's 1971-vintage Sunfish at the beach and when it's super windy I'll take it out to play in the big waves off Gooseberry Island. I never realized what a surfboard the Sunfish is and I now have a much better appreciation for the boat."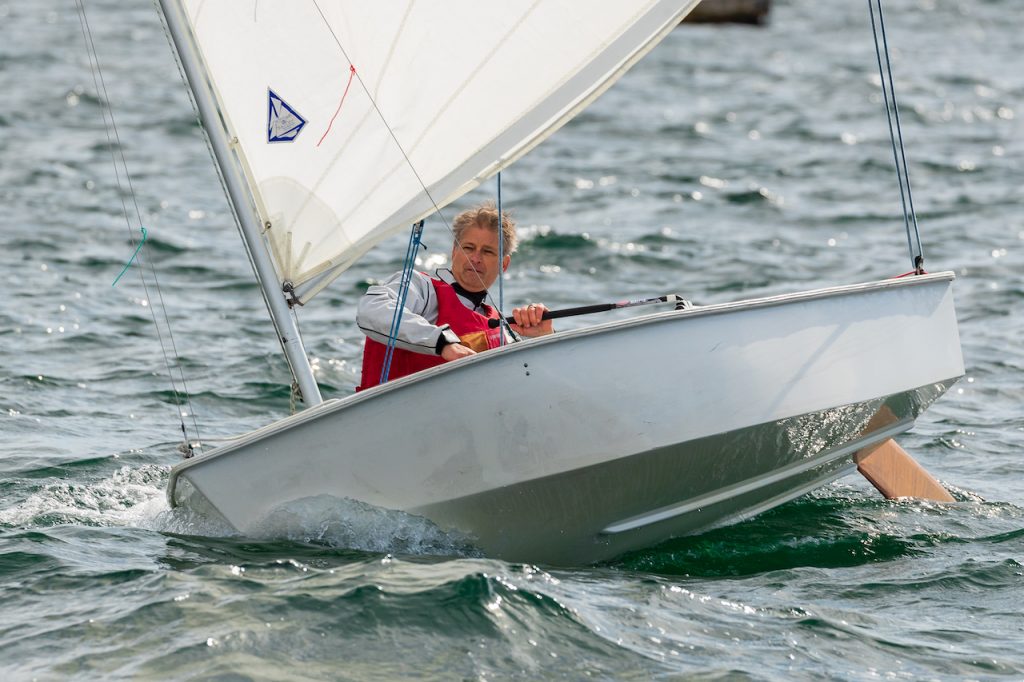 Dave tests the limits of the Turnabout (aka N10) during Newport YC's Turnabout Frostbite Racing.   © Bill Shea Photography
"In the wintertime, when I'm not on the road, Sundays are for DF95 remote control racing at Sail Newport in the morning, trying to beat Brad Read and his brother Ken Read who shows up in his pajamas. Then it's straight to Turnabout racing in the afternoon at Newport Yacht Club, the place where it all started for me. It's funny to think I'm now back in the tubs in which I learned to sail, but that's island living."