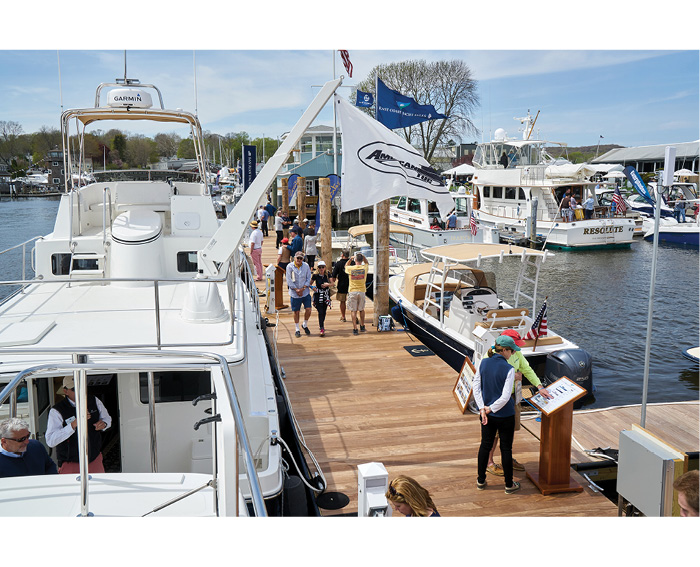 The 2021 CT Spring Boat Show was one of the first events in New England after the COVID-19 restrictions were lifted. It raised $22,000 in funds for Sails Up 4 Cancer. The Show also had a record number of attendees, over 2,200. However, boat inventory in the Northeast was practically non-existent at the time, having been bought up in the summer and fall of 2020. Regional yacht brokers simply had nothing to sell and current owners were not looking to part with their boats either. This resulted in a mere twenty-five boats, both new and brokerage, on display in the water. Some of these were already sold and more than a few were sold on the first day of the show!
Onshore was the opposite story. Shoreside exhibitors grew to twenty-five over 2019's twenty, (the 2020 show was canceled) and that was with at least six "regular" exhibitors unable to make it due to COVID or too much work on their plates!
So what is planned for 2022? The goal is to double the boats, grow the Shoreside to forty exhibits, have live music, beer, wine and coffee tastings, and the first-ever Taste of EssexSM event on-site where regional eateries and retailers present samples of their goods. But that's not all. In collaboration with the Cruising Club of America, Saturday, April 29 will feature talks on the upcoming Newport Bermuda Race. Rives Potts, President of show host Safe Harbor Marinas and two-time winner of the race, will give a session on what it takes to enter and compete in the Newport Bermuda Race. Other skippers will discuss what it takes to get to the line successfully for the first time. Frank Bohlen will give his Gulf Stream forecast for this year's race and discuss how to use weather forecasts before, during and after the passage to Bermuda. On Sunday, May 1, Frank will discuss weather for fishermen and well-known professional angler Captain Mike Roy and his team from Reel Cast Charters of Old Saybrook will give sessions on "Fishing the Sound and Beyond." Did someone say stripers?
The annual CT Spring Boat Show is produced by WindCheck Magazine, and hosted by Safe Harbor Essex Island in Essex, CT. 2022 Show sponsors include BMW, Essex Boat Works, Essex Steam Train & Riverboat, Gowrie Group, and the Yacht Brokers Association of America (YBAA). For more information nd to purchase advance tickets, visit ctspringboatshow.com. ■