Same as it Ever Was, yet Better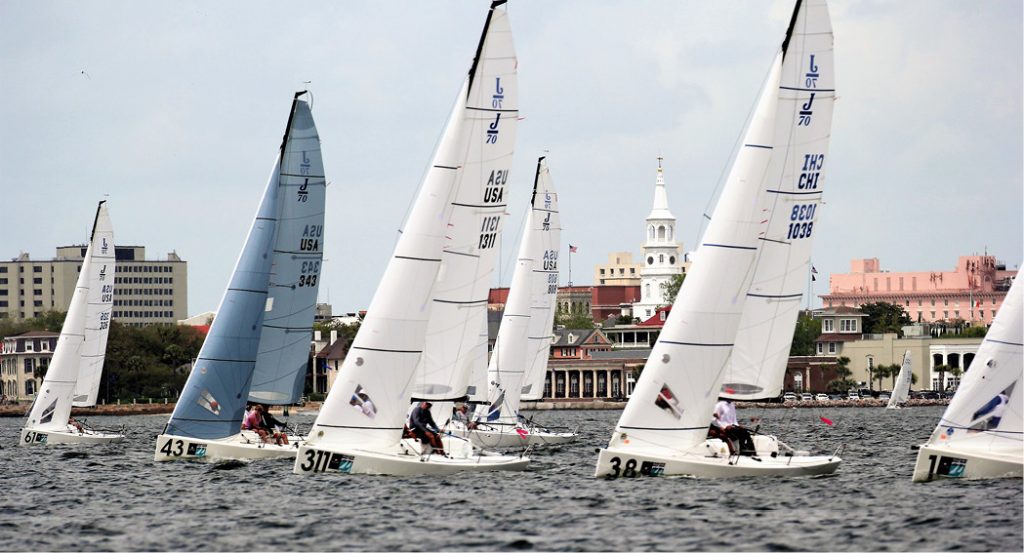 To paraphrase the Talking Heads (with apologies), you may find yourself wishing for a regatta. And you may find yourself wanting the perfect venue. And you may ask yourself, where can I find one-design Mecca? All of that and much more will be readily available this spring at Charleston Race Week – a regatta unlike any other.
Veteran attendees of Race Week – now in its 26th year – understand this event's broad appeal. They know they'll be treated to top-notch race management, along with challenging tidal patterns and a characteristic variety of wind strengths. They know they'll be staying in one of the country's most desirable travel destinations with amazing hospitality options. And they know they'll be hosted by a regatta organizer wholly focused on competitors' needs.
That's Race Week, same as it ever was. But CRW 2022 (April 28-May 1) promises to be even better. There will be four inshore racecourses this year and two others that take competitors offshore. There will be one-design fleets, ORC classes and even PHRF classes. The pro-am competition will be back, sailed aboard RS 21s (some of which are available for charter). And there will be some of the top luminaries from our sport on hand to augment the proceedings.
Daily race debriefs will be offered by none other than Leandro Spina, the Olympic Development Director for U.S. Sailing. His drone-aided footage – displayed on the beachfront jumbotron – will help competitors get the most out of their time in Charleston. And, the always-fun post-race festivities will be on full throttle with Goslings Rum, Quantum Sails, and all the other sponsors throwing in their ample support. So carve out some time on your schedule this spring and ink in Charleston Race Week on your calendars. This year, it's going to be a blast! Same as it ever was.
Charleston Race Week is the Largest Keelboat Regatta in North and South America and Winner of US Sailing's One Design Award for Regatta Excellence! To register, visit charlestonraceweek.com. ■