The Big Boat Program at Norwalk Yacht Club
By Lynn Oliver, Wes Oliver, Nick Young & Steve Landis
Readers of WindCheck share a passion for spending time on the water, but not everyone has the same level of enthusiasm for the effort and expense that boat ownership inevitably seems to entail. Norwalk Yacht Club in Norwalk, CT recognized that not everyone who wants to SAIL a boat also wants to OWN a boat, and came up with an exciting, innovative, and unique program to serve that audience – the Norwalk Yacht Club Big Boat Program.
Norwalk Yacht Club is located on beautiful, protected Wilson Cove, with easy access to Long Island Sound, and expansive views of the Sound, lighthouses and the Norwalk Islands. Located east of Rowayton, in Wilson Point, a residential community, the club was founded in 1894 and is one of a few unassuming clubs on Western Long Island Sound. The club's 2.5 acres include a clubhouse with a self-service bar (one member was heard to comment, "I've never gotten off my boat and not been thirsty!") a caterer/member use kitchen, wood burning fireplace, and sweeping views of Wilson Cove and Long Island Sound. A large deck around the clubhouse boasts varnished wood picnic tables and gas grills, where members of all ages casually congregate in groups large and small, or enjoy participating in the club's active social program. There is a small beach adjacent to the clubhouse that is a favorite of families with young children. The club has nearly150 boats in the mooring field, with about a 50/50 split between sail and power.
Norwalk YC is an active sailing club; big boats race Wednesday nights and on weekends, club-owned Ideal 18s race as a fleet, and team race several times a week. The Ideal's are also available for member informal sailing and instruction. The club has run a successful and highly regarded Junior Sailing program for generations. The club also has an active cruising program, focusing on weekend overnights and an Annual Cruise. The club even has a small fleet of Sunfish available for member use.
Although the club has no slips, it boasts two 300-foot docks that are home to our two launches, junior sailing Optis, Lasers and 420s, members' dinghies, and fueling facilities, and are readily available when some repair or upgrade project requires dockside access. General Manager David Lowe's launch and marine facilities operation is highly acclaimed.
Norwalk YC is a beautiful, relaxed "sailor's" or "boater's" club, with no tennis, pool, or restaurant, which has allowed the club to keep initiation and dues quite reasonable, and members like it that way. As one member put it, "It's not just a great place to keep a boat. It's a great place to hang out."
In 2019, the club began exploring ways to address the needs of member sailors who don't want to be boat owners. After several member surveys, numerous presentations and many committee meetings (It IS a yacht club, right?) and much discussion, the club purchased Liberty, a 2010 Jeanneau Sun Odyssey 36i, for use by its members.
While the program had broad support, most boat-owning members preferred that the program be self-funding. To ensure self-funding, ten members committed to pre-pay for a planned amount of usage, before the club committed to purchase the boat. Pricing was organized to cover anticipated operating expenses, so these costs were covered by the Big Boat users, and not by members who have their own boats to maintain. As for costs, many boat owners envy the affordability of the Big Boat Program.
In addition to the ten "Anchor Members" who enjoy guaranteed access, all NYC members were welcome to use the boat at a slightly higher per-use fee, when the boat was available. Additional use by the Junior Sailing program and the Women on the Water program is anticipated. The club offers a discounted rate for participation on the Annual Cruise.
All Big Boat sailors are evaluated for competence by Sailing Director Sean Palizza, receive a thorough boat briefing, and sign liability waivers. Additional instruction is also available, at additional cost, and volunteer mentors are available on request.
The program was a huge success during the 2021 season: happy participants, new members joining the club specifically for the shared boat program, and net income above what had been forecast. To the best of our knowledge, no other yacht club on Western Long Island Sound offers this sort of "sail it without owning" program. The program has since been tweaked, with fifteen Anchor shares sold out for 2022. Several avenues for expansion are being actively considered, including the potential purchase of a second sailboat, and a mid-20 foot center console powerboat.
Norwalk Yacht Club's experience with club-owned boats could be a model that makes sense at other clubs, and may make a positive contribution to the growth of sailing. Norwalk's Big Boat Committee members are happy to discuss our process and results with representatives from other clubs.
Lessons learned in the process:
1. After researching rumors of other clubs that had tried a similar program, we did not find any actual experience to draw from. We found two clubs that had tried to build similar programs, both of which had failed for logistical reasons.
2. Given existing member concerns that this program would add costs to them, it was important that such a program be financially self-supporting.
3. There are logistics around certifying members to sail the boat, scheduling, programming, cleaning and repair that require quite a bit of work both upfront and ongoing, for the Big Boat Committee, the Sailing Director, and Club Manager.
4. Year one use demonstrated it was possible to offer shares to more members and led to simplifying the model to 8 half day use shares plus a-la-carte booking (discounted for those "Anchor" shares).
5. While one of the goals of the program has been to encourage members to buy their own boat, (only time will tell if that will happen), a couple of members have sold their sailboat and signed up for shares of this program instead.
6. Such a program does, in fact, attract new members.
7. There is significant interest within the Club in a similar but separate powerboat share program.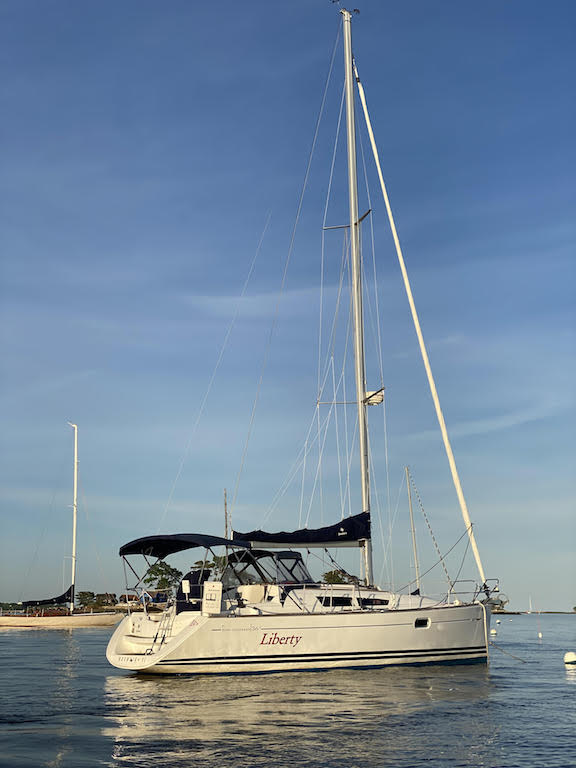 © Norwalk Yacht Club
Norwalk YC is a welcoming club. One factor that differentiates Norwalk from other clubs is that its membership is drawn from multiple Fairfield County communities, not only the immediate area, although the Rowayton, Norwalk, Darien and New Canaan area is well represented, too. We welcome boaters who are looking for more than a "boatyard with a burgee" and will add to the life of the club. If you are interested in learning more about the club or takeaways from our Big Boat Program that may help guide a program at your club, please contact
BigBoatProgram@norwalkyachtclub.com. ■