Porter & Starck are Rolex Yachtsman & Yachtswoman of the Year
Brian Porter of Fontana, WI and Jody Starck of Amherst, NY have been named US Sailing's 2013 Rolex Yachtsman and Yachtswoman of the Year. Porter, a first-time nominee, skippered Full Throttle to victory in the Sperry Top-Sider Melges 24 World Championship. Starck (nee Swanson), already a two-time winner of the Rolex honor, won the Lightning World Championship as crew and the Lightning Atlantic Coast Championship as skipper. Each received a specially engraved Rolex timepiece during a luncheon at St. Francis Yacht Club in San Francisco, CA on February 25.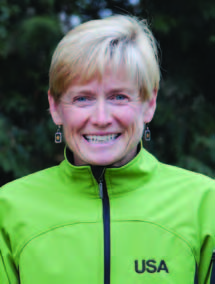 "I was so thrilled to be nominated, but to actually win it…it's hard to describe how I feel," said Porter, who scored an additional Melges 24 victory at Quantum Key West 2013 and finished third at both the Rolex Big Boat Series in San Francisco and the E Scow National Championship. "I am incredibly grateful for all the tough competitors I have had the opportunity to race against in the Melges 24 and E Scow classes, to the US Sailing panel for recognizing the quality of competition in those fleets, and to Rolex for its generous support of competitive sailing."
"I'm completely blown away," said Starck, who won the Rolex award in 1989 and 2004. "It's more exciting than the other two times, because I am at a different stage in my life. Sailing isn't my main focus, but I'm grateful to still be competitive. I'm very thankful to my husband for encouraging me to sail my own boat again."
Starck won the 2013 Lightning World Championship, crewing, along with Ian Jones, for her husband David Starck, himself a 2013 Yachtsman of the Year nominee. After that event, David encouraged her to steer the boat for the remainder of the season. She skippered to victory at the 2013 Lightning Atlantic Coast Championship, and third at the North Americans. "Sailing is an incredible sport, allowing me to compete at any age," she said. "It's also very important to me to help continually bring juniors into the sport and expose them to the great opportunities sailing offers."
Jan Harley at Media Pro International contributed to this report.
Mystic Seaport Honors John Rousmaniere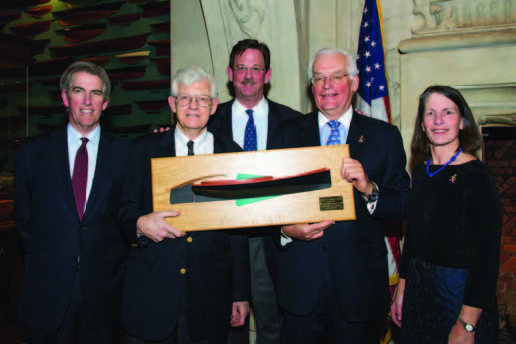 Mystic Seaport in Mystic, CT has presented its William P. Stephens Award to distinguished yachtsman, historian and author John Rousmaniere. Established in 1988 and named after William P. Stephens, long known as the "Dean of American Yachtsmen," the award is given in recognition of a significant and enduring contribution to the history, preservation, progress, understanding, or appreciation of American yachting and boating. It was presented in a ceremony at New York Yacht Club in New York, NY on January 29.
"We are deeply honored to present this award to John Rousmaniere to recognize his life's work," said Mystic Seaport President Steve White. "There are very few people with even a passing interest in boating or yachting who have not picked up a book he has written. His intuitive sense and passion for the subject matter makes sailing come alive on the page because he has lived that life."
Rousmaniere has written 15 books on yachting, including The Golden Pastime: A New History of Yachting, Fastnet, Force 10, A Berth to Bermuda, and The Annapolis Book of Seamanship, which just went into its fourth edition. He edited a book on yacht design titled Desirable and Undesirable Characteristics of Offshore Yachts and the Olin Stephens autobiography, All This and Sailing, Too, published by Mystic Seaport. He also contributes articles to Sea History, WoodenBoat and other magazines…including WindCheck.
Rousmaniere has served on the Yachting Committee at Mystic Seaport, and he is chiefly responsible for the Museum's acquisition of the life's work of famed photographer Carleton Mitchell. He has also served on the Selection Committees of the America's Cup Hall of Fame and the National Sailing Hall of Fame. He is a member of the Cruising Club of America and the New York Yacht Club, where he chairs the Library Committee.
Rome Kirby is Rhode Island's Boater of the Year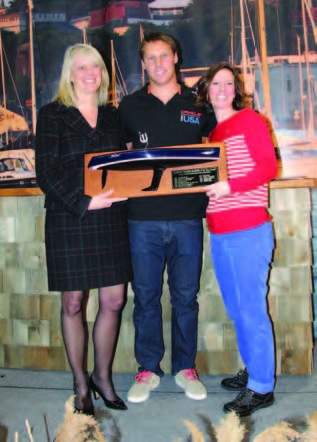 In front of a packed crowd on the opening day of the Providence Boat Show in Providence, RI, Newport native Rome Kirby was crowned the 2014 John H. Chafee Boater of the Year by the Rhode Island Marine Trades Association (RIMTA). Kirby – who at age 24 has already been an America's Cup winner with ORACLE Team USA and competed in the grueling Volvo Ocean Race – is recognized for the talent and focus that have made him a world-class champion at a young age, and for being an inspirational figure to all the young Rhode Island sailors who will come in his wake.
"We are thrilled to present Rome Kirby with our annual Boater of the Year award," said RIMTA CEO Wendy Mackie. "He has brought the limelight of the America's Cup back to the Ocean State, and he reminds all of us – especially other young people – that we live in a unique state with the facilities and expertise to help young sailors reach their world-class potential."
In accepting the award, Kirby thanked his parents, who were in the audience, as well as Brad Read, Executive Director of Sail Newport, and the Sail Newport team. (Kirby started racing at age 7 at Sail Newport.) "A huge thanks to Brad and everyone at Sail Newport," said Kirby. "Without them, I can honestly say that I would not be up here right now."
With the help of TV sailing commentator Andy Green, who emceed the presentation, Kirby fielded questions from the audience, especially about Oracle Team USA's comeback in last year's America's Cup, when they won eight straight races to defend the Cup. "To sail on those boats and not make a mistake from 8-1 down, that is impressive. It was a pretty cool thing to be a part of," said Kirby, who joins the ranks of legendary talents who are past recipients of this award, including the late Ted Hood, Sr., Halsey Herreshoff and Ken Read.
Cynthia Goss contributed to this report.
Revitalized Providence Boat Show a Success
A total of 9,600 people attended the Providence Boat Show from January 31 to February 2 at the Rhode Island Convention Center in Providence, RI. The show's new owner, the Rhode Island Marine Trades Association (RIMTA), changed the configuration of the 20-year-old event to cast a wider net into the boat-buying public, and the strategy was successful. Ticket revenue was up by 20% over last year's show, all exhibitor space was sold out early, revenue from space sales was up by 15%, and several exhibitors enjoyed strong boat sales, particularly to first-time buyers.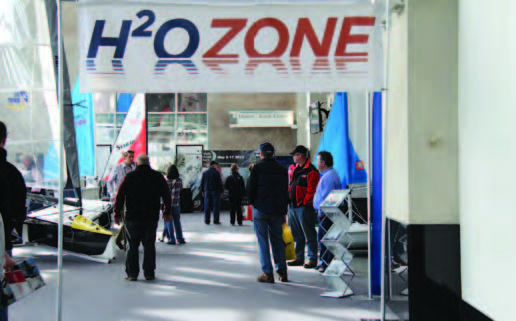 Eighteen sailboat brands were among the 84 boat brands at the show. "The show exceeded my expectations," said Rob Lawnsby of Narragansett Sailing. Lawnsby jump-started his sailing school sales for the coming season, surpassing what he tallied last year at the same time. The West Wight Potter, a 19-foot pocket cruiser he brought to the show, generated a healthy amount of interest among families and individuals looking for an affordable way to start sailing.
The new H20 Zone showcased small one-design sailboats from prams to a foiling Moth, while the Show Pavilion, another new addition, featured sea-to-table cooking demonstrations, visits from personalities such as America's Cup winner Rome Kirby, and interactive activities such as surfing lessons on dry land.
Two "Boats Work for Rhode Island" areas, sponsored by Jamestown Distributors, showcased the state's marine career training resources, including High School programs at Chariho, Warwick and Tiverton, and trade school courses at the International Yacht Restoration School and the New England Institute of Technology. Show sponsors included Kellogg Marine Supply, Starkweather & Shepley Insurance Brokerage, Tasca Chrysler Dodge Jeep RAM, and Wild Things technical outerwear. For more information, visit providenceboatshow.com.
Cynthia Goss contributed to this report.
Wadlows Win CCA Far Horizons Award
The Cruising Club of America (CCA) has selected Dorothy and Tom Wadlow of Mystic, CT to receive its 2013 Far Horizons Award for an admirable 18 years and 75,000 miles of cruising. The award, which will be presented byCommodore Frederic T. Lhamon at the annual CCA Awards Dinner on March 7 at New York Yacht Club in New York, NY, is given "for a particularly meritorious cruise or series of cruises that exemplify the objectives of the Club."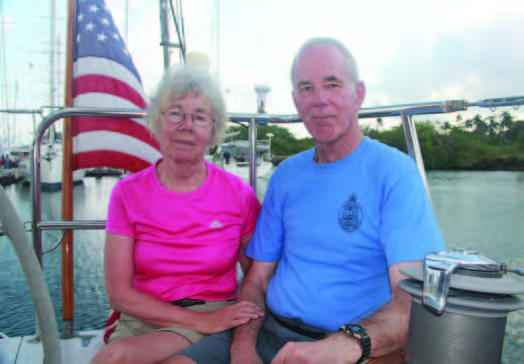 After having their Chuck Paine-designed Apogee 50 Joyant built at Able Marine in Mt. Desert Island, ME in 1995, the Wadlows completed a series of remarkable voyages to such places as Mexico, Alaska, Central America, the Bahamas, the Caribbean, the Newfoundland, Bermuda, Ireland, the Outer Hebrides, Orkneys and Shetland Islands, Norway, Sweden, Finland, Denmark, Germany, Holland, Belgium, England and throughout the Mediterranean, to name a few. The intrepid duo are currently embarking on a new excursion, which will take them to the west coast of South America by way of the Panama Canal.
Also honored were Jeanne Socrates of Ealing, West London, England, who received the CCA's Blue Water Medal for her completion of a solo non-stop circumnavigation of the world, and Jean-Pierre Dick of Nice, France, awarded the Rod Stephens Trophy for his completion of the Vendée Globe 2012-2013 after sailing without a keel for the last 2,650 miles of the solo non-stop around-the-world race. The Cruising Club of America is dedicated to offshore cruising, voyaging and the "adventurous use of the sea" through efforts to improve seamanship, the design of seaworthy yachts, safe yachting procedures and environmental awareness. For more information, visit cruisingclub.org.
Kirsten Ferguson at Media Pro International contributed to this report.
Tom Miller Joins Latitude Yacht Brokerage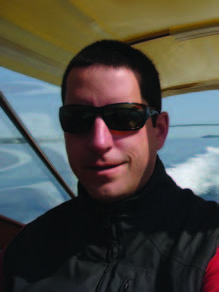 Captain Tom Miller has joined the team at Latitude Yacht Brokerage, LLC in Newport, RI. "Here at Latitude we are incredibly excited to welcome Tom Miller as our newest broker," said company Principal Ryan Miller (no relation). "Tom comes with a wealth of knowledge from his years of professionally captaining all types of vessels and also through the managing of service work at full service boatyards. We welcome him to the team!"
Raised in a sailing family, Miller spent his summers cruising the waters of New England. He attended the University of Rhode Island, where he earned a degree in Business Management and Information Systems. After graduating, he worked as a deckhand on the America Cup J-Class Shamrock V. This led to crewing on many other yachts and eventually achieving his captain's credentials and running yachts all over the Atlantic, the Caribbean the Mediterranean. He subsequently worked as a sail and power service manager at Hinckley Yacht Services in Portsmouth, RI, and later headed the jet boat service department at their Mantoloking, NJ facility.
"Tom looks forward to using his lifetime of experience and expertise to help you with your buying and selling needs," said Ryan Miller. "Tom can be reached directly at 401-835-7215 or tom@latitudeyacht.com, or via our website at latitudeyacht.com."
Brewer Adds Brokers, Opens 23rd Marina
Brewer Yacht Sales, Inc. has expanded its brokerage team with Jim Jackson of Harwich Port, MA and Stephanie McLaughlin of Plymouth, MA. Jackson has been in the boating industry for over 40 years, serving as a charter boat captain, owning and operating Hyannis Yacht Charters, teaching on-water training for both power and sail, and as an instructor for the United States Coast Guard's 100-ton captain's license at Massachusetts Maritime Academy. McLaughlin joined the Brewer team in 2012 as dockmaster at Brewer Plymouth Marine. She is passionate about boating and customer service, and eager to assist everyone from first time buyers to experienced owners. For information on their respective listings, contact Jackson at 508-364-3700 or jjackson@byy.com or McLaughlin at 617-759-9251 or smclaughlin@byy.com.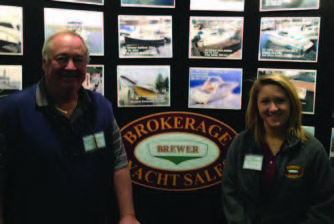 Brewer Yacht Sales' parent company, Brewer Yacht Yard Group, has acquired the Oxford Boatyard and Mears Yacht Haven Marina in Oxford, MD. The new Brewer Oxford Boatyard & Marina joins the company's 22 other full service marina and boatyard locations between New York and Maine. "We are thrilled to be taking over this wonderful operation," said Rives Potts, President of Brewer Yacht Yard Group. "This is a well-run boatyard/marina with great potential and we are excited about the opportunity it presents." In addition to its multiple locations, Brewer offers special benefits to its customers including free overnight stays and fuel discounts. Visit byy.com for more information. If you are interested in becoming a Brewer broker, contact David Pugsley at 860-399-6213 or emaildpugsley@byy.com.
Mystic Shipyard to Host 7th Annual SailQuest Boat Show
Mystic Shipyard in Mystic, CT, will host the SailQuest boat show May 2 – 4. This family-oriented show will feature new sailboats, trawlers, downeast-style powerboats, kayaks, paddleboards and select brokerage yachts from 12 to over 50 feet. Located in the heart of historic Mystic at 100 Essex Street, Mystic Shipyard is offering free parking and free admission to the show.
"We are excited to bring SailQuest back to the Mystic Shipyard," said Tom Pilkington of Prestige Yacht Sales. "Boutique shows give our clients the opportunity to view their favorite brands without the crowds of the big fall shows. Mystic offers many attractions and is known for its special place in maritime history. Having SailQuest in early May makes it the kickoff to the boating season."
A wide range of models will be showcased, including Catalina, Bavaria, Jeanneau, Hunter, Lagoon, Beneteau, Minor Offshore, Nordic Tug, Hunt, Blue Jacket, Southport and more to be announced. Bring your friends and family, and enjoy Mystic's shops, restaurants, and of course Mystic Seaport.
If you are interested in exhibiting, please call Anne at WindCheck at 203-332-7639 or email anne@windcheckmagazine.com.
Team Steam: Protecting Boat Owners From A Hidden Danger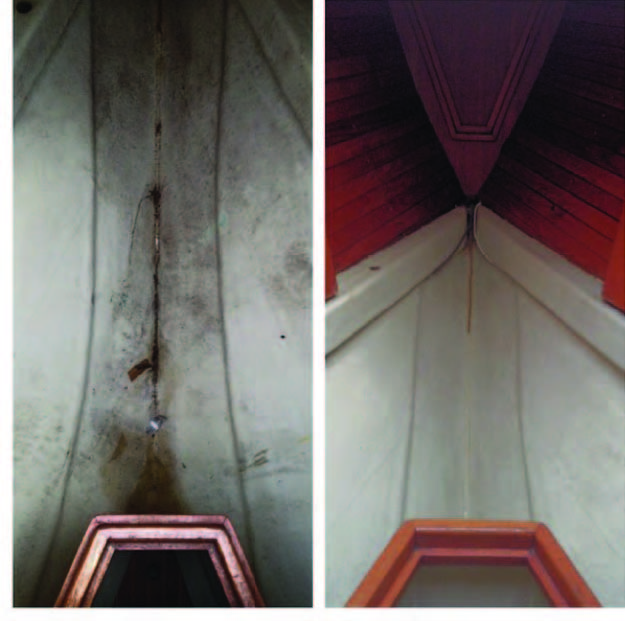 Team Steam of Larchmont, NY is now offering boat owners comprehensive steam cleaning services to eliminate mold and
mildew. If mildew or mold is allowed to grow and accumulate inside a boat, spores are released into the air creating a health
hazard if they are inhaled. Using only environmentally friendly cleaning products, Team Steam's Matt du Moulin and James
Berenback use marine-specific protectants to help resist the growth of mold and mildew as well as ones that combat the
effects of UV oxidation and salt corrosion. Their cleaning process works on a wide variety of surfaces, including wood,
fiberglass, vinyl, leather and canvas.
Working on a 1977 33-foot sailboat that had been covered for over five years, Team Steam demonstrated the effectiveness of
their steam cleaning process by converting a mildew- and mold-infested interior into a safe, pleasant cabin for the owner and
his family to enjoy. Team Steam's services also include polishing, waxing and sealing gel coat, as well as steam cleaning carpeting and upholstery. They can also steam clean and detail cars and trucks. To contact Team Steam to discuss an estimate for a spring cleaning, deep-cleaning, season long mold and mildew prevention or a custom cleaning package, call du Moulin at 914-494-2137 or Berenback at 914-400-5431, or email info@teamsteamny.com.
Guy Gauvin Joins Boston BoatWorks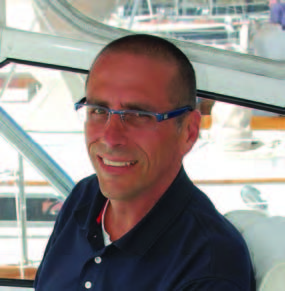 Boston BoatWorks, builder of MJM Yachts, has appointed Guy Gauvin as Service Manager for their new expanded boat building and service yard facility at the Charlestown Maritime Center. Gauvin has been General Manager of Hinckley Yacht's service yards in Oxford and Annapolis, MD as well as Portsmouth, RI, General Manager for Goetz Custom Boats and CEO of the Atlantis Marine Consulting Group.
"Service is the name of the game," said MJM's Bob Johnstone. "I'm delighted to welcome aboard someone of Guy's talent and experience as a member of the MJM team as we expand operations in the new facility in Charlestown this spring and launch the exciting new MJM 50z in August." Scott Smith, President of Boston BoatWorks, further commented, "In addition to applying his skills in servicing MJM Yachts owners, Guy will be responsible for developing and operating a 'Best in Class' Service Yard available to the owners of all yachts in New England waters wanting the advanced, custom technological expertise of the world's most advanced production builder."
Gauvin brings 25 years of management experience and business leadership to his new position. In addition to his Hinckley and Goetz management roles, he sits on the Board of Directors of the Governor's Workforce Partnership of Greater Rhode Island, the Rhode Island Marine Trades Association and the American Boat Builders and Repairers Association.
North U. Regatta Services
North Sails has announced the 2014 North U. Regatta Services schedule. Regatta Services (formerly Client Services) is a free program provided by North Sails at select events in North America that provides coaching and performance analysis to all event participants. North's team of Chuck Allen and Andreas Josenhans are both highly trained sailing performance analysts. The program includes on-the-water coaching followed by performance analysis debriefs. All sailors are welcome at the post-racing sessions. "Regatta Services helps sailors understand who won and why," said Josenhans. "We provide free, hands-on coaching by offering outside eyes designed to improve speed and performance." North U. Regatta Services will be offered at 17 events this season For more information, contact Allen at 401-418-1909 or chuck.allen@northsails.com, or Josenhans at 902-521-9999 or andreas@prg.northsails.com.
C&C Redline 41 Hull #1 Under Construction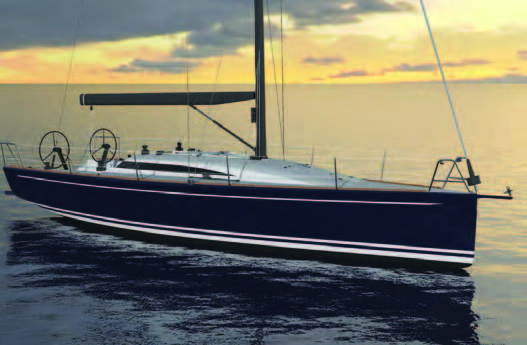 C&C Yachts, a division of USWatercraft in Warren, RI, has announced that the first production hull of the much-anticipated Mark Mills-designed Redline 41 is under construction. The boat is being built for an experienced British ocean racer who plans to compete in the 2014 Newport Bermuda Race. Designed to be a fast, durable performer capable of taking on premier offshore events, the C&C Redline 41 is the newest member of Mark Mills' family of famous race winning 40-footers such as Blondie, Tokoloshe, Mariner's Cove, Soozal and Downtime, and will be a very strong performer in ORR/ORCi and IRC. Mills Design is working closely with US Sailing to provide an ORR certificate for the boat.
The Redline 41's carbon mast, swept spreaders, non-overlapping jib and the choice of a conventional spinnaker or an asymmetrical with a retractable sprit provide ease of handling with top-notch performance. None of this is a surprise coming from Mills Design. What may surprise sailors are the custom interior choices that the craftsmen at C&C Yachts/USWatercraft provide. Owners can specify various options to customize the boat to be either more racing or more cruising oriented. A fusion of creative design, modern composite technology and New England craftsmanship, the Redline 41 is unique among today's offerings in the 35-40-foot performance market. For more information on the Redline 41 or the upcoming C&C 30 One-Design, visit c-cyachts.com.
Artist Turns Hurricane Trash Into Nautical Treasure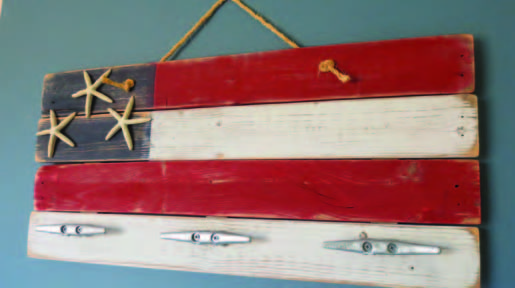 Susan Ashelford, an artist and business owner in Milford, CT, feels the impact of Hurricane Sandy every day. "So many of my neighbor's homes were destroyed," says Ashelford, who lives in one of the many coastal communities devastated by the 2012 storm. Compelled to make something beautiful from some of the debris, Ashelford designed and built nautically inspired wall hangings and customizable picture frames from salvaged fencing. "My nephew and I put the fence up in my yard," she explains. "Sandy took it down, and now there's a piece of that very same fencing – transformed into art – hanging in my living room. These now serve as a lasting reminder of the importance of family, community and perseverance."
Ashelford proudly displays and sells the art in her downtown store Given to Gauche, donating a portion of the proceeds to United Way of Milford Hurricane Sandy Recovery Fund. For more information or to purchase these items, visit giventogauche.etsy.com, stop into Given to Gauche at 4 Daniel Street in Milford, or contact Ashelford at 203-878-2625.