A U.S. Naval Academy grad, a U.S. Marine and a U.S. Patriot Sailing Ambassador, this intrepid sailor is taking on his biggest challenge in the Mini Transat.
What is your sailing background, and how did that lead to Classe Mini 6.50 and the Mini Transat?
Originally from the suburbs of Philadelphia, I grew up sailing Optis on the Delaware River at the Corinthian Yacht Club of Philadelphia. In high school, I spent the summers racing 420s and keelboats in Annapolis, and the latter offshore as well. I raced all four years on the Varsity Offshore Sailing Team at the U.S. Naval Academy. That's really where I learned more about racing, leadership, and boat preparations on many different types of boats. That experience ranged from skippering the Navy 44s in collegiate championship regattas, to navigating a Farr 40 in an Annapolis to Newport Race and helming it in a Block Island Race Week, to trimming main on a J/105 for a season and trimming headsails on a Farr 49. My highlight was skippering the TP52 Invictus in the 2010 Newport Bermuda Race and multiple inshore regattas that year.
For the next decade, I took an unintentional break from sailing offshore to serve in the U.S. Marine Corps. Between training, deployments, and normal office work, sailing unfortunately dropped low on the priority list. When I moved to the D.C. area, I took the opportunity to jump back into sailing by volunteering with U.S. Patriot Sailing in Annapolis. At the time, I enjoyed supporting the veterans on the team by teaching them how to sail and maintain the boats. What I did not initially realize was how much the team helped me get through my own challenges in life while going through a divorce, followed by a transition off active duty. I knew I was ready for a major life change and to get back on the ocean. I just didn't know how.
During the lockdowns and throughout my final year on active duty, I spent most of it working full time at the Pentagon. Every day in a windowless office, providing daily intelligence to senior leaders. While important work, my passion was for the ocean. The only professional sailing taking place during that time was the preparations for the 2020 Vendée Globe starting that November. As I learned about this fleet, I became hooked on the French solo sailing world. In researching how many of the IMOCA skippers started their offshore solo racing careers, it led me to the Classe Mini 6.50 and its extensive racing circuit. Funding an IMOCA, Class40 or Figaro was out of the question, but the Mini 6.50 appeared to be a reasonable way (budgetwise, at least!) to race offshore. France was still shut down for Americans, so I started my search for a boat within the U.S. It just so happened that the best American Mini was located right here in Annapolis! From the moment I saw the boat, I was fully committed to racing in the Mini Transat.

Looking back for a moment, please tell us about sailing with your parents.
When I was in middle school, my parents bought a Farr 395 named Upgrade for racing and cruising. It was a great boat to learn on, and from the very beginning I was up on the bow learning how to get the large sails up and down. My first time sailing offshore I was 13 in the 2003 Annapolis to Newport Race with both parents on board. With a strong nor'easter it was pretty miserable for everyone beating upwind, but I loved it. I did three Annapolis to Newport Races ('03, '05 and '07) and two Newport Bermuda Races ('04 and '06) on Upgrade, and countless deliveries and regattas. My mom joined us for most of the deliveries, so it was great sailing with both of my parents. For us, getting to the starting line and completing each race was always its own victory.
What's the most important thing about offshore racing that you learned from your dad?
I learned so much from my father, Peter, but to sum it all up would be perseverance. So much of racing offshore relies on preparations ahead of time. Both of my parents did so much behind the scenes to get the boat ready for the crew to have incredible experiences. When out on the water, he continued to persevere as a skipper and never gave up. Though he is no longer with us, I try to apply what I learned from him every time I sail.
During the first Annapolis to Newport Race on Upgrade (first time taking the boat offshore), the first day in the bay we had strong winds, saw waterspouts, and got knocked around by squalls. That night, I remember hearing the clew strap on the mainsail break – it sounded like an explosion on board! The following night, sailing through a nor'easter along the East Coast, we started taking on water. As it got above the floorboards, we continued to search for the source. We were heading towards shore and started to prepare ourselves in case the boat was going down. Turns out, storing filled garbage bags in the bow anchor locker was not a good idea! As drain holes got filled up, water started pouring in belowdecks. We never made that mistake again.
My most memorable time though, was actually racing against my dad (and family) in the 2010 Newport Bermuda Race. I was skippering the Naval Academy's TP52 and they were on Upgrade. Unforgettable experience competing against the family…and beating them to the island!
Please tell us about your time as a Marine, and how you became involved with U.S. Patriot Sailing.
In 2011, I was commissioned into the Marine Corps. After a year and a half of training, I was a ground intelligence officer and infantry officer. In 2014, I deployed to Helmand Province, Afghanistan as an advisor to the Afghan National Army.
In 2018, I deployed to the Middle East and Africa as the intelligence officer for a Battalion Landing Team, or a reinforced infantry battalion, as part of a Marine Expeditionary Unit. My section was responsible for providing intelligence to about 1,200 Marines split across three amphibious ships. I was on a ship with over 3,000 Marines and sailors, which was like a slightly smaller version of an aircraft carrier. We had vertical takeoff and landing jets, helicopters and tilt-rotor aircraft, in addition to howitzers, trucks, and other equipment ready to go ashore. We crossed the Atlantic, Mediterranean, Red Sea, Arabian Sea and Persian Gulf, conducted multiple training exercises and were prepared for various U.S. embassy reinforcements/evacuations.
Although I was excelling professionally, my personal life was crumbling. Once the divorce process started, I needed a hard reset. One cold winter day I got an invite to help do some boat work on a U.S. Patriot Sailing boat in Annapolis. It was exactly what I needed to get back outside and meet new people. One day turned into a second, and soon I was sailing with the team every week. It gave me purpose to help teach veterans how to sail and provide a support network to the community, and helped me overcome my own challenges.
What's U.S. Patriot Sailing's mission, and how does that resonate with you?
U.S. Patriot Sailing's mission is: "We support our Veteran community by welcoming our fellow Veterans back onto a winning TEAM – offering camaraderie, mission accomplishment, and new dynamic experiences."
This mission resonates with me because there are many different life challenges that many veterans face and this team is there for them, however they need it. Maybe it's sailing once a month, or racing three days a week in the summer – either way the team provides persistent engagement opportunities on and off the water. Not every veteran is in need of help, but many Teammates race to support others. Therefore, all veterans and active duty service members are welcome to join the team.  U.S. Patriot Sailing is a national level non-profit organization and 100% volunteer run. The team started in 2014 and is now located in Annapolis and Solomons, MD, San Diego, CA and most recently Seattle, WA.
You're doing a solo ocean race without much of the equipment found on larger, crewed boats (i.e. those in The Ocean Race; sat/comm/off-the-boat media, etc.). How will sailing from France to Guadeloupe support U.S. Patriot Sailing's mission, and how will you be sharing info with your fans and followers during the race itself?
The Mini Transat is a 4,050 nm solo ocean race that takes place over two legs. Departing Les Sables d'Olonne, France on September 24, the fleet of 90 Minis race first to Santa Cruz de La Palma in the Canary Islands. After a rest and refit, the fleet departs again to cross the Atlantic Ocean and finish at the island of Guadeloupe in the Caribbean.
I am racing as an ambassador for U.S. Patriot Sailing to help raise awareness for the team. This is achieved through raising the profile of the team to attract more veterans to join the team (it is free to join!), donations to the non-profit organization (financial, boats, and equipment), and to inspire more people to get out sailing. There are also many who may not be able to sail for a variety of reasons, but they can enjoy following this campaign from anywhere around the world.
During the race we are not allowed to have any satellite communication. We will all have a tracker that everyone can follow to see where I am and the current weather, but the competitors cannot see this information. Additionally, a support member of this campaign will be emailing blog updates about my position and the race with key insights. Check out the blogs at pgnoceanracing.com/blog. I will also have multiple cameras on the boat, so after the race I will be uploading videos for everyone to see more about the experience.
What inspired your boat's unusual name?
In the military, we can take our final leave (or PTO) that we have saved up and use it all together when transitioning off of active duty, and this is called terminal leave. Shipping my boat from Annapolis to France and preparing for the Mini Transat was all part of my terminal leave plan, since I had about three months of time saved up. Therefore, the boat is named Terminal Leave. It's also a link to U.S. Patriot Sailing, because one of the team's focuses is supporting vets transitioning from the military to civilian life and navigating those challenges.
You're the sole American competing in this year's Mini Transat. How have you been greeted by the locals in Les Sables-d'Olonne?
Les Sables-d'Olonne is an awesome port and beach town in the southern region of the Bay of Biscay. The town's offshore sailing history is rich with the Vendée Globe taking place there every four years, and the locals have been incredibly supportive. They, as well as the Mini fleet whom I've gotten to know, are all very welcoming. The fleet is primarily French, but with a solid mix of Spanish, Italian, and other European nationalities.
I am currently the only American fully qualified with my spot guaranteed for the Mini Transat. Over 150 skippers signed up for just 90 entry spots. Within the Series class, I have the eighth most race miles on my boat so my spot is secured after a successful previous two seasons of racing.
How's your French?
Learning slowly, but it's a work in progress. Despite all the time I've spent in France the past two seasons, most of it is alone, either working on the boat or sailing offshore. Learning French through the VHF radio is not easy!
Do you have a coach or team on site?
No. I wish I had a coach and a team on site but financially this campaign is not there (yet!). I have, however, received a ton of support from friends and family along the way. My girlfriend Jane has been part of this program from the beginning and has helped with planning, coordination, boat projects, and some deliveries. I am currently balancing this campaign, while also "drilling" in the Marine Corps Reserves in the winter, and finishing a Masters program at the National Intelligence University.
Did you think about joining one of the French training centers? If so, what happened?
I wanted to join a training center, but it's nearly impossible unless you're living in France full time and have a visa to stay beyond the 90-day limit. Going forward, my goal is to join a training center if I have the opportunity to go for another campaign. This could be on a Mini again or maybe in a Figaro or Class40. It all comes down to funding and sponsorship.
Has Terminal Leave been measured, capsize-tested, etc.?
Not my boat specifically, but some of the sisterships have been. Since Terminal Leave is an RG 6.50, within the Series category, my specific boat is built to strict specifications by one boat builder and that is inspected by the Classe Mini organization. I have to keep my boat within strict specifications, and certain components must be manufactured by the original builder. The first few RG 6.50s were stability tested by analyzing the righting moment, as is every Prototype entry (since they are custom builds).
What is the hardest thing about this campaign?
Fundraising through sponsorship, outreach, and seeking donations to make this mission a reality. While Classe Mini is a more cost-effective way to ocean racing, it is by no means cheap. More money raised increases my competitiveness, but more importantly my safety preparations.
What's your longest solo passage on Terminal Leave to date?
In July/August 2022 I competed in a race from Les Sables d'Olonne to the Azores and back. Both 1,300 nm legs (2,600 nm total) were each my longest passage yet, and we only had about three days in between to rest and repair before starting again. Each race was around twelve days long since multiple high-pressure systems got in the way and slowed down the fleet. You can see the second leg here where the fleet had a 500 nm lateral separation between Portugal and Ireland. It was a wild race: lessables-lesacores.geovoile.com/2022/tracker/?leg=2
Please share a bit about the lead-up races and qualification sails you've completed, and your results.
After two seasons I have sailed about 7,500 nm on Terminal Leave off Europe, with most of that dedicated to solo ocean racing.  The races span France, Spain, the Azores, Atlantic Ocean, Bay of Biscay, English Channel, and Celtic Sea. During my first season, the big accomplishment in addition to racing was completing the required 1,000 nm solo qualification sail between Ireland and France. We have to take detailed log book entries, show chart work, and prove our ability to complete celestial navigation as a back up to our GPS, and submit it to the class for qualification approval. The hardest part of that sail was not being surrounded by other Minis like in the races (even if you can't always see them).  The final night I got hit by a nasty squall as I was rounding the final mark off the coast of Ireland and was in survival mode, because the sea state was so rough close to shore. It was a great experience to learn more about the boat and myself.
How hard are you studying Meteo?
As an Oceanography major at USNA, I really enjoy learning about the weather and oceans.  I will continue to focus hard on this topic going into the Mini Transat and will be my main focus leading up to it.  The challenge is taking all the information you can before stepping onto the boat for the races, then translating it to what you actually see.  For the longer races like the Mini Transat, the race organization provides a twice daily weather briefing over the SSB (in French and English!), but the forecasts cover wide areas and are nowhere close to anything a GRIB file might provide.  It involves a lot of chart work and analysis to make the right navigation calls.
Your boat (assuming she's Vernon Hultzer's old boat) is a Production Classe Mini 6.50 (box rule, fixed keel, no moveable water ballast, etc.) Her original aluminum mast had been replaced with a carbon mast, which would've made your default the theoretically faster Prototype class. How is that playing out?
Terminal Leave (#837) is indeed Vernon's old boat, previously called Thunder or Team Wichard.  If I had kept the carbon mast and other carbon items, the boat would not have been competitive within the Prototype class. Those boats are pushing the limits with carbon fiber hulls, taller rigs, longer keels that are canting, and now foils. Therefore, I removed everything that was not class legal in the Production or Series category, and started over. That included a new mast (which had to be made by one manufacturer), new sails, new spinnaker pole and struts, as well as little things like moving the location of the batteries.
The boat now races in the Series class which is perfect for it, but certainly not easy. Her design is now ten years old so she's not the fastest boat on the course. It's a challenge racing against the newer Series boats that have scow bows, but not always impossible. It requires me to sail harder and smarter every second of the race. Terminal Leave was the right boat at the right time, and what I needed to race in the Mini Transat. If I had waited any longer or found a different boat, I would've had to delay to the 2025 Mini Transat due to how many boats are qualified.
Have you had any of the U.S. Patriot Sailing guys and girls out on Terminal Leave?
Not yet, but I want to! When I bought the boat in the fall of 2020, I only had a few opportunities to sail her before doing a ton of boat work (we replaced the entire electrical system, for example) and shipping her to France. Once I finish the Mini Transat this winter, my plan is to sail the boat north and bring it back to Annapolis in the spring of 2024. I cannot wait to get as many U.S. Patriot Sailing teammates out on the boat in the Chesapeake Bay!
What are your expectations of the Mini Transat?
A safe and competitive campaign that honorably represents U.S. Patriot Sailing internationally. I expect the race to be an incredible challenge where I am prepared to push myself physically and mentally further than ever before.
What is your anticipation of the three hardest things you will face?
Racing through storms, sleep deprivation, and weather routing. These three topics are each difficult to manage by themselves, even harder when at sea alone.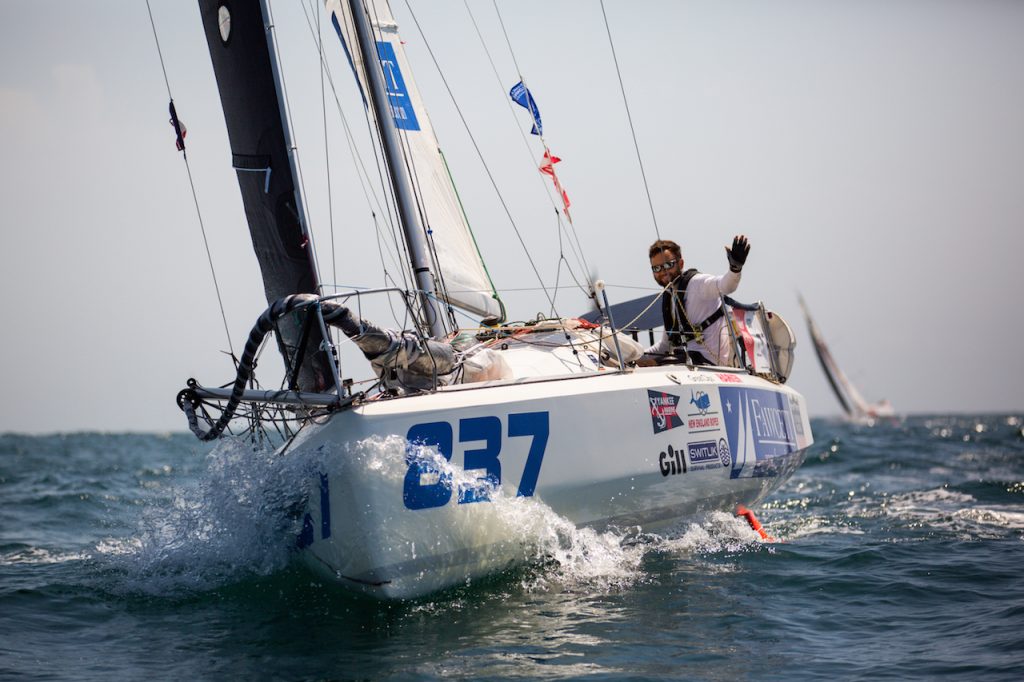 PGN Ocean Racing is seeking additional sponsors to complete their mission.  © Manon Le Guen
How can WindCheck readers support your campaign and U.S. Patriot Sailing?
After two years, I have contributed a lot of my personal finances to this campaign and I'm actively seeking additional sponsors to help me get to the starting line this September. If you, your company, or someone you know would be interested in sponsoring the only American competing in the 2023 Mini Transat, I would greatly appreciate the connection.
The best way to support my mission to race in the Mini Transat is by donating on my GoFundMe page (gofund.me/f43e698e), through the U.S. Patriot Sailing website at uspatriotsailing.org, or by contacting me directly at peter@pgnoceanracing.com Make sure to sign up for my blog posts at pgnoceanracing.com and follow me on social media @pgnoceanracing. THANK YOU everyone for your support!
Thank you Peter. The WindCheck crew (and the entire WindCheck Community) will be rooting for you! ■