By Tom Darling
In Part I of this article (windcheckmagazine.com/article/alerion-past-present-and-future-part-1-whats-an-alerion-1913-1977-perfect/), we detailed the design and early history of Alerion III, Capt. Nathanael Herreshoff's favorite of dozens of personal boats. When we left Captain Nat in the 1920s, he had retired to Florida in an Alerion derivative named Pleasure and spent his eighties going into the Great Depression. He was on the sidelines for the rise of the mighty J Boats, designed by new blood like Burgess and Paine. New designers had taken the stage in the America's Cup that he had so dominated for six defenses before and right after World War I.
For those of you who need a quick refresher on Herreshoff, Nathanael G. Herreshoff was an 1870 graduate of MIT and a mechanical engineer who plunged into boat design and building in a family boatyard in Bristol, RI and held sway through the Gilded Age and the rise of yachting through the Roaring Twenties. His dominance of America's Cup yacht design was unparalleled until the rise of Olin Stephens in the late 20th century. His well over 1,000 designs represent the most prolific 19th and early 20th century body of sail and power yacht design.
Here in Part II, we explore the children and cousins of Alerion III, built in the last 25 years from Rhode Island to Maine by builders like Beetle, Artisan, Brooklin, and on my home island of Nantucket, by Sanford Boat.
The history of the Nantucket Alerion is embodied in the most recent builder, Eric Fingers. Eric wasn't present at the birth of the Nantucket Alerion in 1977, however; it was the brainchild of Alfie Sanford. His goal was a new daysailer for the stiff winds and shallow waters found in choppy Nantucket Sound and especially for the seven-mile long Great Harbor, which lays out to the east from Nantucket Town. Nantucket Harbor sails more like a sunken Scottish links golf course with its obstacles, points, sand bars, eelgrass and swirling breezes. As the story goes, Sanford convinced the MIT Herreshoff Collection to share with him the plans, then as now two sheets of drawings (remember that lost Alerion book of plans from Part I, aka The Mystery of the Missing Offsets?)
The first sailing model, appropriately named Una, had unsatisfactory helm characteristics, so out came the surgeon's saw and they took fourteen inches off the front of the rudder. On a 15-knot reach, you could fool me reaching in a breeze that the weather helm was improved. But apparently it was. Una was Herreshoff-looking in hardware, with bar travelers on main and jib, along with the swept-back, bendy upper mast section to twist out that long upper batten and depower an oversized main.
Boat #2, Serendipity, is today and since the 1980s the model for the first generation of 20-plus boats built on Nantucket. The fleet today numbers up to A-32, a gorgeous midnight grey creation that splashed in 2019. All of the Nantucket boats are cold-molded, four layers of wood strips with the outer two in mahogany. A fair number of the boats are still bright finished. The mast is a jigsaw puzzle of eight pieces of spruce on top of a steel box with cross braces inside at intervals and culminating with a solid wood tip bendy as a Laser top mast section. That bendy top is, along with the chainplates, made of a rock-hard wood called angelique, which provides the strength to anchor shrouds and support chainplates. Anchor wells and flag halyards for gentlemen's day sailing are juxtaposed with today's modern Harken main and jib travelers, high powered outhauls for smoky southwest upwind conditions that swallow line in one gulp. They even come with cunninghams with winches behind – very untraditional, but very handy.
The fit and finish of these boats is extraordinary. With the first boats, built beginning 1979 in a shed in mid-Island Nantucket, your deck came canvas or fiberglass. Gorgeous teak decks came later, with 3/16" strips. One of the boats, A-18, owned by the Polar beverage family, has a 5/16" thick teak deck on top. Heavy, but sturdy in a boat that weighs three-and-a half-tons (almost half the weight of 36-foot Dolphin!). The Nantucket Alerion, A-2 through A-32, is as one-design as a 26-foot, three-inch, custom-built wooden knockabout could be. That is the beauty of the innovation in building that the builder, Alfie Sanford, brought in the late 1970s. That was the adoption of the Gougeon brothers' (former iceboaters extraordinaire) WEST System of cold-molded epoxy construction.
The Nantucket boats beginning with A-2 are fundamentally the same: same shape, same weight and, with uniform hardware upgrades, the same running rigging. The cotton sheets and halyards are long gone. The Nantucket Alerion is a muscle car with high-tech line and a boatload of Harken accessories. Tricked-out with modern instruments, you could be sailing a TP52 with a much, much nicer wooden tiller.
The story of the early Nantucket Alerion fleet is of wandering boats, on and off the 49-square-mile island. Boats were built and many taken away, but they still seem to find their way back.
Harry Rein, a former venture capitalist and the long term fleet captain, has the lineage of his fleet in his head; his own boat, A-2, had her own unique voyage. Serendipity (A-2) wasn't completely built when she went south to the Chesapeake. There she picked up a spinnaker and a backstay before being returned to Nantucket and restored into local fleet configuration.
All of the boats through 1997 were strips of wood stapled and cold-molded with epoxy resin. A-24, owned by Mark Pagon, a Philadelphia resident who is Chairman of the U.S. Squash Association, was the first boat to be built with vacuum bagging. That is a technology that Captain Nat would very much approve of – exotic wood, resin and technology neatly packaged to produce an extraordinary structure. Remember, Nat built the AC behemoths with exotic and unwieldy combinations of metals; ones with limited lives due to their chemical interaction. A hull was basically good for a campaign. While NGH would appreciate the stiffness and strength of epoxy and good old wood fiber, he would have nevertheless loved the engineering potential of fiberglass and carbon fiber.
During the last 23 years, nine of these epoxied, vacuum-bagged beauties have come off the mold. The rest of the components are maintained on a one-design basis: masts the same, centerboards the same, and a target weight of 6,200 pounds with 2,800 pounds of lead ballast.
Two times an Alerion design has won the Nantucket Opera House Cup Regatta: one old, one new. The first winner was the prototype or cousin, Owl, with a few tweaks on basically the same hull. That year, 2006, it was blowing hard (in fact 25-plus) from the south. In 2018, with northeast winds ripping against the opposing tide and 25-knot breezes, the winner was a recently built boat skippered by a local female skipper with the crew from the other Yacht Club in Nantucket, Great Harbor. It was Alerion weather that year; the Opera House Cup's first six boats on corrected time were Alerions.
Tracing the Alerion Family Tree
In the 1980s and early '90s while the Nantucket fleet was growing, several authentic reproductions of Alerion emerged from the Henry B. duPont Preservation Shipyard at Mystic Seaport Museum. The first, Curlew, was commissioned by a Westport, MA husband and wife and was original down to the wood carved out of logs obtained by the Shipyard. WoodenBoat Magazine's September/October 1979 issue tells the whole story in pictorial form, from building the frames and skin upside down to the fabrication of the unique Herreshoff-formed ballast. The other replica we uncovered in our search was another Mystic-advised build named Phoenix. The same article tells the brief story of that classic built for a Maine owner in 1986 to the 1981 set of plans created when Alerion III was refurbished at Mystic in 1972.
In addition to the new boats built in Nantucket by Matt Reeves and Eric Fingers, one of the best-known traditional boat builders, Beetle Boat, produced a gem of an Alerion a decade ago. That boat, Thetis, rose out of Mattapoisett, New Bedford's boatbuilding peninsula. Built to the exact specs, "by the traditional Herreshoff method," meaning with the customized molded forms and individually tapered planking, she is painted white with the traditional Herreshoff Green bottom. Based on recent photos on the Beetle website, Thetis also has the gunter rig, and was voted WoodenBoat's Best of 2010.
The most recent "authentic" Alerion is offered by Brooklin Boatyard, known best for their large, custom wood boats and the W45 and W70 semi-custom one designs. Given the provenance of the architect, Nantucket's Alfie Sanders, these boats will presumably have the Nantucket shoal draft configuration and modified rudder blade.
One-offs or limited production boats in wood come from sources like Rumery Boatbuilding in Maine. On the fiberglass side, Carroll Marine made some boats to the specs of Halsey Herreshoff, grandson of Capt. Nat. The brochures and websites tell the same story of Capt Nat's preference for classic looks and effortless boat handling.
I have seen the future of Alerion, and it is in fiberglass.
While all this tree wood was being milled into replicas, fiberglass sneaked into the Alerion design. The first and most common fiberglass model that most of us have seen is actually a longer version with a modern underbody, fin keel and separate rudder attached to the same hull form, with a displacement about a half ton lighter than the traditional 26-foot classic Alerion. This Alerion 28 was designed originally in the 1980s by a midwestern team headed by Carl Schumacher, a West Coast designer for the S2 series of racing cruisers made initially in Michigan.
This Alerion lookalike was dubbed the Alerion Express. With minor tweaks, this boat has been built somewhere in Rhode Island since the late 1980s. After Holby Marine built seven, TPI acquired the molds in 1992 and built the majority of today's Alerion Express fleet before yielding to US Watercraft, which went under in 2018. The total boat count has been somewhere in the low 400s, respectable for a niche daysailing keelboat.
The largest fleet we could find was at the Devon Yacht Club on the South Fork of Long Island, where a dozen boats enjoy the flat water and ocean seabreezes of Gardiners Bay. Most boats sail with a non-overlapping, self-tacking jib and no spinnaker. The spinnaker version's time handicap doesn't seem to justify its use. Sailing out of slips, the Alerion Express sails with a skipper and crew, very much in the spirit of Capt Nat and his single-handed ethos.
Those who know the Alerion Express as built under the Alerion Yachts brand since 1986 know the innovations that Gary Hoyt, a futurist in boat thinking if there ever was one, brought to the early version of the Alerion Express.
I call Gary the Wizard of Newport. He was a Pan Am Games medalist in the Sunfish, ad executive by profession from Colgate University, and a Comet sailor down on his home waters on the Jersey Shore. But we know him in Newport as a polymath who taught himself naval architecture along with his unusual and creative form of rigging architecture.
In my opinion, Gary is the Captain Nat of his time: tinkerer, designer, sailing innovator. I really knew Gary from my sailing life in Newport, RI and Nantucket. He sailed (A-18) in the Nantucket Fleet in the mid-2000s. By then, he had had his hand in an eclectic set of boats. He had launched with Tillotson Pearson one of the first designs to use carbon fiber masts. He cleverly designed small boats with unique rigging to make sailing easy, as he thought it should be. He has published several books on the practical future of sailboat design
For the new model Alerion Express, he had some unusual ideas. First was a modern version of the self-tacking jib. On the foredeck is an L-shaped spar that acts as self-tacker upwind and jib winger downwind. For another model, he devised the Rube Goldberg-like Gun Mount to launch spinnakers shorthanded. He embraced the self-tailing winch. He offered one-man main furling. For a downsized 20-foot Alerion design, he introduced the first solar-powered electric auxiliary power. It was all about shorthanded sailing – exactly how Herreshoff would have wanted it for his lunchtime solo sailing. It's all about ease of use and making the sport of sailing accessible. That's another principle that NGH would have heartily advocated.
Alerion Yachts Rides Again
The most recent chapter of Alerion is not a year old. It's a case of two friends collaborating on reviving a boat company. Peter Johnstone of the J/Boat clan and Chinese-built Gunboat catamarans started to do a restart of Alerion Yachts following its reorganization in 2017. Peter had teamed up with Randy Borges in Rhode Island to launch a line of all these Alerion models:
* Gary Hoyt's original concept of the Alerion 20;
• An updated version of Carl Schumacher's 28 with more rounded deck features and the same basic underbody;
• A "stretched" 33-foot version of the 28;
• And a newly designed Alerion 30, a distant cousin based on size and design
On the Alerion Yachts website, the history section refers to having more than 600 Alerions in existence as of 2019.
Before Johnstone got very far, he recruited help from his friend Peter Eastman of Howard Yachts, builder of the Barnstable Cat, a fiberglass Beetle Cat, and other traditional style small boats. Peter J decided to sell Alerion to Peter E. Eastman had a 20-year record of producing traditional small boats like fiberglass catboats and a variation on the 12 ½ called the Haven on Cape Cod. Ironically, the two Peters had been rivals in prep school sailing in the early 1980s and college sailing teammates after that.
Peter Eastman really liked Alerions. In a December 2019 interview he said, "I have loved Alerion Yachts since their inception in 1986." He saw it as the top daysailer keelboat brand and decided that he had to build it. Howard Yachts took over the Alerion Yachts portfolio in December 2019, about 60 days before the pandemic arrived. We wish him luck in a crowded space at a challenging time.
107 years of Alerion and counting…

As always, send in your field note if you have an Alerion sighting elsewhere. If you spot a classic Alerion on the water, please take a picture and send it to me at tcd4sail2@gmail.com. We know there were boats built by other builders like Artisan. They are rare birds, but easy to recognize. Maybe you can track one down. Classic boat spotters, keep your eyes open for the Alerion, and please report your sightings!!
If you find yourself on Nantucket August 14-16, we will be hosting a Conversations with Classic Boats Podcast Gam on Straight Wharf (Covid-19 permitting) on Saturday, August 15. Our plan is to have an open mike for all classic boat owners to come and tell their story for the August Conversations with Classic Boats podcast. We'll also have copies of WindCheck's July and August issues (collectors items!!) to hand out. For more details, contact us at tdc4sail@gmail.com or check the website at conversationswithclassicboats.com. ■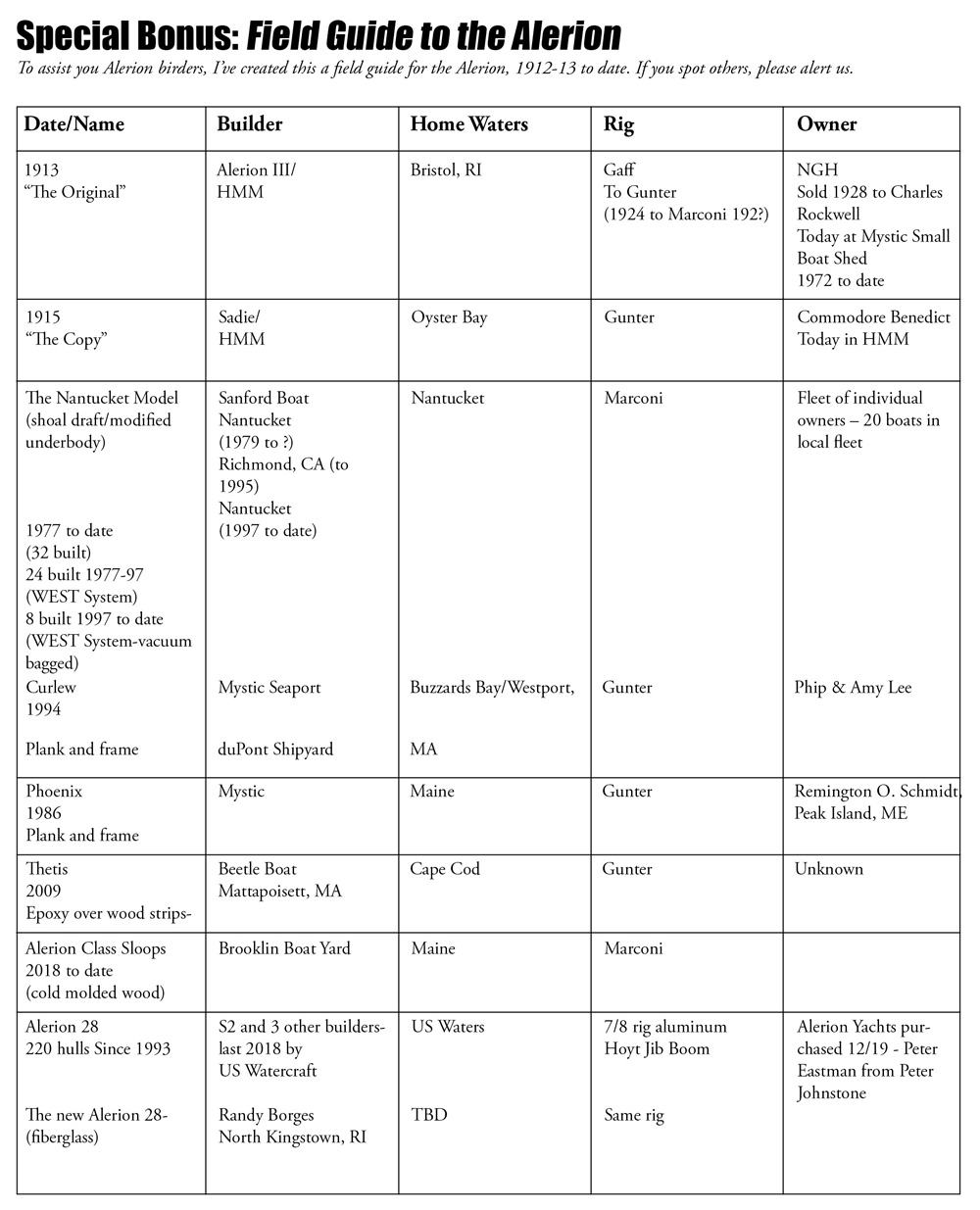 Tom Darling organizes Team Dolphin for its annual Opera House Cup sail, and sails Alerions in Nantucket Harbor. He has written articles on Reliance and Dolphin, among other Herreshoff classics.