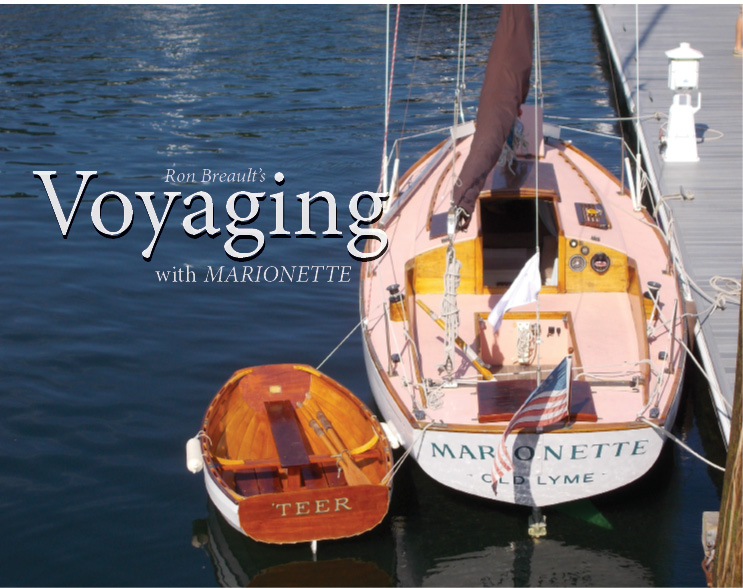 By Ron Breault
Published by Whaler Books, an imprint of Mariner Media, Inc.
320 pages   paperback   $39.95
In 1995, Ron Breault of Old Lyme, CT placed the winning bid on a Sparkman & Stephens Dolphin 24 that had been donated to the Connecticut River Museum's annual Thanksgiving fundraising auction. Having retired early from the 'game,' he was looking forward to restoring this lovely but neglected boat for singlehanded daysailing, overnighting to places like Fishers Island and Shelter Island, and occasional racing.
Although he did not realize at the time, Ron had signed on for a long-term love affair with a very special shoal draft 24-footer built during the boatbuilding industry's transition from wood to fiberglass construction. In his words, "…she had a fascinating history, loved compliments, loved racing, especially in light air, and loved taking me for the ride, especially to Maine, where pretty wood boats have a special place."
One of Ron's goals was to create an informal conversational narrative akin to sailors swapping boat stories over a couple beers at a favorite pub, and he's succeeded. From the restoration process and construction of Marionette's barn and her wooden tender 'TEER to the S&S 75th Anniversary celebration at Mystic Seaport Museum, success in the Off Sounding Regatta and cruising Downeast, Voyaging with Marionette is beautifully illustrated with lots and lots of photographs. Ron dedicated this lovingly written memoir to his family's Airedale puppy Lola, who sadly did not live to see her first birthday: "She would have been pleased to chew on her copy of this book." To order a copy of this highly recommended book for your favorite sailor, log onto marinermedia.com/product/voyaging-with-marionette/.
Ron Breault is a member of the Niantic Bay Yacht Club in Niantic, CT (past Commodore), Off Soundings Club (past Treasurer), Eastern Connecticut Sailing Association (past Juniors Chair), and past U.S President of the International 420 Class Association. He is also webmaster of the excellent Dolphin 24 Class website, which can be found at dolphin24.org. ■