by MARGUERITE KOEHLER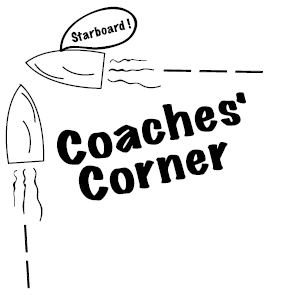 This isn't an earth-shattering concept. Start preparing for your sailing season now, and when it gets here you'll have a better time. Winter finally breaks in March and no matter what blizzard Mother Nature hurls at us, we know warmer days are coming. With summer on its way, here are some things that you can do now to help prevent any stressful last minute regatta panics.
Check your boat
If possible, do this on a day when it's nice and sunny. Start a sailing notebook and make a list what needs to be done. This is a plan of attack to get you out on the water.* It's amazing what a bit of soap can do. Most, if not all problems are discovered when washing your boat. And any questionable cracks or wear spots can be checked with a simple leak test to see if they're more than just cosmetic.
Check all the lines and fittings on both the hull and the spars. Check the spars for any spots of corrosion. Also check for spiders! It stinks to go out for your first sail of the season and discover you have "stowaways." Eek!
Boat preparation is important during the season. But getting a jump on your boat's needs will help you get on the water without the use of four letter words. Any broken parts can be replaced at your pace, without the stress of trying to make the start. Or worse, racing with something jury-rigged.
Plan your events
One-design sailors: This is important! Most boat classes have their season schedule up by March. Go online, or ask friends where they'll be racing this summer. See if you can go, too. Here are some questions to ask yourself: Will you need housing? How will you get your boat to the event? Will you charter a boat? How much is the registration fee? Do you need a crew? What are the conditions at the venue? What are your realistic goals for the event considering the expected conditions? Will you need to train? Do you want a coach? All of these questions, if answered well before the night before, will make your experience a lot more enjoyable.
Also, when setting up your summer plans, think about sailing in a different place. Go explore a new piece of water outside of the Sound or the Bay. Bring your friends and simply have fun sailing. Competition is great, but some of the best times you can have on the water are nowhere near a starting line.
Check your gear
Sure, that old faithful life-jacket is classy. But lifesaving equipment held together by duct tape and the Almighty should perhaps be…cough…cough…retired. Keep in mind that modified PFDs are illegal for competition and could get you thrown out of a regatta. We've all been in tough spots on the water and the gear we wear is made to keep us comfy and protect us. Boots and gloves with good grip (and without holes!), a good pair of polarized sunglasses and a sun shirt, and a life-jacket that floats all make your time on the water better. If you're racing, check that your gear still fits properly. Hiking pants that are a size too small can be very distracting while trying to compete. Also, sunscreen has a shelf life, so check the expiration on your bottle.
Every sailor knows these fundamental elements. But, it's easy to push them aside. What helps better sailors get ahead is that they spend time making sure there boat's ready to go. Focusing on your boat and sailing season now, when you can spend some careful time preparing, will mean you'll be ready when the season comes. So lace up your shoes this March and you'll be able to sail well in May.
*To make this really enjoyable experience, I recommend that you bring music, a friend, and a snack. Boat-prep can stir up an appetite.
Marguerite Koehler is the Manager of the Dinghy Shop in Amityville, NY, dealers for the full LaserPerformance line, McLaughlin and Winner Optimists, the PS2000 29er, Byte & Mega Byte, RS Feva, JY 15, dinghies by Dyer, Walker Bay and Bauer, kayaks, SUPs, and a full line of gear and apparel. Call 631-264-0005 or visit dinghyshop.com.