by MARGUERITE KOEHLER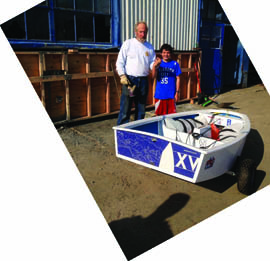 One lucky sailor won a boat. On October 28, my father, Jim Koehler, held a jar full of tickets. A bunch of young sailors, each holding a match to those tickets watched eagerly as he shook up the jar. Every sailor there (young and old) wondered, "Will it be me?" "Will I win the new boat?" This year, to commemorate the 15th Dinghy Shop Fall Series, one lucky sailor won a custom Pro Race McLaughlin Optimist with a very cool design on the stern! (The stern has a stylized chart of the Great South Bay on it.)
All summer we worked out the mechanics of how sailors could win tickets. The goal was to encourage kids to keep sailing and to motivate them to sail well. So, there was an incentive to compete, an incentive to perform, and an incentive to be a good sport on the water.
These were the "rules of the game." Every full registrant received one ticket. Every day you showed up to race and signed in with the race committee, you got another ticket. If you finished every race of the day, congratulations, you earned another ticket. If you won a race, you won a ticket. Just by registering, showing up to sail and finishing every race you could get 13 tickets. The Series winner earned 10 tickets, second place earned five, and top red, white, and blue fleet winners each won a ticket. One sportsmanship ticket was awarded at the end. Finally, ironman sailors, or sailor who finished every race in the whole series earned another ticket.
How my dad read the ticket off was genius. When the big moment came, Jim had all sailors with tickets stand up. Then, reading the ticket one digit at a time he asked sailors to sit down once they realized their number was wrong. This made the whole thing both nerve-racking and fun at the same time, which is sort of like sailing!
Giving the boat away was important to us. We wanted to promote junior sailing and encourage good performance. The boat became a great motivator. Many junior sailors stayed out on the course and kept sailing because they knew they would get another ticket!