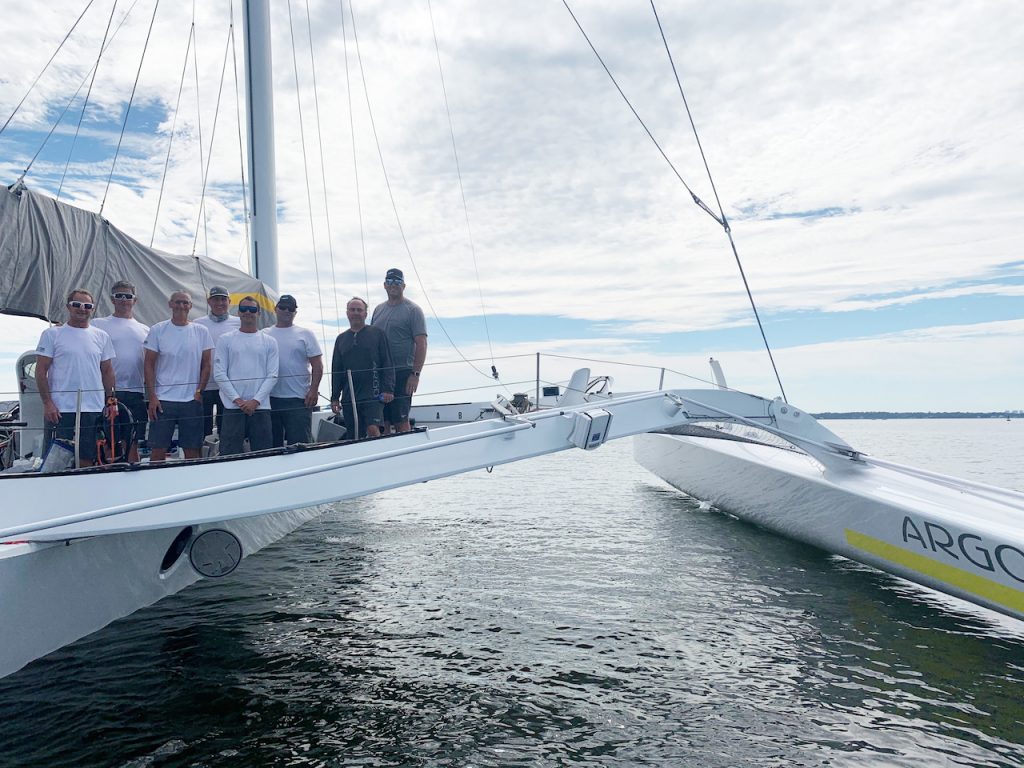 September 3, 2020  – Newport, RI – A new outright record was set Tuesday, September 1 for the  Around Jamestown Record. Jason Carroll's Mod70 trimaran Argo completed their attempt around Jamestown with an elapsed time of 52 minutes and 2 seconds. This bests the previous record of 00:53:37, held by Zach Marks on a foiling kiteboard, by 1 minute and 35 seconds.
The crew on Argo chose to sail the course around the island to starboard, sailing south from the start off Fort Adams at 11:34:47 EST. Argo departed in a 22-knot ESE breeze at the end of an ebbing tide.
This was the Mod70 Argo's first attempt to set the Around Jamestown Record, the team Argo had attempted the record on five prior occasions all in their previous boat, a GC32. This was the first attempt by any individual or team since the record was last set in 2016. On board Argo for the record-breaking attempt were Brian Thompson, Chad Corning, Charlie Ogletree, Anthony Kotoun, Tom Burnham, Jim Condon, Chuck Norris, Westy Barlow, and Ben Bardwell.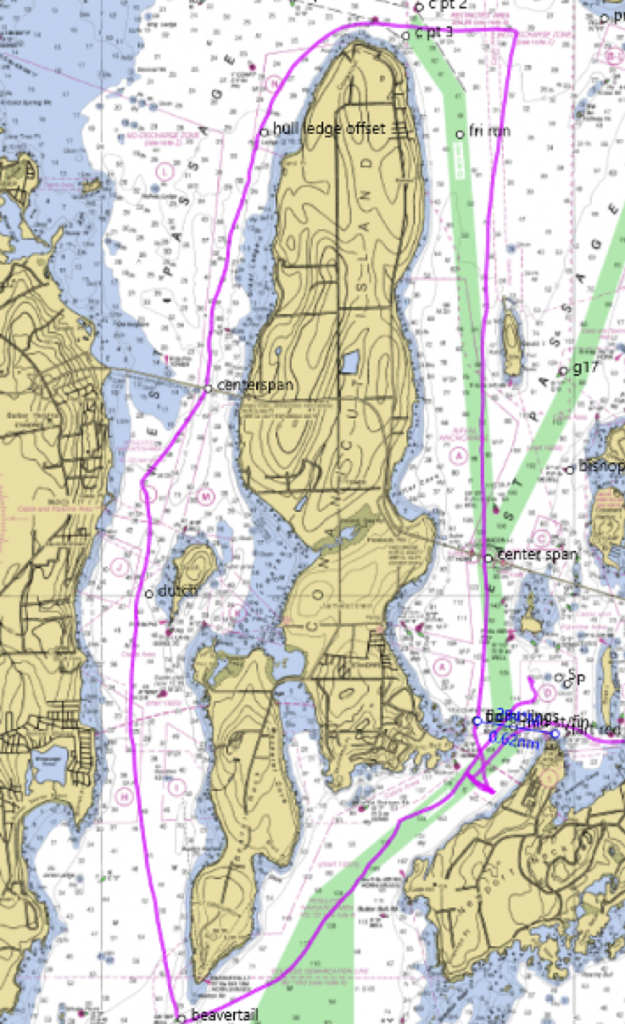 Chad Corning said on the record, "I think setting the record was very much in doubt, because if we would have had to tack more than once then I don't think we would have even beaten Phaedo's record [Phaedo is also a Mod70 and sailed the course in 56 min 33 sec June 27, 2015], so that was the key to the whole thing. We knew it was a fast trip but didn't know how fast until we got to the bridge. Jason was definitely a little disappointed to not be on board, but we have some new foils coming and we're going to take another whack at it this fall. It's a record that means a lot to us as it was a great way for us to get going when we had the GC32, so we're keen to try to get the record under 50 minutes."
On the Attempt he said, "We had been doing laps of Jamestown just as a way to do some focused training and whenever we go out sailing we're always looking for easterly or westerly and Tuesday the conditions just looked perfect so we decided give it a go.
The angle wasn't quite right when we first left the dock, but we decided to give it a go anyway, but as we started the wind left shifted about 20 degrees so right out to Beavertail it became 80-90 degrees wind angle which was kind of perfect and it stayed east on the other side of Jamestown and then we were able to gennaker all the way down to the bridge, switch back to the J1 to the north end of the island. What I think did it for us though was a really well-timed tack and layline once we got on the other side of the island and then it was upwind, close reaching into the finish."
About the Around Jamestown Record
Sailors have until October 31st to attempt to break the new outright record and also secure one of the other divisional records. If by October 31st, no other team in any division bests Argo's outright record time, they will secure the outright record.
The Around Jamestown Record is a perpetual all out record for sailing around Conanicut Island (also known as Jamestown) in lower Narragansett Bay, Rhode Island.
Similar to other outright speed records, contenders will decide when to make a record attempt and also the direction in which they will sail around Jamestown. This means contenders can choose the most advantageous weather conditions and tidal flow in which to attempt the record.
Five categories of sailing boats will be recognized to vie for divisional honors with the overall perpetual trophy going to the boat with the outright fastest time. The entry fee is $150.00 per attempt for any vessel 32' and over, vessels under 32' the fee is $70.00.
The annual divisions recognized and current record holders are:
Monohull 32' and Above – 2014: 72' mini-maxi, Bella Mente 01:19:35
Monohull below 32' – 2013: Shaw 6.50, Manic, 2:00:29
Multihull 32' and Above – 2020: Mod70 Argo, 00:52:02
Multihull below 32' – 2014: F31, Bazinga!, 01:33:53
Kiteboards and All Foiling Craft – 2016: Foiling Kiteboard, Florida Pure Premium Express, 00:53:37
The record is open annually from Memorial Day until Halloween, October 31st during the hours of daylight.
For more information on the Around Jamestown Record please visit www.AroundJamestownRecord.com