Editor's note: We're pleased to share great news about one of our favorite sailors, courtesy of our friends at French sailing media Tip & Shaft.
A little over two months after announcing Banque Populaire's decision to part company with her, Clarisse Crémer is once again focused on the Vendée Globe 2024, with a boat, the ex-Apivia, a team, Alex Thomson Racing, and a partner,L'Occitane en Provence.Tip & Shaft tells you the story of this express return from the brink.

First, recap the facts: on February 2, Clarisse Crémer launched a veritable media bombshell by announcing that Banque Populaire had separated from her, a decision taken by her sponsor in the face of the risk of seeing the sailor not to be selected for the Vendée Globe 2024 because – they felt – she was late in the race miles because of her maternity break (see our article). On February 17, after vain attempts at patching things up (see our article), Banque Populaire withdrew from the Vendée Globe and put the ex-Apivia up for sale which the team had just taken possession of. On March 21, Alex Thomson formalized the acquisition of the Imoca, and a month later, on April 19, a press release announced the commitment of L'Occitane en Provence alongside Clarisse Crémer, with the assistance of Alex Thomson Racing.

Even so it is a particularly quick sequence of events which even surprised Clarisse Crémer herself: "Two months ago,I had buried the idea of the Vendée Globe, I did not see how it was going to be possible, we had to find a boat, a team, before even finding the money, I was really starting from scratch," she told Tip & Shaft. The media outburst surrounding the episode saw her with many phone calls and messages of support, "mainly from Anglo-Saxons, I cannot explain why", she adds, quoting Sam Davies, Dee Caffari, and Alex Thomson.

This latter confirms to Tip & Shaft (see interview below): "That was within a day or two of the problem rising.I had a long chat with my wife about itand from there, there was two parts to it. Obviously, you want to help because you don't agree with what happened. And then second you want to find a way to put something together and then that involves a fair amount of risk. I gave her a call and said 'Do you still want to do the Vendee Globe?'If you do I think we can find a way for that to happen'."
Scott Shawyer's helping hand
Clarisse continues: "At first,Alex wanted to know if I still wanted to do the Vendée Globe, I told him yes but that it seemed unattainable. Things began to settle when Banque Populaire announced that they were stopping the project. Suddenly, there was potentially an opening to recover the boat. We had to position ourselves to buy it andAlex had investors to do it."

After having first proposed to Clarisse Crémer to compete in the next Vendée Globe on the current Canada Ocean Racing (ex Acciona), with which the Canadian businessman Scott Shawyer plans to race in 2028, they managed to complete the financing in record time to acquire Charlie Dalin's former Imoca.

"The boat was a little under five million euros", says Alex Thomson. "Officially, I own the boat and thenwe managed to finance it through Canada Ocean Racing, through Scott Shawyer. He has lent us some money to do this. One of my first calls was to Scott. He's a fantastic businessman and he too was pretty horrified by the whole situation as well, so he's taking quite the risk as well and lent us the money to buy the boat."

A big step in the right direction was taken but she needed to find sponsors. "It was a bit dizzying for me, because even if I had helped Tanguy(Le Turquais, his companion)a little in his search for sponsors, it had been a long time since I had done that for myself, thanks to Banque Populaire. And above all we were so, so short on time."
"A real project was being put in place"
But again, the machine was firing on all cylinders: among the people who left messages for Clarisse Crémer after the outbreak of the "affair", was Adrien Geiger, general manager of L'Occitane en Provence, title sponsor of Armel Tripon on the last Vendée Globe. He too had sounded out Clarisse Crémer on her intentions in 2021. "We had met at events and race starts, we also have a few friends in common, we had stayed in touch andit's true that after the Vendée Globe, we had discussed ideas, but without going into details. I was very touched that he put forward the idea, but I found it more logical to continue the story that I had started with Banque Populaire. But following the SMS of moral support he sent me in February, I ended up asking, "I don't want to sound out of place, but could you be interested?"

Reached by Tip & Shaft, Adrien Geiger confirms: "When I learned what happened at the start of the year,I got back in touch with Clarisse, but at first I didn't think it was possible to do anything with her. But then I realized that things were moving pretty fast on her side with Alex Thomson coming on board, and with the purchase of the boat,a real project was being put in place."

The L'Occitaine MD adds: "It so happens that in 2020 we implemented within our group an important parental leave programme for both parents, which I myself took advantage of last year by stopping four and a half months for our fourth child. Gender equality and female leadership are important subjects for us, so there wasa particular desire on my part to help Clarisseto show that you could be a mother and have a great Vendée Globe, it fits into the values and the fights that we defend."
"Perfect timing"
There was some convincing to be achieved internally, which, according to him, was not complicated. "We really liked the adventure of the Vendée Globe 2020, we did not continue because the conditions, in the Covid period, were not aligned at all, but it was still a small regret for everyonethere was the desire to return there one day. The project arrived at a time when we wanted to mark the occasion in terms of communication and when we were in full preparation for the budget period, that was the perfect timing. And the fact that Clarisse arrives with such a concrete file played a big role,the planets were particularly well aligned."

Did the media resonance magnified tenfold by the "case", also play a part? "We will of course take advantage of the project to communicate externally,but what matters most to me is internal," replies Adrien Geiger, who does not wish to reveal the amount of the investment. "Messages from employees who were very proud that we are supporting Clarisse, for me, are priceless.France represents 4% of L'Occitane en Provence's turnover,and the Vendée Globe is still a very French race, so if I only thought about it from a media and marketing point of view, I would have rather gone to do something in China or Japan than in France."

The parties finally reached an agreement last week and the official announcement was on Wednesday. Asked about the race for miles, which led Banque Populaire to part with the navigator and about any guarantees requested from Saem Vendée on the wild card, the general manager of L'Occitane en Provence replies: "No, we haven't contacted them, we're ready to take the risk of not being at the startalthough, of course, we'll do everything to make sure that doesn't happen."
"A bit of a hybrid format"
Clarisse comments on the wild card that the boss of the Vendée Globe, Alain Leboeuf, seems willing to grant her in the event of non-selection: "It's of course reassuring,but I want to play with the current rulesand being selected, so the race for miles remains a source of stress for me." And that's the reason why she will probably compete on one or more stages of The Ocean Race by June: "I can't say more for the moment, but some people want to help me, it's cool ."

And then? A first race aboard L'Occitane en Provence in July on the Fastnet, with the Transat Jacques Vabre in sight, then Retour a La Base solo. Alex Thomson will not be the co-skipper on the double-handed races, the name will be announced later, chosen by Clarisse Crémer who sets the ideal profile: "Someone who is available full time because I have a lot of things to learn, but as I also need to take ownership of the boat and be the leader of my project,I don't want to be crushed in terms of experience and character."

She does not want to delegate everything to ATR: "It's going to be a somewhat hybrid format, we are co-managers of the project with Alex, who will have the role of coordinator of the project, above the team manager, Richard Mason. For my part, I am in the recruitment phase." The team will work between Gosport and Lorient. "We'll be doing a lot more offshore sessions over several days than day sailing, which allows meto have a balance in my life, the boat will sometimes come to pick me up in Lorient and then drop me off, so we'll be doing something a bit different," concludes Clarisse Crémer.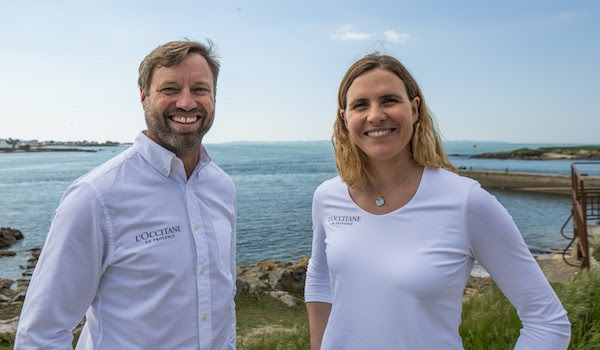 Alex Thomson: To me, Clarisse is a Super Star"
Britain's five times Vendée Globe skipper Alex Thomson has put together a potent project which keeps Clarisse Crémer in the race for the 2024 Vendée Globe, he opens up to Tip & Shaft about France's 'worst kept secret'…..

Who called who and when?
I contacted Clarisse. That was within a day or two of the problem rising. I had a long chat with my wife about it and from there, there was two parts to it. Obviously, you want to help because you don't agree with what happened. And then second you want to find a way to put something together from there that involves a fair amount of risk. I gave her a call and said 'Do you still want to do the Vendee Globe ? If you do I think we can find a way for that to happen.'

Did you have a plan in your head from the outset, or actually how did the jigsaw come together?
I think the basic idea was that firstly it would be great to do something to make the situation right. But I said to Clarisse: "I think you're a better proposition than I ever was. If we can't raise funding for you then I think need to get another job." She laughed at that but, you know, it's true. You look at her first Vendee Globe and the impact she had in her first one and so let's put it into perspective. I didn't finish my first Vendee Globe and she finished her first one in 87 days on older boat and is the fastest woman ever to do it. And she communicated so well all along the way, having the ability to talk authentically about the issues. She didn't hide any of it. She told it all and I think that's how we look at it. The communication side is such an important side of it, and she is a stand-out performer from that sense. She also speaks fantastic English. From our side as a team we've always felt a bit like we really are the international PR department for the Vendee Globe. And so she will be able to carry that flame and do a bloody good job at it. To me, she's a superstar. I'm a huge fan and I think that the way that she's handled herself throughout this, she has shown a bit of class. She is a brilliant young lady, a great skipper, and I'm happy to support her.

Why and when did you buy the boat?
I think very quickly we came to the conclusion that she needed a new boat, she needed the right boat. If we were going to do this project right we had to prove that there would be some equity here. The whole bit I'm super excited about is the real cause behind this. And the cause is to show that Clarisse is a real athlete, and she is a mum, and she can do both. And we are going to have to write a different programme. We are going to have to look at it a different way because she is different from how I would have been as a man. There are different challenges and we've got to provide her with more to make sure that there is equality. Things like, we have to make sure that the home side of her life is fit and is sorted, that she has everything in place – the right nannies, the right support network, that the schedule works around her life and the balance as a mother, to make sure that she can do both. When she's out on the ocean she can't be worrying about what's happening with her daughter, Mathilda, otherwise she can't do her job. I guess it's no different to what Sam Davies would have, or any of the other mums out there, but the way in which the programme has happened, it gives us the chance to talk about it and show that it is possible. "Scott Shawyer has lent us some money" Did you always have in the back of your mind the fact that Charlie Dalin's boat would come up for sale?
As soon as it was established she wanted to do the race it was, 'ok, we need a boat and what boat were we going to get?' and that boat is the best of the last generation and I think the fact that Clarisse hadn't sailed in quite a long time, we need to give her a chariot which is well developed, reliable and which she can pretty much just step on and do a lot of miles, so it was the natural choice really.

How much did the boat cost and who owns it?
The boat was a little under five million euros. Officially, I own the boat and then we managed to finance it through Canada Ocean Racing, through Scott Shawyer. He has lent us some money to do this. One of my first calls was to Scott. He's a fantastic businessman and he too was pretty horrified by the whole situation as well, so he's taking quite the risk as well and lent us the money to buy the boat.

How is the project set up, where will the boat be based and ATR are managing everything?
The first thing is that the boat will be run under our banner, we're managing it. But we don't consider ourselves in terms of Alex's team. We think of ourselves of Clarisse's team. We all work for Clarisse and if you look at the way we were set up before with me at the top of the tree, as the skipper, Clarisse is now at the top of the tree. She makes all the decisions and we put around her all the people that she needs for her to be able to make the right decisions. Essentially, we are Clarisse 's team and we take all the knowledge we've learned over the last twenty years and point it in her direction. "L'Occitane are the saviours" Who do you have as a team so far and where will the boat be based?
We've got Liz Wardley, will be the boat captain. Obviously Rich Mason is our technical director and Pete Hobson who we are working extremely closely with. We are just in the process of putting together the other components of that, as and when we need it. The plan is for the boat to do a lot of miles basically. The boat will come to Gosport to be painted and put back together really. The next plan is finalising a schedule that works for Clarisse and to give her everything she needs to be able to do the job and to be able to do as much sailing as possible.

How did L'Occitane come on board ?
They knew Clarisse before, and I think they actually offered a skipper role and being a part of it after the last Vendee Globe. But Clarisse was with her previous partners and wanted to stay loyal to them. And so when Clarisse's world fell in, there was a connection made to them, they reached out to her, and Adrian Geiger reached out to her. They know each other, they are kind of friends. When I spoke to her originally, she was like 'I'd love to talk to Alex but I've got no boat, I've got no team, nothing. It's impossible for me to put this together'. I think that the fact we were able to come together was suddenly a great opportunity for L'Occitane. L'Occitane are the saviours really in this because that allows us to start off properly now and to go at full pace. I bow to these people because not many people would be able to give that decision so quickly.

And what is the overall budget and do you have it in place?
I don't know yet. We are not fully funded. So we have obviously done a great job in two months to find a great skipper, buy a boat and sign a title sponsor, that's the first step. "I will not race on the boat with Clarisse" Will you race on the boat with her? Will you do the Transat Jacques Vabre with her?
I will not race on the boat with her. My primary commitment is to my family for this cycleand that remains the same. I'll definitely do a bit of sailing on the boat, but Clarisse needs somebody who is going to work with her and be fully focussed in that area. And my role will be very much more mentor, advisor, her assistant; making sure she has everything she needs to make it work apart from I think she's probably even better, and she's much more marketable and she should have everything I've ever had.

And what about her need to build miles and races to qualify?
At the time, we were considering putting somebody else into this Vendee Globe with the Canadian boat so for me the qualification isn't really a thing. Everybody has to be careful a bit with these races and how they approach the qualifying races. You can't go balls out and try to kill it. You have got to be reliable. You have got to finish it and you've got to get the miles. For me it's just not something I'm really particularly worried about. I'd love to be able to get her some miles. I'd like to get her some The Ocean Race miles which would be great to be able to build up the qualification miles, but also just to start to get her back into sailing, get back out out there onto relevant boats. The objective is to get her to qualify without the wild card. I think that is eminently possible.

But there is a wild card in Clarisse's back pocket if required?
My whole view on that thing is let's just remember how the rules got written. The rules got written by the Vendee Globe and by Imoca. The rules existed as much from the skippers as much as they did from the Vendee Globe. In Clarisse's case we look at the rules and can see that they are obviously not fit for this kind of scenario. That being said, I'm pretty British about this, and to me the rules are the rules. The Vendee Globe's job is to apply the rules. We know already that there is going to be some changes for the next time around and this case will be taken into account. We have to be saying 'we are going to get qualified on miles alone' and then we have to see what happens. And if it come to a scenario where the wild card is required that is up to the Vendee Globe to give that.