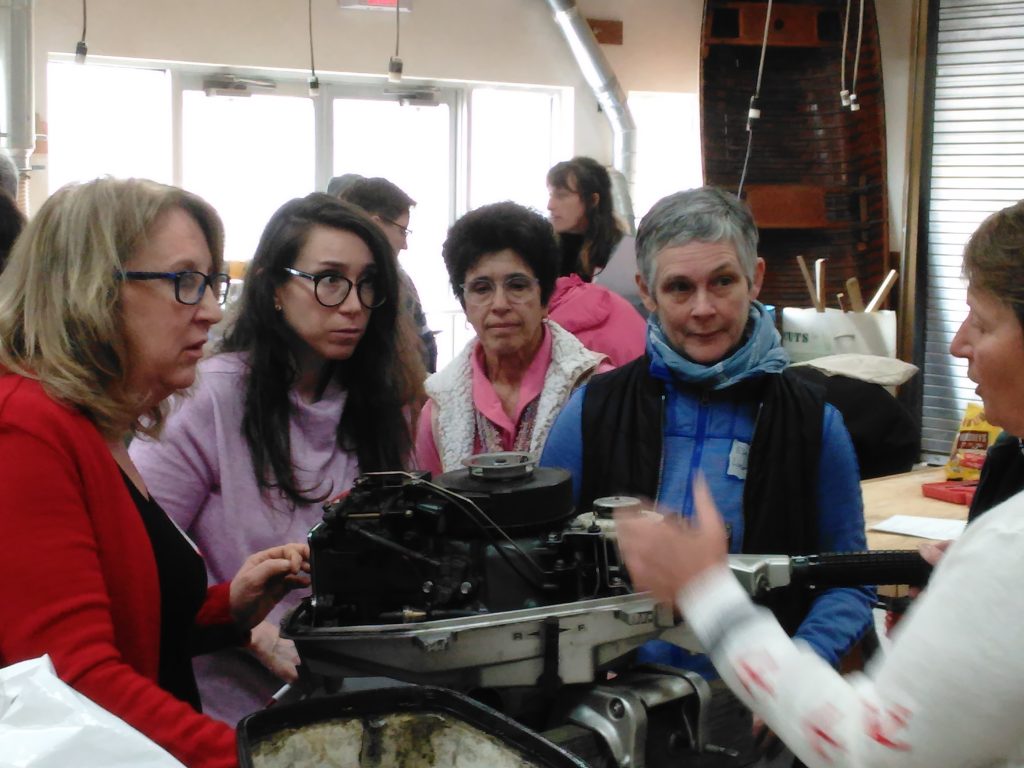 Our friends at the Hudson River Maritime Museum's Wooden Boat School in Kingston, New York are hosting the annual Riverport Women's Sailing Conference on Saturday, March 28. This one-day event runs from 9 am to 5 pm. The conference allows participants to choose four options from a dozen hands-on and classroom workshops. Women sailors of all ability levels are invited to learn about safety around large vessels, navigation, maritime communications, outboard engine troubleshooting, marine electrical systems, sail care, race management, the Racing Rules of Sailing, and more!
The conference fee includes a light breakfast, hearty lunch and all workshops for beginner, intermediate and advanced sailors. Also taking place that weekend are a welcome dinner on Friday, March 27 featuring keynote presenter Dawn Riley, Executive Director of Oakcliff Sailing in Oyster Bay, New York. A post-conference event on Saturday, March 28 features a screening of Maiden, the inspiring documentary film about Tracy Edwards and the crew of Maiden (including Dawn Riley) as they compete as the first all-female crew in the 1989-1990 Whitbread Round the World Race.
Register: https://hrmm.z2systems.com/np/clients/hrmm/event.jsp?event=2174&utm_source=HRMM+General+Listserve&utm_campaign=f78d1022ab-EMAIL_CAMPAIGN_2019_12_16_03_17&utm_medium=email&utm_term=0_aeb30e9e81-f78d1022ab-1209412973&fbclid=IwAR13YDA_C7ZJ4no25bttkEFnTQ0xELDOUl8g2cq4tQpXBmSYcMJ4EVC17dk
For more information about the Riverport Women's Sailing Conference, contact Jody Sterling, Sailing School Director at the Hudson River Maritime Museum, at jsterling@hrmm.org. To learn more about the Hudson River Maritime Museum including their Wooden Boat School and Sailing & Rowing School, log onto hrmm.org.