We report with great sadness that our friend Tom Bobbin has crossed the bar.
From the Connecticut Post:
Thomas "Tom" Bobbin
November 4, 1962 ~ December 26, 2019 (age 57)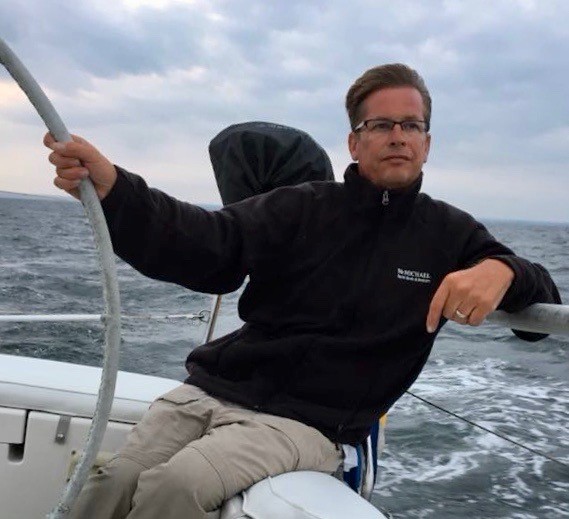 Thomas "Tom" Patrick Bobbin, age 57 of Redding, CT, passed away on December 26, 2019. He was the loving husband of Catherine P. Wall and father of Trevor P. Bobbin, 9. Tom was born on November 4, 1962 in Dallas, TX, the son of George Bobbin and Cherry Bobbin. He graduated from Brien McMahon High School in Norwalk, CT in 1980.
An avid sailor, Tom's call to the water began as a young man. His father introduced him to the family charter boat business in the Virgin Islands. From this point he would forever have a love of the sea.
Racing and cruising Long Island Sound was Tom's passion. Whether with family, friends, or clients, he was always the most at home with the wheel in his hand and the breeze in his face. His competitive side is what brought him his wife: they met while racing against each other at Fayerweather Yacht Club. He enjoyed Block Island Race Week, the Vineyard Race, American Fall and Spring Series Races, Round Block Island Race and the Stratford Shoals. Their boat was a J/30 Special Sauce, and most recently J/109 Partnership3. When the weather turned cold, Tom would spend his time snowboarding while Trevor learned to ski.
Tom began his career as a yacht broker in 2001 with McMichael Yacht Brokers in Mamaroneck, NY. He was successful in negotiating deals, but even more so at cultivating a culture of family at the company.
A loyal and faithful friend to many, Tom could be called upon to help in any situation, whether it was related to boating or not. He was dedicated to his profession; a devoted son, husband and father. His greatest role in life was being Trevor's father. Tom and Trevor were quite the father and son duo at Cub Scouts. The Pinewood Derby, Annual Wreath Sale, and Cub Scout Campouts were events they eagerly looked forward to together.
A real sense of adventure always preceded while he was planning their next family adventure on the water. Always in a thoughtful manner, he would teach Trevor about the direction of the wind, how to read the waves and to always keep his eye on the horizon. There were lessons about knot tying and trimming sails. Perhaps most of all, he gave Trevor the gift of being kind, caring and compassionate.
In addition to his wife Catherine and son Trevor, Tom is survived by his parents George Bobbin, Cherry Bobbin, brother David Bobbin and his wife Nancy, his sister Terrye Mola, and many nieces and nephews who lovingly referred to him as "Uncle Tommy." His contagious smile and funny laugh will be greatly missed by family and lifelong friends.
In lieu of flowers, the family has asked that gifts be made to fund the Trevor Bobbin Connecticut Higher Education Trust (CHET). Checks can be made payable to CHET, with Trevor Bobbin in the memo, and mailed to Katrina Wall, 15 Riverview Street, Essex, CT.
From the McMichael Yacht Brokers website:
It is with great sadness that we share the news that McMichael broker Tom Bobbin died of a sudden heart attack at his home on the afternoon of December 26th. We are all in shock.
Tom has been part of the McM organization since 2001, making him our most senior broker. In addition to having a fantastic reputation as a knowledgeable and honest broker, he was one of the nicest guys in the business. Clients were drawn to Tom's patience, candor and integrity, and were highly loyal to him. He would help anyone with anything and always had a smile.
Sail on, Tom.