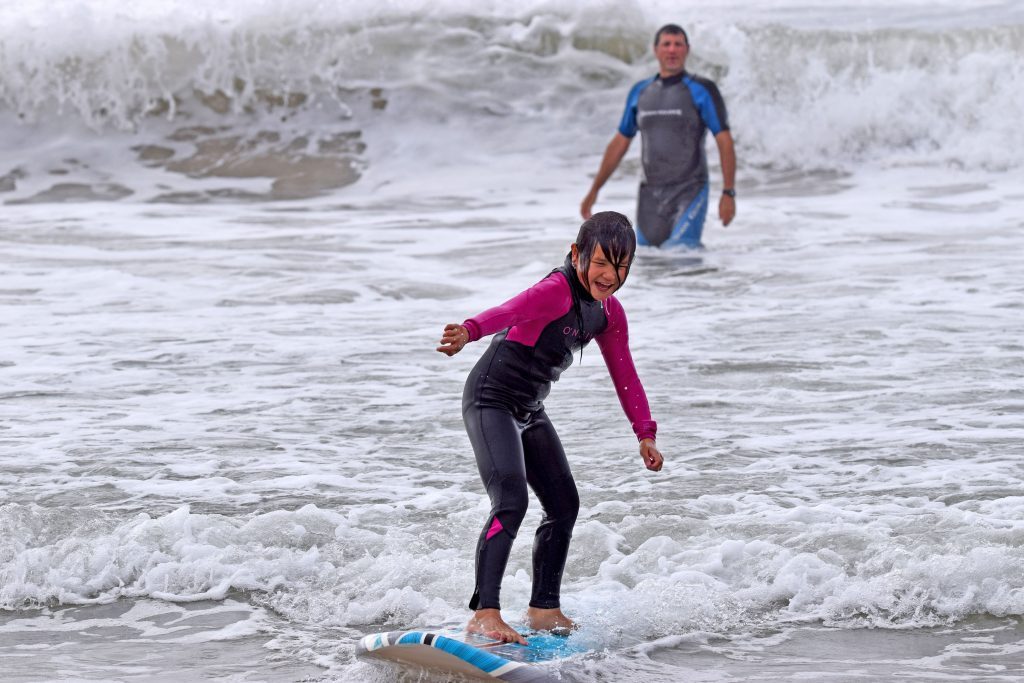 Our friends at the New England Science & Sailing Foundation (NESS), the Town of Westerly, the Eastern Surfing Association (ESA), and the North American Marine Environment Protection Association (NAMEPA) are pleased to announce the eighth annual "Catch a Curl" Youth Surf Competition. The event will be held at the Westerly Town Beach (365 Atlantic Avenue) in Westerly, Rhode Island on Saturday, September 14. Catch a Curl is open to beginners through advanced youth surfers and will include a beach cleanup as part of the event. Kids can try surfing with the support of NESS instructors, or tune up their surfing skills before the competition.
"I think what makes this event unique is that we really welcome all levels," said NESS Education Specialist Lauren O'Donnell. "This is an awesome day to bring surrounding communities together to support all local surfers – novice through advanced – and we encourage parents to get in the water and help coach younger participants. We also will be hosting a beach cleanup in association with the North American Marine Environmental Protection Association. During the surf heats, come check out the tents set up on the beach for marine debris education and family fun. It's going to be an awesome day!"
Divisions:
Ankle Biters: (riders under 10; An adult can boost ankle biters into waves!)
Wahine: (beginner/intermediate girls ages 11-14)
Menehune: (beginner/intermediate boys ages 11-14)
Big Kahuna: (intermediate/advanced riders 17 and under)
Event Timeline:
9:00 am – 10:00 am: Try Surfing (FREE!)
9:00 am – 10:30 am: Registration & Warm-Ups
10:30 am – 2:00 pm: Surf Heats
2:00 pm – 3:00 pm: Beach Clean-Up & Awards
For more information and to register, please visit http://nessf.org/catch-a-curl. Entry fee is $35 per surfer (early bird registration is available!) and includes a t-shirt. Those kids who are interested in trying surfing are asked to also sign up online in advance.
NESS would like to thank Peter Pan, Avie's Ski/Sport, Civil Westerly, Surfrider Foundation RI, Surfrider Foundation CT, Eastern Surfing Association, Narragansett Surf & Skate Shop, National Surf Schools & Instructors Association, North American Marine Environment Protection Association, Tidal River Clothing Co, Ocean Vine, O'Neill, Raw Elements, and the Town of Westerly for their guidance, support, and expertise in making this event a reality.