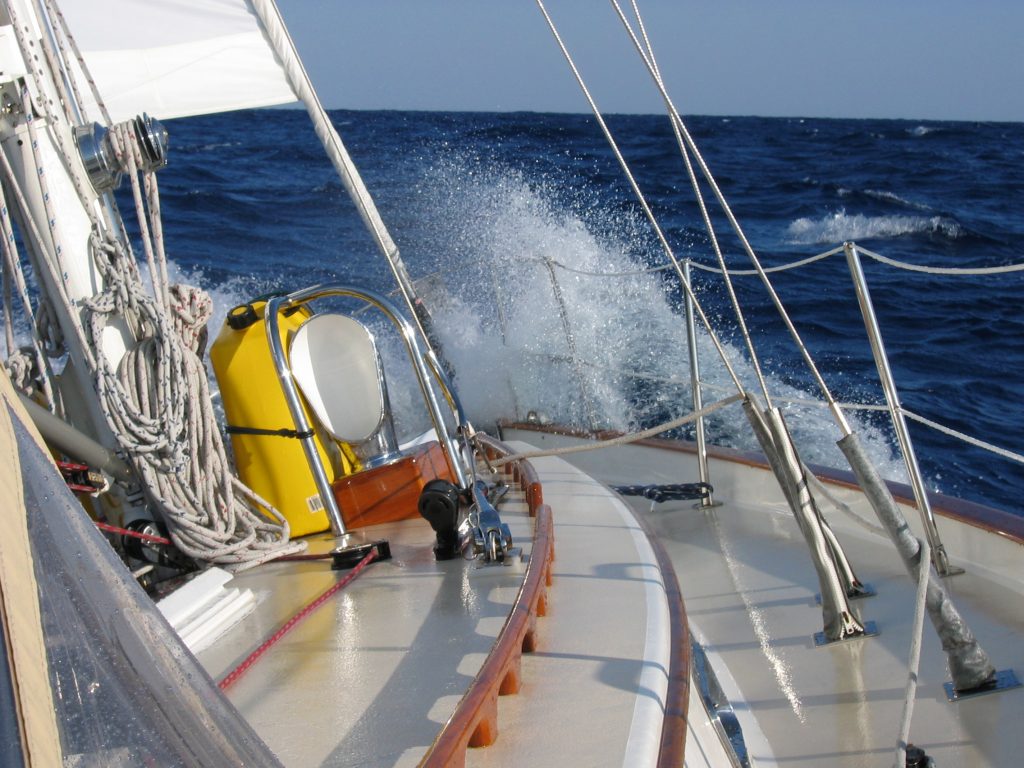 Huntington N.Y./Portsmouth, UK (September 4, 2019) – Offshore Passage Opportunities (OPO), the #1 Crew Networking Service in North America, has partnered with experienced sailor and yacht charter operator Christian Reynolds in Portsmouth, UK to bring to Europe OPO's win-win formula for matching experienced crew with qualified skippers and offering those seeking to increase their offshore experience with safe options for acquiring it. The new venture, named e-OPO, will operate in coordination with OPO for maximizing passage opportunities throughout the world; however, it will maintain its own website for its European-based members while the OPO website continues to service its existing North American clientele.
"E for England, e for Europe and e for e-commerce," said Hank Schmitt, the owner of OPO who has helped thousands of sailors meet and make successful passages for over two and a half decades. "This is a free internet-based service for delivery skippers and crews as well as for boat owners. OPO/e-OPO members get to log sea time, perhaps toward a license or for gaining experience before buying their own boat, or even so they can feel more comfortable taking their own boat on an offshore adventure."
Reynolds, a Commercially Endorsed Ocean Yachtmaster and national sailing champion, has been running yacht charter businesses for over ten years; he has logged over 250,000 nautical miles over 35 years of sailing that includes both dinghy and yacht racing. He ran the celebrated Swan 51 Northern Child for eight years and in 2013 co-founded Performance Yacht Racing, which utilizes the company's fleet of four yachts for racing programs around the world and additionally offers a comprehensive Yachtmaster Training program for individuals keen on getting real-world yachting experience that is about "learning more than just enough to pass the exam."
Schmitt, well known for years of running successful racing programs in the Caribbean and establishing/managing the "NARC" (North American Rally to the Caribbean, which is celebrating its 20thyear), founded OPO in 1993 after finishing a ten-month voyage that took him from New York to Spain (solo) and then from Spain to the New World following Christopher Columbus's route. While in the Canary Islands, he met people asking to crew in the established "ARC" and "America 500" rallies, or on any boat that was planning a crossing. He thought a crew networking service might help, and when the internet caught up to his idea, he launched the first OPO web site in 1996. With the announcement of the e-OPO partnership, the fourth overhaul of that original web site was launched on August 1, 2019.
"I think e-OPO could grow larger than OPO in a few years," said Schmitt. "Europeans have more vacation time; they have more stringent accounting requirements for sea time and regulations for getting licensed; and sailing is simply much bigger in Europe than in North America. By expanding into Europe, OPO will also be able to offer more European and Mediterranean passage opportunities to Americans and vice-versa for e-OPO."
As for the efficiency of the OPO/e-OPO system, Schmitt said: "It has been many years in the making and is much more refined than any other system. Members do not have to spend a lot of time looking at posts and wading through a lot of questionable opportunities. After all, this is offshore sailing, not Match.com."
How it Works
For those familiar with other crew networks, OPO/e-OPO offers some refreshing differences:
• Boat owners and crew do not post directly onto the site, which means the OPO/e-OPO team vets all requests and gives members unbiased and realistic reviews of yachts, skippers and crew. "We don't push out trips on yachts or with skippers that we don't have experience with," said Reynolds "We do the due diligence in making sure both are top-form."
• OPO/e-OPO sends out monthly updates and notices on specific trips as they become available, which means members looking to sail do not have to continually "log on" to search for opportunities. "Rather than crews looking through hundreds of essentially unqualified 'ads,'" said Reynolds, "OPO does all the work. As for our members who are boat owners and skippers, the response from prospective OPO/e-OPO crew members is generally within 24 hours, as the crew is getting a direct message in almost real time.
• Becoming a member is easy with a one-time lifetime membership fee and an annual membership fee (starting after the first year), thereafter, regardless of how many trips a member makes with OPO/e-OPO assistance. In promotion of e-OPO's launching, the first 100 members to sign up through the website will receive a half-price joining fee of £75.
For more information on OPO, contact Hank Schmitt, offshorepassage@sprintmail.com, 1-800-4-PASSAGe, +1 631-423-4988 or visit www.sailopo.com For more information on e-OPO, contact Christian Reynolds,christian.john.reynolds@gmail.com, +44 7795 955702, or visit www.e-opo.com.