Ocean Live Park is the race village for The Ocean Race Newport Stopover (May 13-21)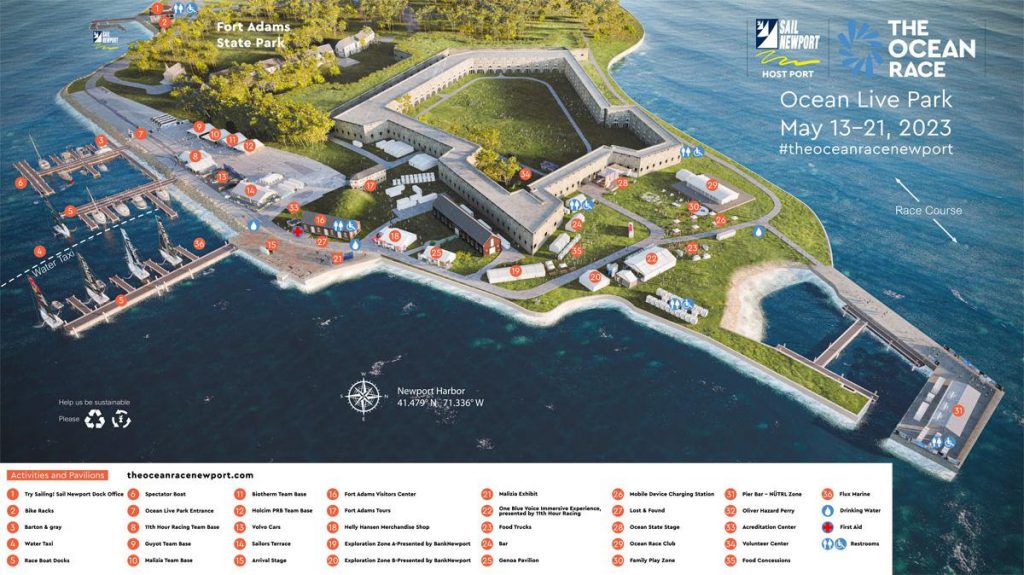 NEWPORT, R.I. (May 4, 2023) — One week from today the first finishers on Leg 5 of The Ocean Race from Brazil to Newport will be either across the finish line at the tip of Fort Adams, or close to it. In preparation for the fleet's arrival in Newport, Ocean Live Park, the race village for the Newport Stopover, is undergoing a transformation. Pavilions are being installed in the main parking lot and tents are being set up across the North Lawn of Fort Adams. The team required to build the village includes in excess of 75 engineers, IT specialists, construction crews and equipment operators.
In order to reduce its carbon footprint, the global event is traveling with less equipment and relying more on Newport for the race village activities.
"For this 2022-23 Race we have made a concerted effort to reduce the amount we ship around the world and, instead, source more of our structures and equipment locally, which both helps to reduce our overall carbon footprint and also benefits the local economies of the cities we visit," said Peter Ansell, Host Cities & Operations Advisor for The Ocean Race.
"For instance, in the 2022-23 race we are shipping a total of 55 containers and 550 tons of equipment around the world," Ansell continued. "In 2017-18 the race shipped a total of 286 containers and 3,000 tons of equipment around the world."
Ocean Live Park will officially open at 10. a.m., on Saturday, May 13, with a parade and festivities scheduled to begin at 11:00 a.m. The park is open daily, 11:00 a.m. to 7:00 p.m., except on the weekends when it opens at 10:00 a.m. On Sunday, May 21, the park closes at 6:00 p.m. Admission is free.
Parking fees are $25 on May 13 and 14, and May 17-21. Parking fees May 15 and 16 are $20.
Ocean Live Park will offer visitors a boatload of exhibits, experiences, photo opportunities, live music, special events and In-Port racing.
For more information, visit The Ocean Race Newport, including the daily schedule, or The Ocean Race.
ABOUT THE OCEAN RACE NEWPORT
The Ocean Race Newport Stopover, scheduled May 13-21, is co-hosted by Sail Newport, the State of Rhode Island and 11th Hour Racing, the sustainability organization that's advancing solutions and practices that protect and restore the health of the world's oceans. The race previously visited Newport in 2015 and 2018. The nine-day public festival while the boats are at dock in Fort Adams State Park will include entertainment, interactive exhibits, music, food, family games and special events. Also, sailing exhibitions, free Try Sailing! for all ages and opportunities to watch the high-tech sailboats racing within yards of the Fort Adams shoreline are available to the public.