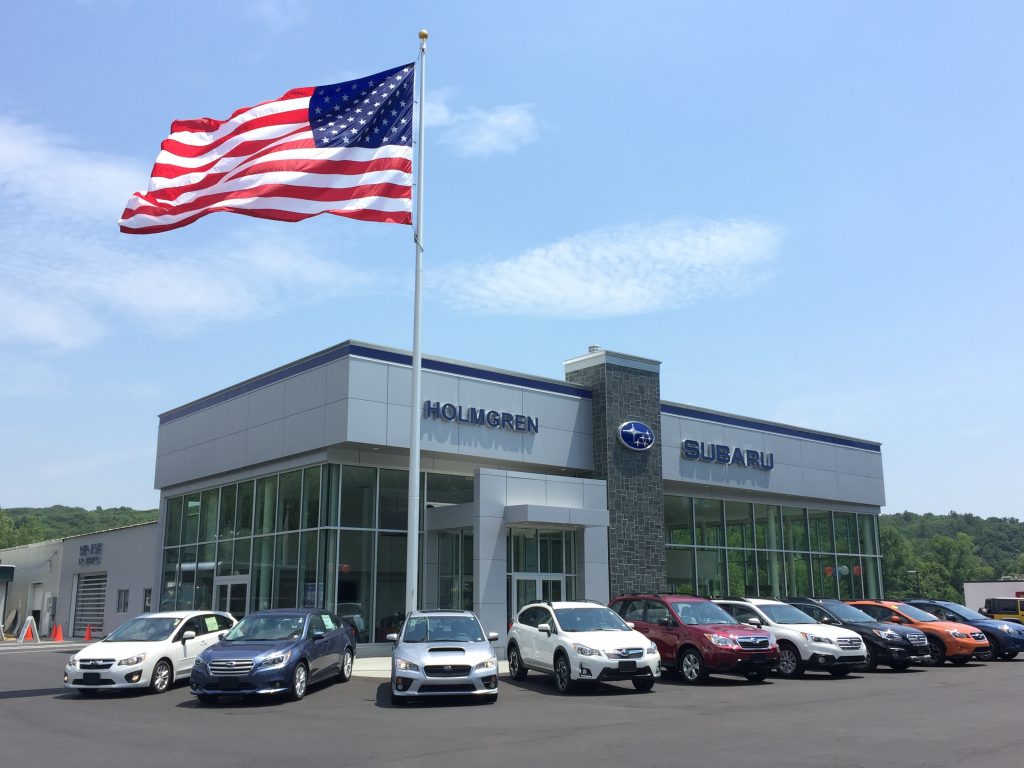 Our friends at Holmgren Subaru are proud to donate $30,000 to our friends at Sails Up 4 Cancer through the Share The Love Campaign. The check will be presented during a special Celebration Day on Tuesday, on June 11 at 1:30pm at the dealership, located at 3 New Park Avenue in North Franklin, Connecticut, and you are cordially invited!
The money, raised by Holmgren, will go toward funding education, prevention, care and cure for all types of cancer. For ten years, Subaru and its retailers have partnered with more than 660 non-profits to show the company's commitment to helping local communities. By the end of 2019, Subaru hopes to exceed a grand total of $100 million donated since the creation of Share the Love. Sails Up 4 Cancer, one of Southeastern Connecticut's leading providers of financial assistance to cancer patients, is ecstatic to be the recipient of $30,000 from The Subaru America Share the Love 2018 campaign via Holmgren Subaru.
"The Holmgren team and family have long been supporters of Sails Up 4 Cancer. We appreciate the organization for its unique niche in bringing much needed financial support directly to cancer patients and not through a third party," said Eric Holmgren, President of Holmgren Subaru. Eric Holmgren is an avid boater and dear friend to Bob Davis, President and founder of SU4C. Davis is a two-time cancer survivor and has an intimate relationship with cancer and cancer patients. Eric, and his wife Dawn, along with the Holmgren Family and the staff at Holmgren Subaru, believes that because of Davis' experience with two cancers and his personal empathy with the agony that patients endure, he is the perfect person to address their needs. Having lived through the stress of cancer and loss of income, Davis is in a formidable position to support those suffering with the hidden effects and stress that comes with a cancer diagnosis.
The collaboration with Subaru of America and the annual Share the Love Campaign allows SU4C to provide funding for families and patients in New London County. Subaru of America – and more specifically Holmgren – have been integral in the success of the Spinnaker Fund of which SU4C is extremely proud. This fund has been specifically tailored to individuals and families suffering financial hardship as a result of the loss of income due to their struggles with cancer. Sails Up realizes that the last thing a cancer patient needs is additional stress as a result of this predicament. There are not many places to turn for assistance and Sails Up, with assistance from the Share the Love revenue, is proud to help fill this void. Spinnaker Fund requests are from patients who have problems putting food on their table or in their pantry. In addition to the struggle of the cancer diagnosis, now patients are thrown into financial pain and in addition to their disease. In 2018, Sails Up was able to provide much-needed financial assistance to 48 families with grants ranging from $500 to $2,000.
"We cannot just provide lip service to those in need of financial assistance. We must heed the call and respond effectively and efficiently in sending financial relief," explained Davis, "Imagine receiving a check from Sails Up 4 Cancer. Not a check large enough to cure your cancer or pay off your mortgage or satisfy all your bills, but maybe just enough to alleviate some financial stress…maybe just enough to know there is an organization that identifies with your issues and is here to help. Some people feel forgotten, helpless and lose all hope. Sails Up 4 Cancer is here and cares deeply."
For further information, contact Bob Davis at Rdavis@su4c.org.
Now in its eighth year, Sails Up 4 Cancer is a charity organization dedicated to funding care, cures, research, education, and prevention for all types of cancer. This is accomplished through the art and enjoyment of sailing and other terrific events. SU4C has been able to assist local Hospice organizations, the local Cancer Care Hospital, children afflicted with cancer, and both individuals and families struggling financially while battling cancer.
To learn more about the amazing work being done by Sails Up 4 Cancer, including the Sails Up 4 Cancer Cornhole Tournament (Friday, June 21 at Mystic Shipyard in Mystic, Connecticut) and 7th Annual Sails Up 4 Cancer Regatta & Wellness Expo (Saturday, June 22 at Mystic Shipyard), please visit www.su4c.org.
Editor's note: Your next vehicle should be a Subaru, and you should buy or lease it from Holmgren Subaru! Learn more at https://www.holmgrensubaru.com.