On Saturday, April 25, Arader Galleries is pleased to accommodate the sale of one of the finest collections of 18th and 19th century New York City views, scenes, maps, and naval prints to date. This unique collection was built by the esteemed Downtown Association of New York. Included in this 235-lot sale are many rare works returning to auction after residing nearly 100 years in the private collection. Internet bidding will be available through LiveAuctioneers.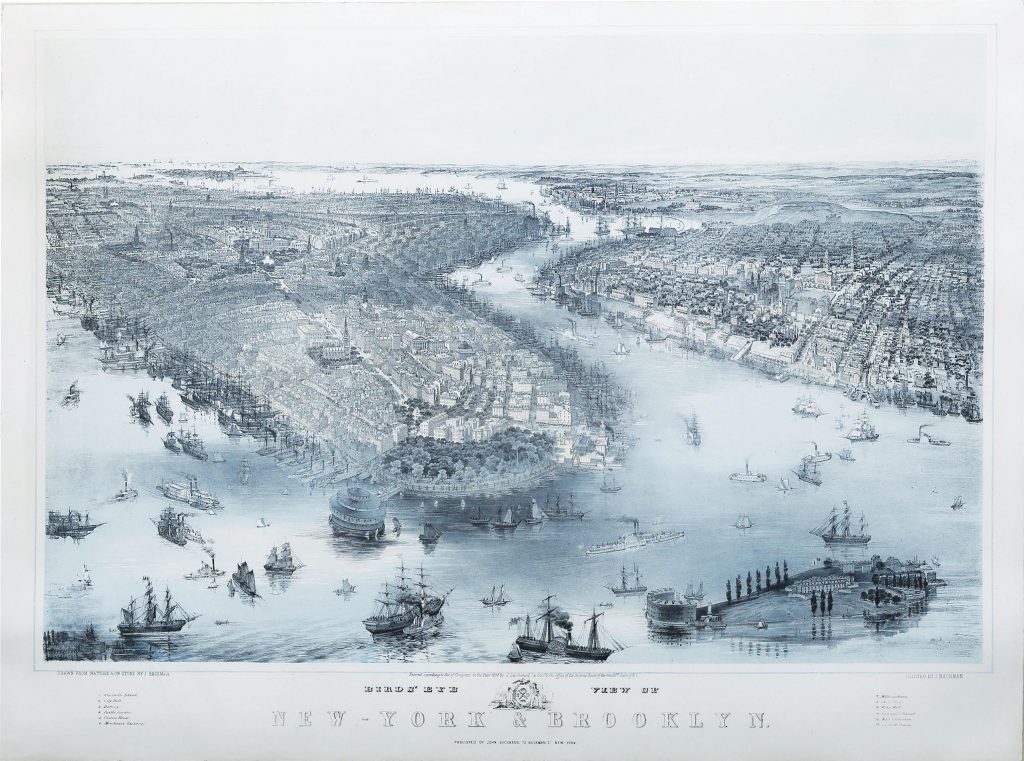 Highlights: Rare maps of New York City and vicinity; Views of New York by Bornet, Bachman, Currier and Ives; famous naval prints.
One of the most impressive features of the Down Town Association's collection is its selection of New York City views from the 18th and 19th centuries. During this period, the city underwent a vast transformation into what contemporary witnesses dubbed "the Empire City." Through the completion of the Erie Canal and the aftermath of the Civil War, New York became both an international cultural and economic center. Artists such as John Bachmann (Lots 3-6), Nathaniel Currier (Lots 52-73), and William Bennett (Lots 8-14) sought to capture this city's dynamic and grand aura. One such example is Bachmann's fascinating view of Manhattan with Hoboken in the foreground, looking south towards New York Harbor. This work is well known for depicting two different types of baseball games (New York and Massachusetts) that were played at the Elysian Fields in Hoboken, New Jersey.
Also noteworthy is this sale's selection of rare maps of New York, including two Maps by John Montresor (1736-1799). Montresor's "Plan of the City of New-York & its Environs" (Lot 156) was issued just after the start of the Revolutionary War, and it is the most detailed and accurate map of New York and its surrounding areas published during the colonial period. Most significantly, it is the first detailed map of the island of Manhattan beyond the city, neatly presenting its topography before development.
The Down Town Association's collection includes a fine array of naval prints from some of the most admired maritime artists of the 18th and 19th centuries. Included amongst this assortment are twenty works by Charles Parsons (1821-1910), including his dramatic rendering of John Ericsson's U.S. Monitor Weehawken and the U.S. Steam Sloop Iroquios (Lot 182), as well as his bird's eyeview of the Port of New York (Lot 172).
Arader Galleries' Saturday, April 25 auction on behalf of the Down Town Association will begin at 1 p.m. EST. Registration and bidding has already begun through the online auction site LiveAuctioneers.
For additional information, condition reports, and hi-res images, please contact the gallery by email, auctions@aradergallieres.comor by phone, (212) 628-7625.