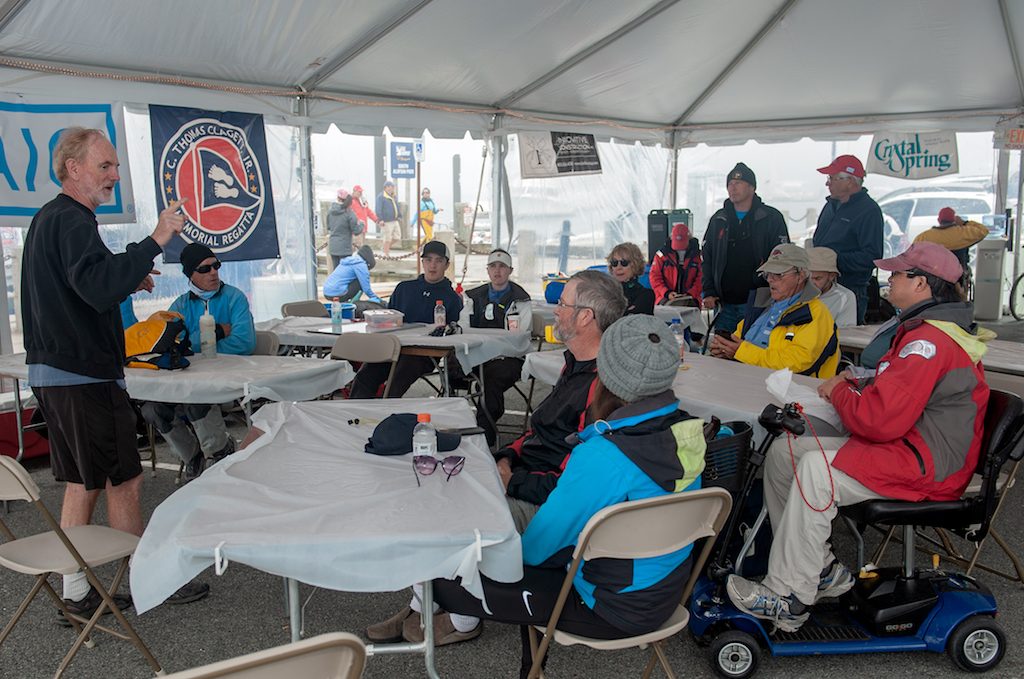 NEWPORT, R.I. (April 27, 2020) – While sailors are all facing challenges and uncertain times due to the COVID-19 pandemic, two of the best coaches in the sport, Dave Perry and Dave Dellenbaugh, have stepped up to offer an alternative to in-person coaching with an online coaching program.
"One of our board members saw on Scuttlebutt that Dave Perry and Dave Dellenbaugh have come up with coaching sessions available online, and given the coaching relationship the Clagett sailors have with them we thought it would be a great opportunity to be able to offer this to Clagett sailors," commented Clagett President and Co-Founder Judy Clagett McLennan (Portsmouth, RI).
The Clagett has had a long term coaching relationship with the "two Daves," in both Newport RI at the fleet racing regatta and in Oyster Bay, NY at the match racing regatta, where sailors have benefitted from their expertise.
"We want to be part of the Clagett community and we were having withdrawals," said Perry (Southport, CT). "We were picturing everyone under the tent sharing information before and after sailing, and then along came the Zoom platform and we said, "hey, we can be back under the tent with everyone again – virtually!"
"This is our way of engaging with the sailors who we see each year in Newport and Oyster Bay when they're at a Clagett regatta," remarked Dellenbaugh (Clinton, CT). "We love helping all the sailors in the Clagett community improve."
Clagett sailors are being offered the opportunity to continue learning from the internationally renowned pair with weekly online sessions organized for Clagett sailors starting in May and the sessions are free thanks to the support of the friends of the Clagett community and start on May 9, 2020.
Clagett sailors can register for these sessions by going to https://forms.gle/AzsDC2A3mmn8jYb78Registration is on a first come – first served basis.
For specific information about the online coaching sessions being offered to Clagett sailors go to https://clagettregatta.org/Clagett-Regatta-Master-Class
For more information about The Clagett visit: www.clagettregatta.org orfollow the Clagett on Instagram @clagett_regatta or on Facebook @Clagett Regatta.
About the C. Thomas Clagett, Jr. Memorial Clinic and Regatta: Founded in 2003, the C. Thomas Clagett, Jr. Memorial Clinic and Regatta honors the late Tom Clagett (1916-2001), a U.S. Navy World War II veteran who learned to sail on Chesapeake Bay. As a youngster he suffered temporary paralysis as the result of a bout of meningitis; an experience that left him with a deep respect for the accomplishments of people with disabilities. The Clagett's stated mission is " to provide sailors with disabilities the opportunity to improve their skills and reach personal goals through world-class coaching and competition," Tom Clagett's motto was "Reach for Success", which resonateswith every Clagett participant. Clagett competitors have seen medal success at the 2008, 2012 and 2016 Paralympic Games. Competitors often comment that, The Clagett, has improved their quality of life as they apply what is achieved on the water to everyday situations.
C. Thomas Clagett, Jr. Memorial Clinic and Regatta 2020 sponsors and supporters:
The Clagett organization would like to thank the following – The Horance A. Kimball & S. Ella Kimball Foundation at the Bronze level.