By Sean Duclay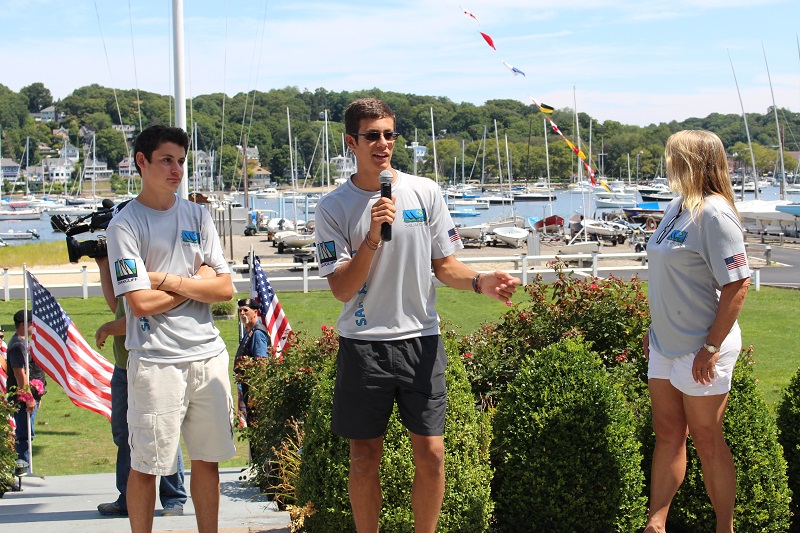 Next Saturday, July 30th, Centerport Yacht Club (Northport Harbor, NY) will be hosting SailAhead's 2nd annual event "Let's Take a Veteran Sailing". With the support of Greenlawn American Legion Post 1244​ more than ​140 veterans and family members, mostly from Long Island, will attend this event on a fleet of at least 45 sailboats.
SailAhead President Kilian Duclay with brother Sean briefing participants and veterans at Centerport Yacht Club prior to start of last year's event.
Special SailAhead guest this year will be Veteran George Eshleman, Director of Unified Warrior Foundation. George served in the military for several years. Last year after the tragic loss of a friend, he decided to hike the Appalachian Trail carrying the name tags of 218 veterans who ended their own lives. Much like many veterans, George has also fought the temptations of suicide.
George, like SailAhead, is focused on spreading PTSD awareness in order to work towards healing veterans and decreasing the number of suicides, which is currently at least 22 a day!
SailAhead will honor the memory of these 218 veterans by having George and the tags on the fleet's flagship.  With the approval of the families, SailAhead has duplicated the tags and will keep them at all times on one of SailAhead's boats. The spirit of the 218 veterans will live through their name tags and will accompany SailAhead's veterans each time our boats go out to sea.  
During this event, local parents of our community and members of the Greenlawn American Legion Post 1244 will give George the name tag of their son, who was a veteran himself and took his own life.
The purposes of the event are as follows:
1)      Spread PTSD awareness throughout the community.
2)      Spread awareness of SailAhead's program so that more wounded veterans can be helped.
The sailing event will last 8 hours; the flotilla will sail together on the Long Island Sound.
About SailAhead-
SailAhead is a 501c (3) not for profit organization, launched by the Duclay family in the winter of 2013. SailAhead has dedicated itself to helping wounded veterans using sailing as a form of therapy. In addition to the typical summer sailing season, SailAhead trains veterans, both mentally and physically wounded, all year around. By the end of the 2016, SailAhead will have taken over 1,000 veterans sailing!
To learn more about this sail outing with and for veterans, please contact Sean Duclay at sean@sailahead.org , (631) 662-9132 , www.sailahead.org