By Caroline Pierce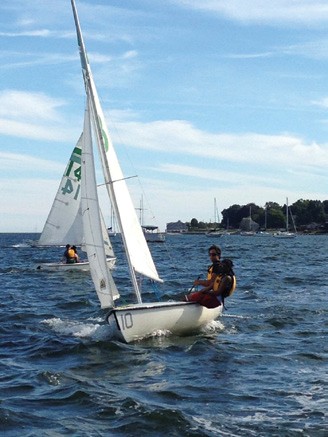 Carolyn Leuze and Katie Bradford, a mother-daughter duo who saw that the revitalized New London waterfront did not adequately cater to the city's kids, founded New London Community Boating (NLCB) in the winter of 1999 with a $500 donation from the Eastern Connecticut Sailing Association. Having successfully taught thousands of New London children to sail since then, Executive Director Carolyn Leuze is passing the torch and NLCB is joining forces with New England Science & Sailing Foundation (NESS) in Stonington, CT.
NLCB President Katie Bradford is excited for the alignment and envisions that their "relatively small program can expand under the umbrella of NESS, giving New London kids access to a more comprehensive array of programs year round."
Members of the New London High School Sailing Team practice on the Thames River. ©nessf.org
With the Thames River and Long Island Sound being such a vital part of New London, Bradford and Leuze saw the program, located at New London's Greens Harbor Beach, as a great way to "fill the idle hours of summer in the kids' backyard."  They set out with two goals: "to eliminate the social and economic barriers to sailing for the youth of New London by providing sailing lessons free of charge; [and] to develop self-confidence, cooperation, communication and leadership skills in all participants" (NLCB Mission Statement).
Additionally, as Bradford points out, they wanted to demonstrate that sailing could be a fun, lifelong sport and "to open students' eyes to career options in the marine industry, right here in New London or far beyond the Connecticut waters."
NLCB started that first summer with just 20 students. Early on, they recruited help from the city of New London, which offers bus transportation and meals before class to all students. Funded by foundations and individual donors since its inception, NLCB has been enormously successful, teaching over 300 students last summer at no charge.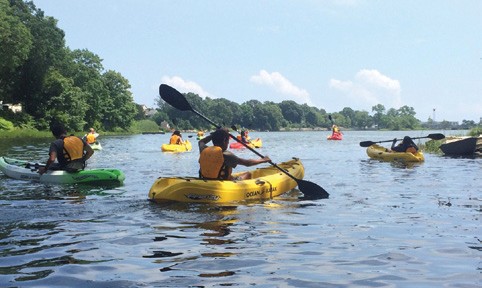 NESS President Spike Lobdell founded NESS in 2002, with many of the same intentions as NLCB. "We started out that year with just 14 children, eight tiny boats, and a big dream of being inclusive of those who love or want to learn about the water," Lobdell remembers. Since then, it too has enjoyed enormous growth and expansion.
NESS students from New London paddling to Alewife Cove. © nessf.org
NESS has transitioned from a sailing-only summer program into a year-round ocean adventure program, which last year engaged 3,200 students in experiential learning to build confidence, teamwork, and leadership skills. As a testament to its programs and outreach efforts, US Sailing named NESS the Outstanding Community Sailing Program in the country for 2013.
More and more New London students are adventuring at NESS in three new locations. Thanks to successful partnerships, NESS now operates out of its STEM (Science, Technology, Engineering & Math) classroom at Bennie Dover Jackson Middle School, its Ocean Beach Park location with sandy beach and salt marsh creek winding up to Alewife Cove, and Mitchell College's docks. With these new locations, NESS is better able to serve New London students in their community, as well as in Stonington, nearly every weekday, year-round.
The NESS staff continues to build its ocean adventure curriculum incorporating engaging, "hands-wet" activities, including STEM concepts and the US Sailing Reach modules. Examples of topics include Biomimicry & Engineering, Marine Debris, Deep Sea Energy Cycles, Wacky & Wild Critters, and Remotely Operated Vehicles (ROVs). To help teach its curriculum, last year NESS was awarded grants to fund AmeriCorps members year-round in New London.
Now NLCB is joining forces with NESS, which is bringing NLCB under its umbrella to provide the New London community and its students a comprehensive set of programs to "make the ocean available to all." With NLCB looking to join with a larger organization that could expand the opportunities offered to New London students, NESS was the logical choice because they already teach sailing to New London students during the academic year.
NESS Sailing Program Director Mark Zagol explains, "We are extremely excited to complement NLCB's fantastic sailing program with the flavor of NESS and our goal is to have a seamless transition, ultimately making sure that the students feel the benefits of this partnership." This move adds a fourth New London location for NESS, strengthening its already considerable commitment to the community and aligning well with its core values of inclusiveness, experiential learning, personal growth, and stewardship.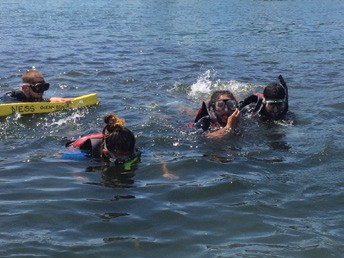 Since its founding, NLCB has been dedicated to giving New London kids as many great opportunities to get involved with waterfront activities as they could. Back in 1999, they saw a gap in the waterfront offerings so they took it upon themselves not only to fill it, but also to be sure it was available to as many kids as possible by arranging transportation, meals, and free classes. This year they saw an opportunity to expand by combining with NESS and are taking full advantage. 
NESS students enjoy snorkeling at New London's Ocean Beach Park. © nessf.org
Asked about the future for NLCB and NESS at Greens Harbor Beach, NLCB founder Carolyn Leuze remarked, "We have been a part of many New London activities which give the children a great sense of place and belonging, and now NESS will be undertaking the fulfillment of a dream we had so many years ago by continuing and growing our summer sailing program." Lobdell echoed, "Managing NLCB enables NESS to offer a greater variety of programs to enhance year-round learning for the students of New London." As Leuze, Bradford and Lobdell always say, "It's all about the kids!"
For more information on the 2015 NLCB sailing program at Greens Harbor Beach, visit nessf.org.
Caroline Pierce is a volunteer at NESS. She lives in Stonington, CT, and enjoys sailing, racing, and exploring all along the New England coastline.
NESS Ocean Adventure Fundraiser is April 25
New England Science & Sailing Foundation (NESS) is planning a great party in support of their New London initiatives. The Ocean Adventure Fundraiser will be held from 6:00 to 10:00 pm Saturday, April 25 at Port 'N Starboard at Ocean Beach Park, located at 98 Neptune Avenue in New London, CT.
The event includes a buffet dinner and cash bar, a silent auction and live music by The Soul Sensations. Tickets are $35 per person, and all proceeds will benefit NESS. Tickets can be purchased online at nessf.org/donate/fundraising-events. Please contact Lauren at NESS with any questions at 860-245-4472 or lauren@nessf.org.