By Kraighton Stack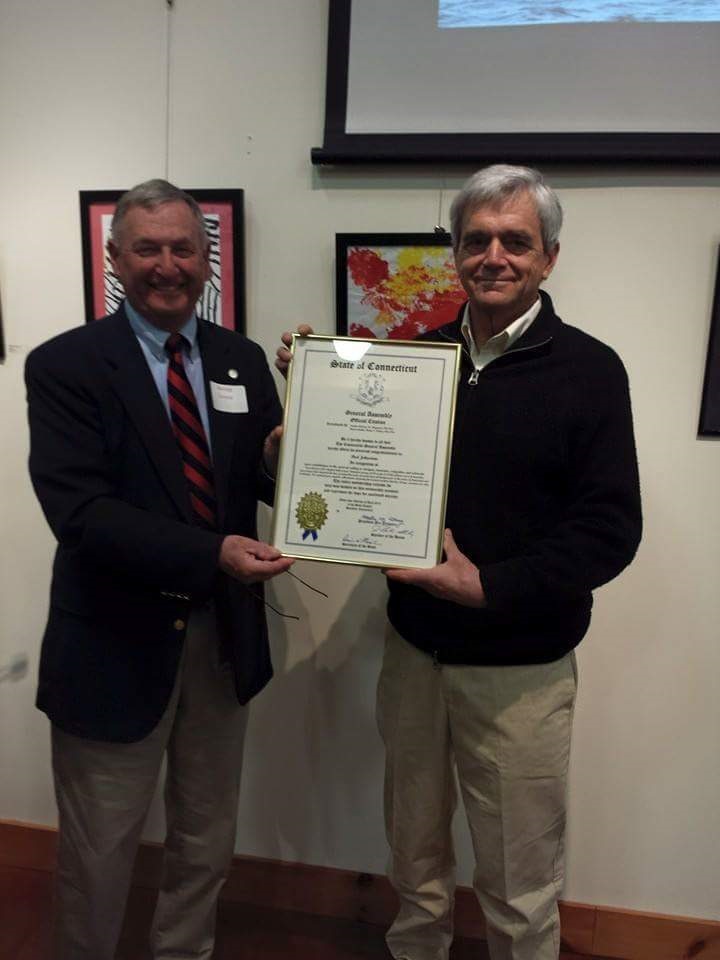 On a recent Thursday evening, set amongst the pristinely repurposed waterfront in the historic seafaring village of Stonington, CT, took place a grass roots gathering of people with the common interest of the sea. More specifically it was a charity event to raise funds for and the profile of an organization by the name of Sea-Legs.
The event's guest of honor, who was officially recognized at the gathering by the State of CT for his contributions to the State's business climate and the world of sailing, was none other than Rod Johnstone; world renowned yachtsman, designer and founder of the highly successful J Boats and responsible for some of the most popular and successful keelboats ever designed and built; including the ubiquitous J/24, the J/44 – considered by many as one of the best offshore cruiser/racers ever designed, the J/105 and the J/120.
George Crouse presenting Rod Johnstone with legislative citation at Sea-Legs event.
Rod graciously gave a presentation to an enthusiastic audience detailing the founding and history of J-Boats and how it opened up the world of sailing to people from all parts of the globe.
In the audience were people from all walks with the common interest being that of sailing–everyone from local politicians and business people to NY financial types and even last year's honoree and fellow world class yachtsman, Olympian and yacht designer, Bruce Kirby; known for designing over 65 boats & yachts including Norwalk Sharpies, Sonar, Ideal18, America's Cup 12-meters and the ever omnipresent Laser.
Sea-Legs was founded 17 years ago, and is still run by Richard "Dick" Lathrop after his retirement from a career in education. Dick's goal, through Sea-Legs, has been to introduce kids to the sea, and more specifically sailing, who otherwise would be offered little opportunity to have such a chance. The kids, hailing from something of a marginalized or disenfranchised world now have the opportunity to connect with the sea. They learn about boats, boating and seamanship; ultimately responsibility, teamwork, self-sufficiency, leadership and the fact that there is a world out there for them beyond what they have yet to learned about or experienced; all things that go to building character and citizenship.
The kids begin by learning the basics of water-safety, boat handling and working together as a team. As they grow in the program, one that is very hands-on, they learn a wide array of skills both theoretical and practical-everything from the real-world application of physics and math to the more tactile maintenance and repair. As they grow, the kids have the opportunity to become interns and apprentices learning and practicing skill sets restoring boats donated to Sea-Legs for eventual sale; the proceeds of which are plowed back into the program.
Anyone interested in donating, whether it be time, money or a boat should contact Dick Lathorp at www.sea-legs.org. Phone: 860-912-5393 dicklathrop@peoplepc.com