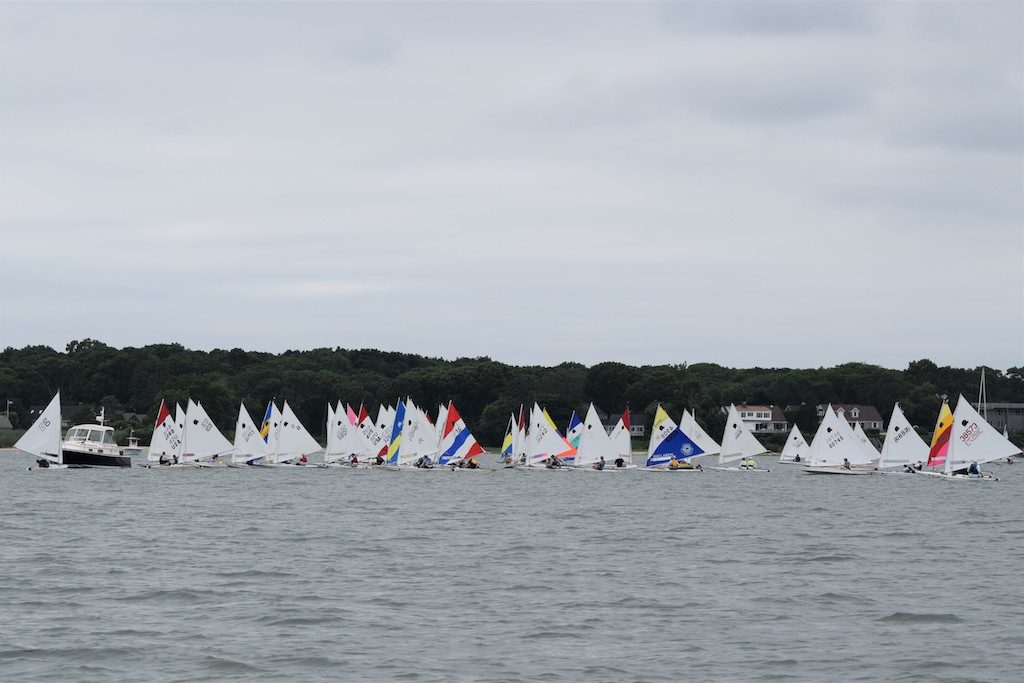 Southold Yacht Club in Southold, New York hosted the 50th Annual World's Longest Sunfish Race Around Shelter Island, NY (the "Race") on Saturday, July 10 in changing and challenging conditions. For the last 49 races, this nautical marathon was a test of sailing skills, patience, endurance and "magic." This year was an exceptionally grueling test as the light breezes blowing at the start decreased to almost complete calm within the first two hours.
The 50th Race drew a record number of registrants, and 70 Sunfish started the counter-clockwise circumnavigation of Shelter Island at noon.
The Sailing Instructions for the Race provided for a shortening of the course if insufficient wind made it unlikely that any boat would be able to finish within the race time limit. The Race Committee made the decision to place the finish line in Gardiners Bay off of Ram Island – about halfway through the course. Sixty-two sailors on fifty-two Sunfish were able to complete the shortened course.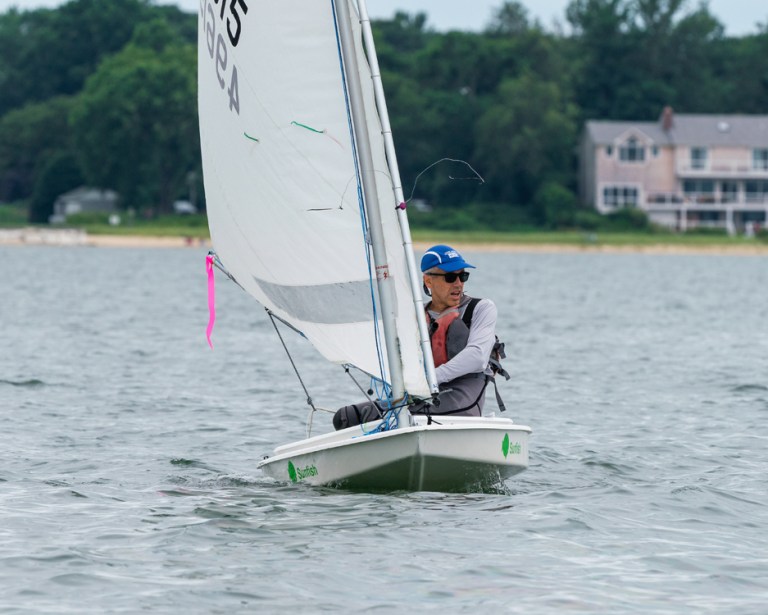 The winner was Chris Williams of Philadelphia, PA sailing in his first Race. Chris was "on the right line at the right time" and edged out 4-time winner Bobby Boger. Third place went to 5-time winner John Condon; fourth to 5-time winner John Eckart; fifth, Todd Kutkiewicz; sixth, Mike Preston; seventh, Tom Jacobs; eighth, former winner Jim Koehler; ninth, William Sesack; tenth, former winner Joe Sullivan.
Other winners were Doug and Elsie Rose (Open Doubles), Robert Finora (Youth Singles), and Joanna Anderson and Bobby Doering (Youth Doubles).
Perpetual plaques were awarded to Chris Williams (WBAZ Champion), Dick Heinl and Chris Williams (Heinl-Lyman Award for oldest participant and first Master to finish), and Julie Lindell (Peggy Anderson Wagner Memorial Award for first female finisher).
Several former champions participated including Race co-founder Joe Sullivan, age 84, who finished in tenth place and 4-time winner Dick Heinl, age 96, who started the 50th Race but returned to shore once the wind abated. Joe holds the Race participation record having sailed in 48 of the 50! Dick holds the oldest Champion record, having won the Race in 2011 at age 86.
The title sponsor of the 50th Race was LaserPerformance, the maker of Sunfish sailboats. LaserPerformance donated a fully-equipped recreational Sunfish and two Sunfish racing sails for the post-race raffle. Each registered sailor received one raffle ticket. Doug Rose won the Sunfish, and Tim O'Brien and Ruth Hakanson each won a sail.