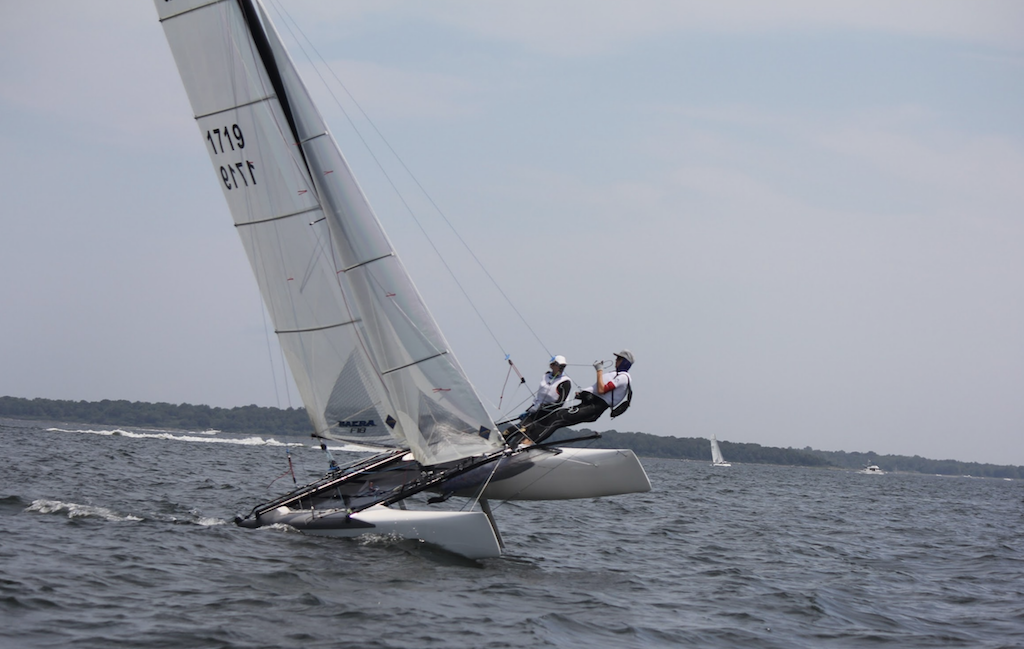 Since 1990, the New England 100 has been a main summer event for multihull sailors. A "mini Worrell 1000," the 100 provides a great test of speed, skill, and toughness covering 100 miles over two days on Narragansett Bay. The regatta is open to all non-singlehanded beach catamarans and race organizers have been following the current guidelines for hosting events closely. Sail Newport in Newport, Rhode Island will host the 31st Annual New England 100 on August 15 & 16.

It was last year during this event that New England 100 chairperson, friend, and amazing sailor Sandra Tartaglino lost her life in a collision with a powerboat. Sandra, at 60, had been sailing the NE100 for all 30 years.
Event organizers have reached out to friends of Sandra to help profile this amazing woman. To read more about Sandra and to share your favorite stories, please visithttps://newengland100.org/ability-and-drive//

Courses each day will be between 18-50 miles depending on forecast conditions. Different courses may be specified for different classes depending on boat type/Portsmouth D-PN. The courses will consist of rounding various islands and government or Race Committee (RC) marks & will require a waterproof chart of Narragansett Bay, upper Mt. Hope Bay, Sakonnet River, and the ocean off Aquidneck Island.

Registration at YachtScoring.com is open. Competitors should be sure to review the Safety Requirements as well. A boat may be inspected at any time during the regatta for compliance with these new requirements.

Twelve boats are already signed up, and organizers are hoping to get three times that many on the starting line this August. If you're ready to test your speed, skill and toughness, log onto https://newengland100.org.