Essex Yacht Club's Sam Wetherill Overnight Race starts May 20
By Terry Ann Klee, Essex Yacht Club Communications Chair
Sub-chasers, ocean racing, and ukeleles? Yes, there is a connection. It took only one month for this year's Sam Wetherill Overnight Race to get twenty-five registrations. Hosted by Essex Yacht Club in Essex, Connecticut and set for May 20, many skippers see this race as a serious tune-up for upcoming competitions, such as the Newport Bermuda Race, plus an opportunity to join a very competitive racing fleet. After all, the course is sailed primarily in ocean waters and is 140-nautical miles. Sam Wetherill would give a satisfied nod.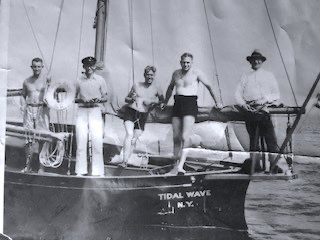 Wetherill made significant contributions to the sport of ocean racing as we know it today. As a young man, Lieutenant Commander Wetherill earned the Navy Cross for his distinguished service as Captain of a World War I sub-chaser. As a civilian, he loved ocean racing and held a passion for improving yacht design, especially toward increasing small boats' stability at sea. As an editor of Yachting, Wetherill spearheaded the influential design section helping boat designers identify beneficial and unbeneficial traits of offshore yachts for years to come.
Such a profound influence on ocean racing would seem reason enough to name a distance race in Sam Wetherill's honor. But it's not.
Who carries a ukelele to sea? Wetherill did! After a tough race, Navy sea chanties emanating from his Rhodes 32-foot ketch, Tidal Wave, entertained the entire harbor. Fun-loving Wetherill was also an early member of the Cruising Club of America and one of the first ocean racers to help establish the Newport Bermuda Race. Happily, he also shared his verve as Essex Yacht Club's Commodore — hence, EYC's eponymous overnight race.
Ironically, in 1951 at the age of 66, this accomplished seaman went overboard from his anchored Tidal Wave and drowned in Sag Harbor during a regatta. Essex Yacht Club memorialized his epic life a year later with the first running of the Sam Wetherill Race. Since then, accomplished ocean racers from nearby and far have come to participate. This year, the Essex Yacht Club celebrates a record fleet.
The Sam Wetherill Overnight Race
May 20 to May 22, 2022
Where:
Sail 140 Miles. A serious tuneup race that starts and finishes in Eastern Long Island Sound. Old Saybrook Light to Gay Head and back. Plenty of current strategy. Great distance for double and short-handed crews.
Who:
(1) Ideal Qualifier for The New England Lighthouse Series (PHRF) and the ECSA 2021 series.
(2) Race scored under ORC and PHRF rules for monohulls, and the NEMA rule for multihulls.
(3) A warm welcome to seasoned offshore sailors and aspiring distance racers.
How:
Visit YachtScoring for NOR and to register:
https://yachtscoring.com/emenu.cfm?eID=14869 Sam Wetherill (far right) on t