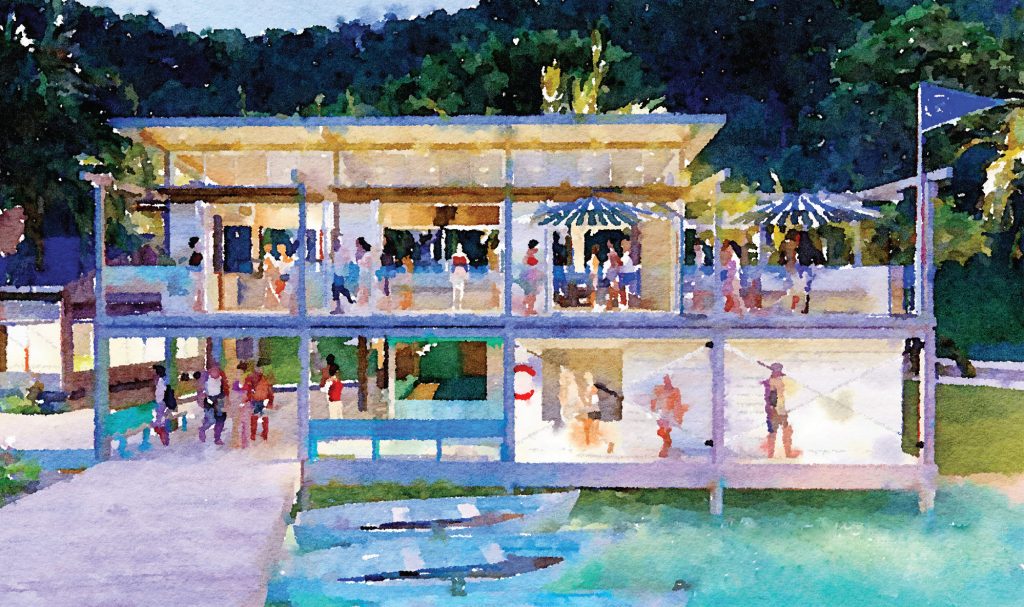 Our friends at the Bitter End Yacht Club in Virgin Gorda, BVI are excited to announce that after more than 20 months of demolition and cleanup from Hurricane Irma related damage, including the removal of over 100 structures and remediation of more than 64 acres, the process of rebuilding Bitter End is now underway. Launched in 1969 as a remote island outpost that catered to visiting yachtsman, Bitter End will soon revisit its origins as a rollicking nautical village while the owners plan to Bring Back Bitter End better than ever.
"We have a unique opportunity to return to our roots by welcoming back the sailing, yachting and watersports communities first," said Richard Hokin, Managing Owner of Bitter End Yacht Club. "Bitter End launched in the 1960s as a hangout for adventurous sailors and has evolved over the last 50 years to become the world's favorite playground for those who have a passion for playing in, on and around the water."
Given Bitter End's legacy it is fitting that the marina village, the heart and soul of Bitter End, will be the first element of the property to be redeveloped following the devastation wrought by Hurricane Irma. During the 2019-2020 season, Bitter End will debut all new world-class marina facilities to include a two-story, open-air marina complex featuring a lounge with expansive views of the North Sound and setting sun, enhanced amenities such as marina-wide WiFi, upgraded bathing facilities and hospitality offerings that will make even the most sea-worn sailor feel right at home.
Venturing north from the marina along Bitter End's new and greatly enhanced beach, watersports enthusiasts will find Bitter End's legendary watersports center featuring an all new Club Fleet available to visiting boaters, Virgin Gorda villa guests, day visitors and locals. "Our tried & true fleets of Hobie Waves, Lasers, 420s, Sunfish, kayaks and stand-up paddleboards will be enhanced by new, cutting edge watersports toys that are sure to excite our community," said Hokin. Snorkel trips to nearby reefs, sailing, kiting and diving lessons, and a myriad of guided adventures led by Bitter End's beloved watersports crew will continue to be part of Bitter End's robust activities program.
Over the coming months, Bitter End will be offering a preview of what's to come as they introduce exciting enhancements to the nautical village including yacht management programs, a casual beachfront restaurant and bar, private event space and an epicurean market offering everything you will need to provision for your adventure. Bitter End's retail shop will feature their own collection of seaworthy goods, gear and apparel alongside products from select partners in the resort, fashion and watersports space. Following on the heels of the marina and waterfront rebuild, the resort redevelopment will include a variety of unique accomodations and hospitality amenities.
To honor their unique and laid-back style, Bitter End has partnered with architecture and design firm Simplemente Madera, an organization that aligns with Bitter End's focus on simple, elegant and organic designs that work in harmony with the natural environment. With this in mind, Bitter End's remediation efforts have focused on upcycling as many materials as possible and mitigating the redevelopment's impact on the natural environment; activities have included the recylcing of large volumes of concrete and timber debris, the restoration of nearly a mile of shoreline to its natural state, composting of organic waste and implementation of small-scale agriculture to support the on-site team.
While Bitter End has been closed since September of 2017, the owners and their crew have been focused on supporting the local community through numerous philanthropic projects. The Bitter End Foundation launched in September 2017 as the Bitter End Irma Relief Fund, responding to the catastrophic impact of Hurricanes Irma and Maria. With an outpouring of generosity from the Bitter End community, the foundation has raised over $1 million dollars to support the unique needs and wellbeing of seaside communities. The Hokin family and the Bitter End team are keenly focused on continuing these efforts well beyond the reopening of the yacht club, reinforcing their commitment to the local community and the stewardship of our oceans.
Bitter End has also been focused on staying in touch with their friends from around the globe. During the closure, they launched a lifestyle brand, Bitter End Provisions. It's not unusual to see the spirit of Bitter End at airports, yacht clubs and marinas around the world in the form of seaworthy goods, gear, accessories and apparel. In tandem with Bitter End Provisions, the company launched Provisions for Good, a program that donates $1 from every purchase to the Bitter End Foundation, the non-profit affiliate of the Bitter End family of companies.
"What we promise as we embark on this new chapter in Bitter End's history is that the spirit of the place will remain; we will honor our legacy and continue to focus our efforts on what is truly important to our community – the spirit of adventure, exploration and stewardship of our seas." said Lauren Hokin, founding family member. "Bitter End 2.0 will feel incredibly fresh and exciting, yet sweetly familiar at the same time."
About Bitter End Yacht Club:
The Bitter End Yacht Club, a family-owned island outpost known for its historical charm is accessible only by sea, attracting travelers and yachting enthusiasts from around the globe for nearly 50 years. Located on the protected shores of North Sound, on the perennially top ranked Caribbean island of Virgin Gorda in the British Virgin Islands, the iconic destination is a sailing and watersports mecca, thanks to its near perfect year-round sailing conditions, abundant sunshine and crystal-blue waters. Known for its casual, communal atmosphere and robust activity programs, Bitter End is a favorite destination for couples, families and groups, many of whom return year-after-year. To learn more, log onto https://beyc.com.
About Bitter End Provisions:
Bitter End Provisions is an emerging lifestyle brand that serves a community of watersports enthusiasts from around the globe with high quality, hard-working, stylish goods for their next seagoing adventure. Their products are designed to work hard and are tested at sea, yet their unique style makes them fun to use ashore and beyond. The criteria for an item to make the cut? That it works hard, has distinctive style, and has been tested at sea. Essentially, "go to products" for those who enjoy being in, on, or around the water. For more information, visit https://bitterendprovisions.com.