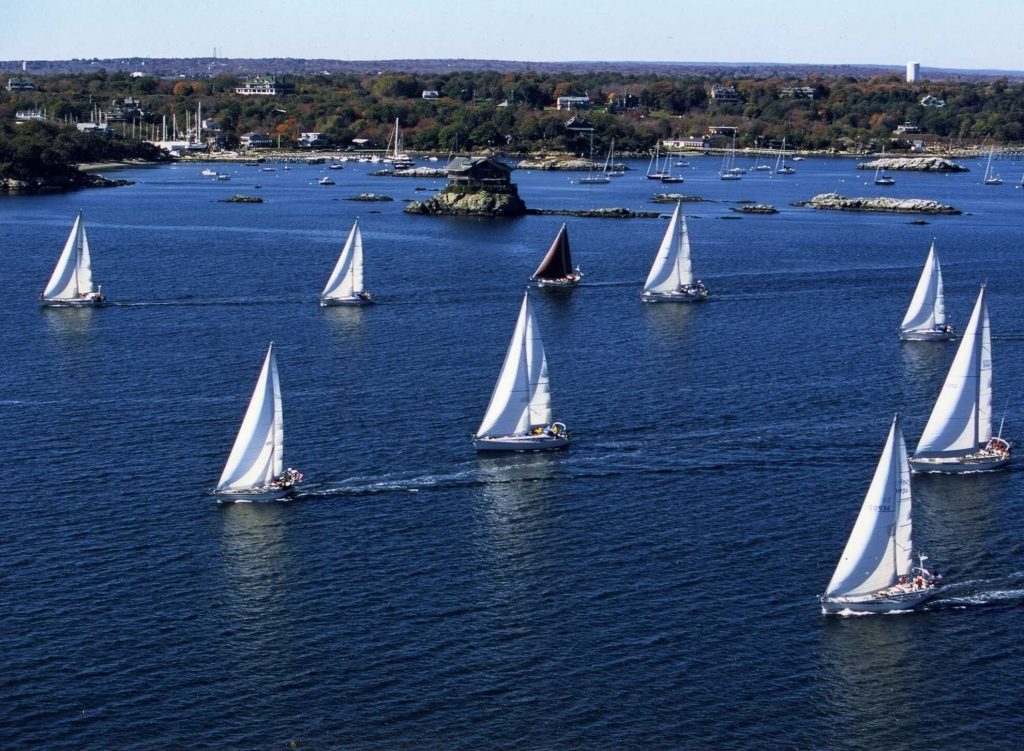 HUNTINGTON, N.Y. (June 10, 2019) — The "North American Rally to the Caribbean" (NARC), which is free for participants to join, will celebrate its 20th Anniversary in 2019 when it once again brings together boats on their annual pilgrimage south to the Caribbean from the U.S. East Coast, organizing socials, discounts and shared weather routing. Scheduled for October 26 (or the best weather window near that date), the 20thAnniversary NARC Rally will offer departures from the longstanding participating port of Newport, Rhode Island and – for a second year – Cobb's Marina in Little Creek, Virginia. The NARC Rally then hosts a stop in Bermuda before ending in St. Maarten.
"We are the only rally that offers an official stop in Bermuda," said NARC organizer Hank Schmitt who also is CEO of Offshore Passage Opportunities (OPO), a crew network service. He explained that the route to Bermuda encourages participants to sail there rather than motor sail into the Southeast Trades without stopping. "You have to go east until you get near Bermuda anyway, so why not stop in for a visit?" said Schmitt.
Schmitt plans to make each port visit special, especially the final stop in St. Maarten where five big sponsors have been invited "to lavish our new arrivals with 'The Friendly Islands' treatment."
The sponsors are IGY Marina, which will offer two free days of dockage for each Rally boat and a 10% discount for as long as the boat stays; Budget Marine, which will offer Rally entrants a 15% discount on purchases for three months and free sign-up for the company's new WhatsApp service; Heineken Regatta, which will reduce the entry fee for early sign-up in the Island Time Division of the 40th Annual Heineken Regatta; FKG, which will offer free rigging inspection upon arrival and a 10% discount on any repairs determined as needed during that inspection; and Bobby's Mega Marina, which will offer a 10% discount on hauling/launching, pressure washing and chocking of Rally boats from November to the end of January.
"St. Maarten is very much recovered from Irma," said Schmitt. "All the marine services are open; it is a duty-free island, which means it is great for provisioning, and it has the biggest airport and best airline services in the Caribbean. All this, plus the efforts of our five sponsors, will make St. Maarten a far better island than any other to call home for the winter. Or at the very least, participants can make St. Maarten their first landfall to get their boats checked and repaired if needed, leave for the holidays and then return and re-provision to explore the rest of the Caribbean."
The rally is free with no per-boat fee to sign up. There is a $100 per-person fee for the socials, which include a dinner at Benjamin's in Newport; a Bermuda fish fry at the Dinghy Club in Bermuda; and a wrap party at the Fat Turtle at IGY Marina in St. Maarten. Shared weather routing comes from WRI in upstate New York and discounts on dockage apply in Newport and St. Maarten. The head tax in Bermuda will be waived, saving participants $35 pp, and new this year will be a one-week option to stay longer in Bermuda and enjoy all that the island has to offer.
Sailors who do not have a ride and wish to participate can contact Schmitt and sign aboard a Swan in the OPO Offshore Swan Program to become a full working crew in the rally, sailing with a professional captain.
The NARC Rally started in 2000 when Schmitt organized 10 OPO skippers and crew to move a fleet of Swans from Newport, R.I. to the French side of St. Maarten in the Caribbean. With a departure date set for Newport in the Fall, he decided to invite other boats to join in an organized rally and has organized the annual passage ever since.
For more information on the 20th Anniversary NARC Rally or opportunities through Offshore Passage Opportunities, contact Hank Schmitt, 1-800-4-PASSAGe, +1 631-423-4988 or visit www.sailopo.com.
More About Offshore Passage Opportunities
OPO's mission is to seek, gather and create quality offshore passage opportunities for its members. The company's North American Rally to the Caribbean (NARC), a 1,500-mile "delivery south" from Newport, R.I., has taken place each year since 2000.