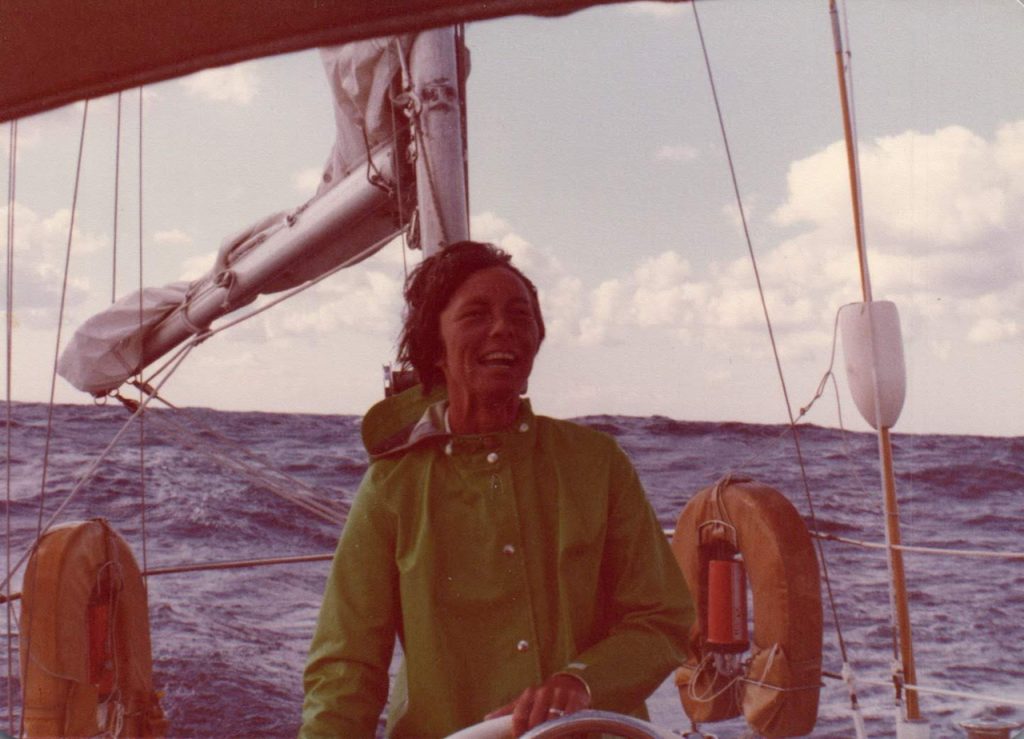 Mary, age 86, a lifelong resident of Larchmont, New York, died December 13, 2022 at home surrounded by family. Born in Carbondale, Pennsylvania to Roy and Norma (Hemelright) Male, she graduated from Connecticut College and attended Iona College pursuing an MBA.
Mary was a talented classical pianist, gifted modern dancer, fiercely competitive tennis and paddle tennis player, and avid sailor as well as an exceptional sailing rules judge and umpire. She was deeply engaged in her community, volunteering for numerous organizations and serving on several boards including the Mamaroneck School Board, Larchmont Avenue Church, New Rochelle Hospital Board of Governors, Planned Parenthood, Larchmont Yacht Club Protest Committee, Yacht Racing Association of Long Island Sound, and US Sailing.
As an adult she immersed herself in the sport of one-design sailing racing. She quickly became an accomplished competitor on Long Island Sound and gave back to the sport she loved by devoting herself to teaching women's sailing at Larchmont Yacht Club for fifteen years, then administering, judging and umpiring races for decades. Mary traveled the world officiating events at all levels, youth, collegiate, national and international. She opened her home to sailors from near and far during local regattas, developing lifelong friendships across the globe.
Mary's many accomplishments include serving on the LYC Protest Committee for over 40 years, chairing the Committee from 1999 to 2021. Mary was the first woman to serve as Vice President of US Sailing, and served as chair for US Sailing's Competitor's Classification Committee for ten years. She was elected to lead the Yacht Racing Association of Long Island Sound, as its Vice President and then President from 1988 to 1990. In 1979, she became one of the first individuals to be certified a US Sailing Judge, and subsequently International Sailing Judge by World Sailing. When she retired from actively judging in 2006, she was the first woman named Umpire Emeritus by US Sailing "in recognition of her long and dedicated service to the US Sailing Umpire Program as one its pioneers, teachers, and mentors." In 1991 she was asked to serve on the US Sailing Racing Rules Committee, and continued to serve until her death. She was the first woman to be awarded the Alex Gest Memorial Trophy for her contributions to the sport of yacht racing, and was awarded US Sailing's Harman Hawkins Trophy for excellence in race management. In recognition of her significant contributions to the sport, Mary received the Herreshoff Trophy in 2015, US Sailing's highest honor.
Mary was pre-deceased by her two sisters, Helen Katze (Larchmont) and Martha Obarowski (Deerfield Beach, Florida). She is survived by her three children John Savage (Norwalk, Connecticut), Karen Savage (Fairfield, Connecticut) and Andrea Savage (Northampton, Massachusetts), daughters-in-law Amy Savage and Sharon Barrett, grandchildren Andrew Savage, Suzanne Savage and Jack Goldman, as well as beloved cousins, nieces and nephews. The family will have a private service. A celebration of her life will be held in spring 2023. In lieu of flowers, donations may be made to the Cancer Support Team (cancersupportteam.org).
Mary was a good friend.
I believe that the B40 photo was taken on Pumpkin Shell, owned by Peter Cooper, then a past or future commodore of Manhasset Bay Yacht Club. It was, according to Mary, not an easy passage. I believe they were down to bare poles at one point.
Karl Maier
Pasadena, CA