Tracy Edwards, MBE was the first (and until the Volvo Ocean Race 2014-15, the only) skipper to muster an all-women crew and compete in the then named Whitbread Round the World Race. I spoke with Tracy aboard the same yacht, the refit Maiden, at Safe Harbor Newport Shipyard in Newport, Rhode Island.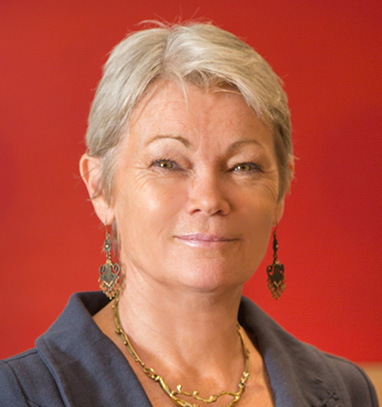 Coop: Tracy, do I call you Dame? (and I almost uttered "Ellen"…OOPS!)
TE: No, not a Dame.
Coop: The Maiden story, "Tracy and the girls do the Whitbread" if you will, has been told many times. I'd like to get to know Tracy Edwards in a bit more detail. That OK with you?
TE: Oh yeah, sure.
Coop: Your mum was a dancer, right? Royal Ballet or…?
TE: She was with Sadler's Wells. That was a brief period. Then she went to another company, I don't remember what it was called, but then she went around the world with a modern company called Rhapsody in Blue-Gershwin, and it was quite a risqué gig. Not exactly Burlesque, but I remember my daughter Mack and I were going through her things after she died, and we found some black and white photos of her, and she is wearing black fishnet stockings and generally looking saucy. I said to Mack, "This is your grandmother." She said, "What?" And I said, "Yes, she was an extraordinary woman." She rode a motorbike on the Isle of Man Tourist Trophy course…
Coop: In the TT races?
TE: No, women were not allowed then. She just rode the course. She was later caught at 16 riding a Triumph Tiger without a license or insurance. I still have the police citation. She drove karts, which is where she met my father. He was her mechanic. She ran her own driving school and dancing school. She was an incredible role model.
Coop: Yes, I watched the Maiden movie last night and that comes out very strongly. Did you aspire to dance, and take dancing lessons?
TE: Oh, yes.
Coop: Was your mum forced to retire after you and your brother were born?
TE: Well, she contracted a particularly nasty variant of Multiple Sclerosis two years before I was born, but she was tough. The doctors said she'd be in a wheelchair in two years and she lasted another fifty years. She did not like being told what to do. Anyway, she had to retire from professional dancing. That was when she started her own dancing school, which of course meant she could teach dancing and be a mother.
My brother is very bright. He's the smart one. I'm the good-looking one (self-effacing chuckle). He went to high achieving schools, and I went to drama and dancing schools. I wanted to be a dancer, or I thought I did, and wanted to be an actress. My father was a Mason, and when he died the Masons would only pay for my brother's education, not mine…
Coop: So, you were shunned by men at an early age?
TE: Yeah, really. My mum remarried and we moved down to Wales, and I went to a comprehensive school, which was OK because I had decided I wanted to be a veterinarian. I had read a James Herriot book and thought I had to be a vet. That was short lived. Then I became the nightmare that was to become the nightmare to end all nightmares, and then, well…(her voice trails off).
Coop: You OK to dig into that a bit?
TE: Yes, sure. I hated my stepfather.
Coop: It is reported elsewhere he was an alcoholic…
TE: Yes, he was an alcoholic and abusive. He was physically violent to me, but I never told Mum. She was back in Reading trying to sell the house and I was in Wales, stuck with him. We got into all kinds of s***, for want of a better word. I used to run away, and he would come after me a few days later. A very strange time in my life. Mum was away, and did not know what was happening. She was not a mind reader. By the time she sold the house and moved down to Wales, the die had been cast – my stepfather and I were deadly enemies. I became this awful person, climbing out my bedroom window at night, running off and partying, drinking, smoking…I stole a car, got caught.
Coop: It is hard to compare the times, but a lot of this seems like it's still pretty normal in a lot of society, or perhaps not so awful. Did you think of yourself as an Awful Person?
TE: Oh, God no.
Coop: So, were you told you were a naughty little girl?
TE: Not so much that as I was breaking my mother's heart. I knew I was, and I think I became worse just to see the effect. Peter and I would fight, I would bring home awful boyfriends and the worse it got the more satisfying it was for me. And it was a shock for Mum. She had come from this nice middle, upper-class family, and all of a sudden she had this demon for a daughter. When she came to the police station to pick me up, I was handcuffed to the radiator. And that was the moment I felt my first twinge of shame. The look on her face…my God, I can still remember it.
Coop: Was all this acting out to rev up your mum for marrying your stepdad? "YOU screwed up marrying this guy."
TE: Yes, probably. Punishment. Absolutely.
Coop: And you were what 14, 15 years old?
TE: Yes, by the time I was 15 I had been expelled. I had been suspended twenty-six times. I blame the headmaster for not expelling me sooner (chuckles). By that point Mum was at her wit's end. Truly did not know what to do for the best, for me. And she was well into the MS by now, too. The trifecta. A lazy bum for a husband; she earned the money working three jobs and he went down to the pub and spent it. The MS, and then me. Then she looked at the people I was hanging around with and thought to herself, "I think she needs to get away from this crew."
We had a contact in Greece, Piraeus. He owned a piano bar, so she said, "Why don't you go backpacking through Greece, go visit with Uncle George." It was like a time out. A reset. I said, "OK, whatever" and went off backpacking down through Greece. I ended up working in the bar. Then I moved to working in another bar. I was 17 by now. A guy named Mike Corns came into the bar one night. He was to change my life FOREVER. He said, "I need a stewardess. I have a charter in four days in Rhodes and my stewardess has just walked off the boat. How do you fancy being a stewardess?" I was like (feigns airy, vacuous girl's voice) "Oh, OK."
Coop: What's a stewardess?
TE: Yeah, really (chuckles). So, I literally finished my shift that night and packed up. I was on the boat the next morning and we were off to Rhodes to pick up the charter. And this was a big, beautiful motor yacht, a real classic. She was the yacht used the movie Evil under the Sun. Anyway, I was sick as a dog for the four-day passage. Oh my God, I didn't think any human could be so sick for so long. I was thinking, "Well, this obviously is not for me." But they looked after me. I was up on the boat deck, with a bucket, under a table that had a canvas cover on it. Every so often, someone would come up and bring me food. They must have been thinkin,g "Gawd, this is not going to work."
But of course, once we got to Rhodes, into the marina, the sickness stopped immediately, like magic, and I recovered. I thought, "I am going to give this a go because I like these people. I think this is interesting and could be a pretty cool way of life. I have my stuff and a bunk bed, and I get to travel." At the end of that first charter, I was like, "This is it. This is me. I want to do this." And it was not the boat or the ocean or the ports. It was the people. I felt I had found my tribe. "These are my people. I have been looking for you for my whole life and here you are."
Coop: What was it about the people, collectively or individually, that so resonated with you? It is clear watching you that it was a massive event; a landmark point in your life.
TE: They were as mucked up as I was, quite simply.
Coop: Oh.
TE: We were all such a ragbag bunch. Different backgrounds, different reasons for being there…
Coop: Quite different from today where everyone has to have a ticket for this, that, and the other thing.
TE: Yeah, different skills and skill levels, and we sort of just muddled through. It was weird and wonderful. I could talk and they would understand or not talk if I did not want to, and they would understand…
This interview derives from ten minutes (out of sixty) of Coop's interview with Tracy. Part Two will appear in the next Women on the Water in our November/December 2022 edition.