Wanted: Onboard Environmentalists for the Newport Bermuda Race
By Chan Reis, Green Team leader, Bermuda Race Organizing Committee
Most of us know what a watch captain, navigator, cook and tactician does on the Newport Bermuda Race, but what about an environmentalist? We are excited to announce that the SailGate crew management tool now allows skippers to name an "environmentalist" on their crew roster. This small software change in the entry management system is both symbolic and substantive.
Ten years ago, the Newport Bermuda Race Organizing Committee (BROC) began climbing the sustainability ladder with its resource partner Sailors for the Sea Powered by Oceana, a Newport, RI-based organization dedicated to clean regatta and green boating best practices. Each "Thrash to the Onion Patch" brings new opportunities for greater environmental awareness and improved best practices around protecting our oceans. One of those improvements – adding an environmental officer among the crew – is an idea borne out of necessity, like the evolving disciplines of a navigator, watch captain, cook, tactician or doctor on offshore boats.
The position has no mandatory race requirements, but is gaining popularity among a growing community of sailors. "All crews can certainly take some steps to reduce their footprint," says Tucker Sylvia, the environmentalist aboard Aurora, a well-known Reichel/Pugh 66 owned and skippered by Gus Carlson.
Aurora will sail the 2022 Newport Bermuda Race with a crew of 14 packing light and carrying reusable food and drink supplies to keep trash onboard to a minimum. Sylvia, 30, a new member of the Aurora crew, lives in Jamestown, RI and has an ocean science background. He says eliminating single-use food and beverage containers is essential to reducing waste, and has the strong support of owner/skipper Gus Carlson and crew boss Rich Moody. He's also calling attention to the potential damage wrought by boat maintenance materials.
"The biggest thing that could be improved is maintenance materials: e-tape, zip-ties, splicing leftovers, etc.," Sylvia says. "Keeping those small pieces of waste out of the water is important. Realize that anything you toss will inevitably end up somewhere."
Protecting the ocean playground resonates with Paul Jennings, a veteran of several Newport Bermuda Races. Jennings is entering his Cal 40 Towhee (Branford, CT) for the first time. His offshore experience, as well as sailing in Long Island Sound, has informed his view that putting an "environmentalist" on the crew roster is one of those easy decisions that could have an incremental impact.
"Great idea, great opportunity to get the word out. I think it's on people's minds, but I don't know if it's high enough on the priority list. Balloons, plastic bags, plastic water bottles – they're all over the place," says Jennings, who has appointed his son Elliot as Towhee's onboard environmental officer.
"People are starting to plan what their menus are going to look like and naming an environmentalist is one way to kick off that planning and raise awareness," says Elliot.
The younger Jennings learned sustainability lessons as a kid at a high-adventure scout camp in New Mexico and studied environmental science in college. For the Bermuda Race, he will focus on pre-planning in areas that include Nalgene water bottles for the crew, reusable cutlery and dishes, and ocean safe sunscreen. Working with the cook to prepare casseroles to mitigate the use of single-use freeze-dried food plastics is on his To Do list. He's examining oft-overlooked food prep areas that require extra planning like opening-up pre-packaged snacks and recycling paperboard and plastic wrappings ahead of time. Elliot also hopes to work on other critical topics like engine/bilge maintenance, sewage discharge, fueling, and bottom paints.
Concerns over plastic and ocean acidification have a growing community of sailors taking small but impactful steps to develop and expand the collective knowledge of Clean Regatta and Green Boating best practices. Dedicating a crew position to environmental sustainability is an idea that's gaining momentum and could represent a new milestone for its collective effort.
The Newport Bermuda Race starts Friday, June 17, 2022. To learn more, visit bermudarace.com/race/sustainability/ or contact us to get involved at GreenTeam@bermudarace.com.
Finding New Horizons at Oakcliff
By Anna Sems, Oakcliff Marketing and Media Intern
At age 15, I applied to Oakcliff Sailing on a whim. Only after being accepted did I tell my parents that I had applied. Once they read about all the opportunities at Oakcliff, they were more than happy to back my decision. Since then I have sailed 49ers, won the Chicago Mackinac Race as a 92-pound grinder, raced the Oakcliff International with a Kiwi team, and interned under Oakcliff's media and marketing team. Throughout all of these experiences, there is one constant: the inspiring people that come to Oakcliff.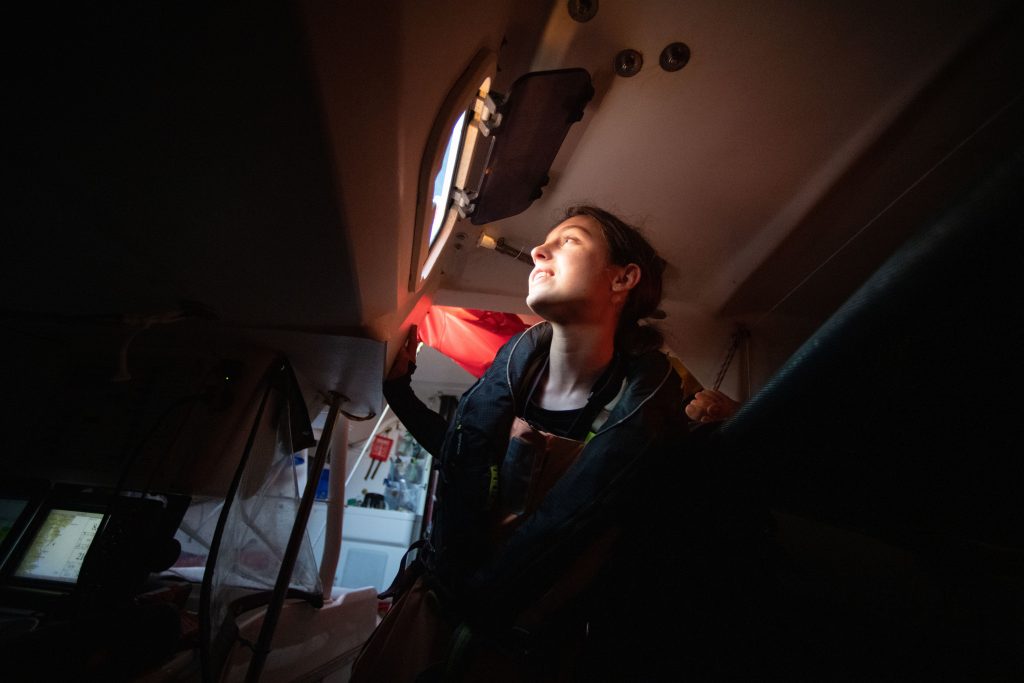 The author, off-watch in the Annapolis to Newport Race   © Oakcliff/Lexi Pline
In the fall of 2020, I was the only girl enrolled in Oakcliff's High Performance High School, which is why, in January of 2021 I was ecstatic to welcome a new Sapling (and girl!), Jasmine Nijjar, to our bunkhouse. Jasmine came to Oakcliff from a community sailing background and, like me, had limited racing experience. That sure isn't the case now. As part of the Oakcliff team, Jasmine has set course records aboard our Maxi and skippered her very first match races.
As a Sapling, Jasmine was completely immersed into the ins-and-outs of the sailing world: from how to repair stern cracks to sanding an 86-foot bottom to managing a crew of 23. She quickly proved to be a strong asset, and was promptly offered a position as Fleet Captain of our eight Match 40s. With a seven-month match racing season filled with 20+ knot racing, collisions, and the occasional hole, these boats go through a lot, which is why we are fortunate to have Jasmine in charge of their upkeep.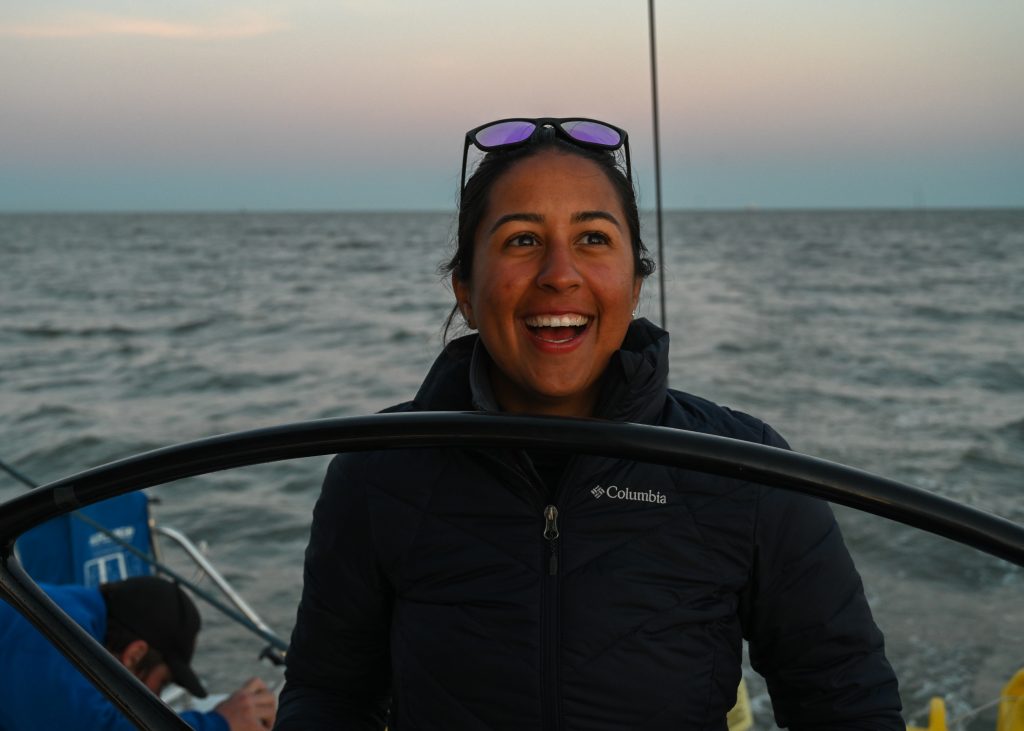 Jasmine Niijar at the helm between Annapolis and Newport © Oakcliff/Becca Hassel
Speaking of Match 40s, our match racing clinegattas (clinic + regatta) have become an Oakcliff specialty, drawing an exponentially-growing number of sailors into Oyster Bay each weekend. In-season weekends in the bunkhouse are quite entertaining, with 5,000 square feet filled with characters from around the world. The Match 40s also help us create an inexpensive way to give young people experience in keelboats…and we sure hope they don't crash. Thanks to the America True Scholarship Grant, we have $150,000 specifically for graduates of community sailing programs so that we can continue to attract world-class humans to our programs, providing them with the opportunities and resources to find their niche in the sailing world. While it may be impossible to find another Jasmine, we're hopeful that we'll keep acquiring exceptional individuals, regardless of their financial background.
Onboard OC86 as she crossed the line and set a course record was 17-year-old Joe Seiffert, sitting right next to Jasmine. Joe was one of my classmates and the first ever graduate of Oakcliff's High Performance High School. He must have a fondness for fresh water because this year he is organizing and orchestrating the 2022 Midwest Acorn Program. Thanks to Eric Wynsma's donation of a Farr 400, Oakcliff will continue to make its way around the Great Lakes, and of course, the infamous Mackinac Races, once again.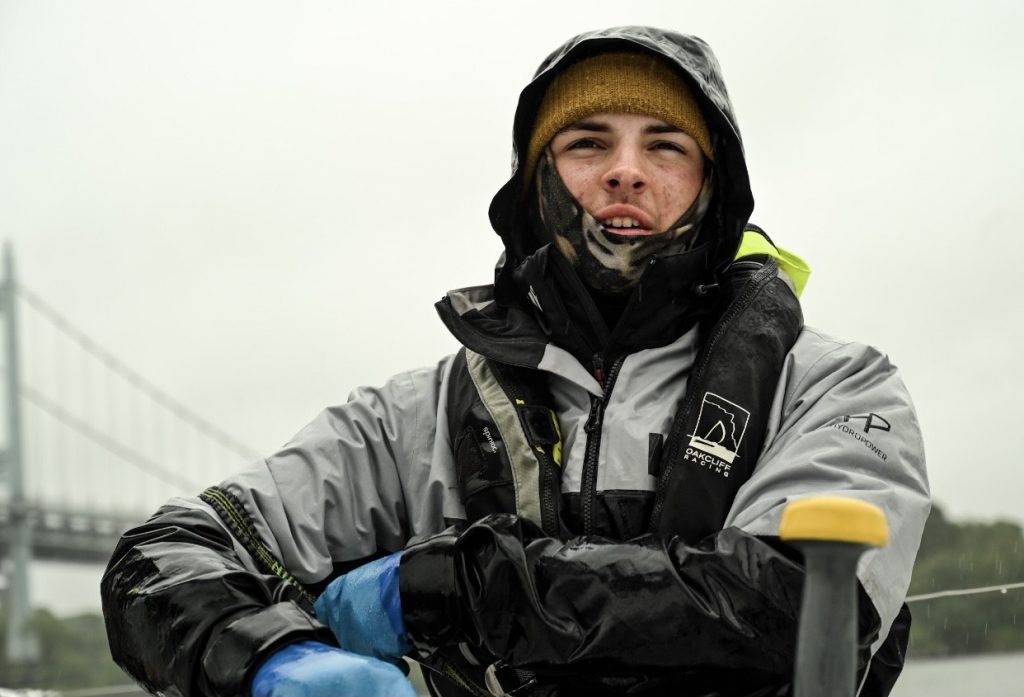 A member of the record-breaking Oakcliff team aboard OC86 in the Chicago Mackinac Race, Joe Seiffert is the first graduate of Oakcliff's High Performance High School.   © Oakcliff/Becca Hassel
While OC86 has left her home in Michigan, she is currently preparing to get her hull a little salty in the Newport Bermuda Race. Following behind (or maybe right next to her) will be our JV66 Numbers and our fleet of Farr 40s. For those who are motivated and resilient, Oakcliff's Offshore Acorn Program is a phenomenal all-inclusive way to race at the most economical price.
The experience of sailing offshore is truly unlike anything else. During last year's Annapolis to Newport Race, I saw bioluminescence in the water and watched it caress and then outline the shape of dolphins chasing us; our crew also saw a whale, but I'm glad I was knocked out for that one. Oakcliff is also making it possible for teams to race together: We are delighted to be partnering with The Lincoln School, an all-girls school in Providence, RI, to create the least costly, most effective way to get an entire group offshore racing together. It's been said that sailing is the most expensive way to get somewhere for free. At Oakcliff, we work tirelessly, with the help of generous donations, to provide offshore sailing at an affordable cost for all.
During my first few weeks at Oakcliff, my friends from home would mistake Oakcliff as a boarding school…which couldn't be further from the truth. Yes, I live and go to school here. But no boarding school would let students use blowtorches to start bonfires and sail thousands of miles offshore. Going on year two at Oakcliff, I have finally perfected the way I explain this unique non-profit training center. Oakcliff Sailing is the University of Sailing: a Brown-styled Open Curriculum, where motivated sailors design what they want to achieve in each program, cultivating a community of driven and unique individuals. A community of Jasmines, Joes, Annas, and a new crop of Acorns who will join us as they embark on the journey that will become their life.
Herreshoff's Afterguard Returns!
By Ted W. Regan, Director of Advancement, HMM
According to Merriam-Webster, the word 'afterguard' was first used in 1750, more than a century before the Herreshoff Manufacturing Company was founded on the shores of Narragansett Bay. It is defined as:
"the decision-making members of a sailboat racing team usually including the helmsman, tactician and navigator."
The Herreshoff Marine Museum in Bristol, RI borrowed the term as a fitting descriptor for museum patrons who not only care deeply about the history and legacy of the organization but also about its future. In other words, they want to lend a hand on the museum's wheel.
The 50th anniversary of the Museum's founding in 2021 – the Golden Jubilee – was worthy of not one but rather a series of celebrations that spanned the whole year. We sought out a special group of supporters who would help bring this year-long party to life – passionate Herreshoff enthusiasts willing to commit time, talent and treasure to helping convene our community for a series of very special and exclusive events. These patrons have become the HMM Afterguard.
Afterguard co-chairs Christine and Rob Ayerle had this to say about becoming members of the HMM Afterguard:
"We've been involved in this special museum for years, and we are delighted to spearhead this initiative. The Herreshoff Marine Museum is more than simply a celebration of fine craftsmanship – it is a quintessential American story of innovation and entrepreneurship, and it deserves our time and support."
Members of this illustrious group were rewarded in the form of a 'Golden Pass.' This pass unlocked a season of exciting opportunities, an array of events and activities and a bounty of exclusive benefits. For example, members of the HMM Afterguard enjoyed an exclusive event at NYYC Harbour
Court celebrating the NYYC Herreshoff one-designs, a cocktail reception at Ocean House in Watch Hill, and admission to the Museum's exclusive Reliance Society.
Participation was limited to 25 families, enabling HMM staff to handle with care these VIPs while prototyping the concept. In fact, the HMM Afterguard was soon oversubscribed. Members Noel Hewitt and Christine Kloner truly captured the spirit of the Afterguard with this remark:
"We have traveled the globe, seen many fine yachts and visited countless museums. None, however, has the polish or the panache of Herreshoff. What makes it special is not only its near mythical collection of historic boats and artifacts but its stellar assemblage of enthusiastic patrons and impassioned employees. We are delighted to be involved in this effort! We look forward to meeting others of like mind."
While it is nearly impossible to expand the afterguard on a race boat, the Museum has no such restrictions, so the Afterguard membership is back for 2022 and even better with more events to attend! In addition, Afterguard members will be supporting the Museum's mission to inspire the next generation of problem-solvers with exhibits and programming that tell the stories of world-class design, disruptive innovation, manufacturing prowess and good old-fashioned Yankee ingenuity. For more information or to enroll, please contact Ted W. Regan, Director of Advancement, HMM at  401-253-5000 ext. 222 or t.regan@herreshoff.org.
New Educational Programs at NESS
Our friends at New England Science & Sailing, a Stonington, CT-based organization with a mission to empower students with a love of learning through ocean-based experiential programs that serve schools, teachers, and families, is expanding its offerings with a wide variety of homeschool opportunities for every age.
New programs include Homeschool Environmental Science for ages 16-18, in which students will dive into the science of Long Island Sound. Explore local habitats as you acquire information and gather data related to the geology, biology, and chemistry in the region. Apply this knowledge by participating in engineering challenges and interpreting environmental policy. Choose a research topic, design and execute an environmental project to address a community issue.
Students in the Homeschool "Sea"mester course (ages 5-12) meet once a week to dive deeper into STEM concepts and experience all NESS has to offer. Each month the focus is an Ocean Literacy Principle, with NESS experiences and activities. Homeschool Monthly Programs (ages 5-12) include Green Technologies Part I: Wind Power (January), Biomimicry: Inventions inspired by Nature (February); Navigation and Geocaching (March), Sonar Sailing Sy-STEMs Part II (April), and Adventure Science Part II (May).
Marine Mavens, for female-identifying high school students, is a free program designed specifically to introduce students to various aspects of seafaring through hands-on lessons, trainings and certifications, as well as a speakers series highlighting female professionals in seafaring and marine sciences.
For more information and to register, log onto nessf.org. ■