A remarkable victory for Roust in the 2013 Marion to Bermuda Race
By Ian N.H. Gumprecht
In February 2013, I had been doing my best for the previous couple of months to pull together a crew for the 2013 Marion to Bermuda Race. Of the four individuals I was hounding, only one, Mark Swanson, had thus far committed. Mark and I had done five Newport Bermuda Races together as crew on a J/44. For this race however, we would be sailing my Bill Luders-designed 1984 Sea Sprite 34 Roust. With a waterline length of just twenty-four feet, I suppose in retrospect that I should not have been surprised that I was having a hard time convincing three more guys to join me on a 645-mile ocean race.
Mark and I met for a beer one evening that February to discuss the progress in recruitment or lack thereof. Knowing it was imperative to retain Mark and not have him jump ship before the boat had even been splashed, I offered a half-hearted attempt at positivity when I said, "I'm undaunted. We'll pull this crew together. It's going to be great." I looked at Mark, fearing that he was clearly seeing my total lack of confidence in what I had just said. He looked at me and replied, "Well, what if we did the race doublehanded?" I looked back at him and in that moment – that nanosecond I remember so vividly – I was totally gobsmacked. A wave of relief, excitement and clarity came over me.
With Mark's response I not only knew that we would in fact be racing to Bermuda that June, I could suddenly envision every part of the process: how we would complete the boat prep, how we would actually race, and how we would actually finish. It is not hyperbole to say that in that instant, among the many thoughts and visions racing through my head, I could actually see us on the boat, close-hauled on starboard tack passing Kitchen Shoals in about fifteen knots of breeze as we closed the last couple of miles to the finish off St. David's Light. It was all suddenly crystal clear.
From that moment we had just four short months to the start. However, we were not able to actually start work on the boat until the beginning of May, which gave us six weeks. While much of our boat prep had been completed over the previous couple of years, especially in preparation for the 2011 Annapolis to Newport Race, there was yet much more to do in order to meet the standard of a Category I ocean race and the demands of doublehanded racing. I will always remember sitting at the nav station on the night before the race talking with Mark, and the two of us just being in awe with all that we had accomplished in the previous six weeks. We had actually managed to cross off every single item on our list.
A few days prior to the start, a big low-pressure system had begun making its way up the eastern seaboard. It was brutish enough that it delayed the start of the Annapolis to Newport Race further down the coast, and it was now threatening to delay ours as well. As dawn broke and the system made its way out over Cape Cod, the Race Committee decided to keep to schedule and our start was signaled without delay. With classic Buzzards Bay conditions of choppy seas and incoming tide against a gusty thirty-plus knot breeze from the northeast, we crossed the starting line just after 1200 hours on June 14. Prestart jitters were high, but we managed to get clear air and a good start on the pin-end side of the line. For the first few hours we were dead downwind, wing-on-wing, under a single reef and high-clewed reacher. We managed to broach only once before rounding Sow and Pigs Reef and heading offshore.
This stretch in Buzzards Bay would be the most breeze we would see until our return trip home from Bermuda. After rounding Sow and Pigs Reef, we switched from the high-clewed reacher to the asymmetrical spinnaker and shook the reef out of the mainsail. As the sun began to set we found ourselves making 7.25 knots over the bottom heading straight for Bermuda. As an Open 40 overtook us from astern, and sun began to disappear below the horizon, Mark and I were just elated with joy. It was sublime sailing and our grins made our faces hurt. It was an episode we would relive countless times over the next four days. That and talking about what a great boat the Sea Sprite 34 is, and Roust in particular. Knowing we had to, we reluctantly started our watch system of three hours on/three hours off, and I went below to get dinner started.
For meals I recruited the services of a chef-friend of mine and had her make a full and delicious menu of pre-made meals which she then portioned into boil-bags and froze. This meal prep solution is one I learned from my time onboard the J/44 and my dear friend Toney Edwards, whose spirit is with me every time I eat a meal on an ocean race. Toney owned a restaurant on 43rd Street in Manhattan for many years and after much trial and error he developed the frozen boil-bag method. Each individual portion has the requisite protein, fiber, and carbohydrates, it is then deep frozen which makes for easy storage and meal prep. When it's time for a meal, a pot of water is boiled on the stove and the bag is tossed in for about ten minutes. The taste, depending on the chef who prepared it, is every bit as good as the moment it was made. Thankfully, in our case my friend is a very good chef.
For sail changes, Mark and I quickly fell into a routine. I would go up on the bow and he would handle the lines in the cockpit. I love working on the pointy end of a boat under sail, especially in the middle of the ocean. There is a wonderful solitude I feel clipped in to a jackline, the boat crashing through waves, salt water spraying in my face, and knowing that the back of the boat is counting on you to accomplish the task at hand as efficiently as possible. To be handling bow responsibilities on my own boat, in my own Bermuda Race, pushing the boat to her maximum potential, was everything of which I'd ever dreamed. It also became one of our running jokes onboard as after returning to the cockpit after a sail change, I said to Mark, "Here I am on my own boat, doing my own Bermuda Race, and I'm still up on the darn bow getting abuse from the back of the boat!" We had a good laugh about that: the bowman never gets the respect he deserves, even when he owns the boat!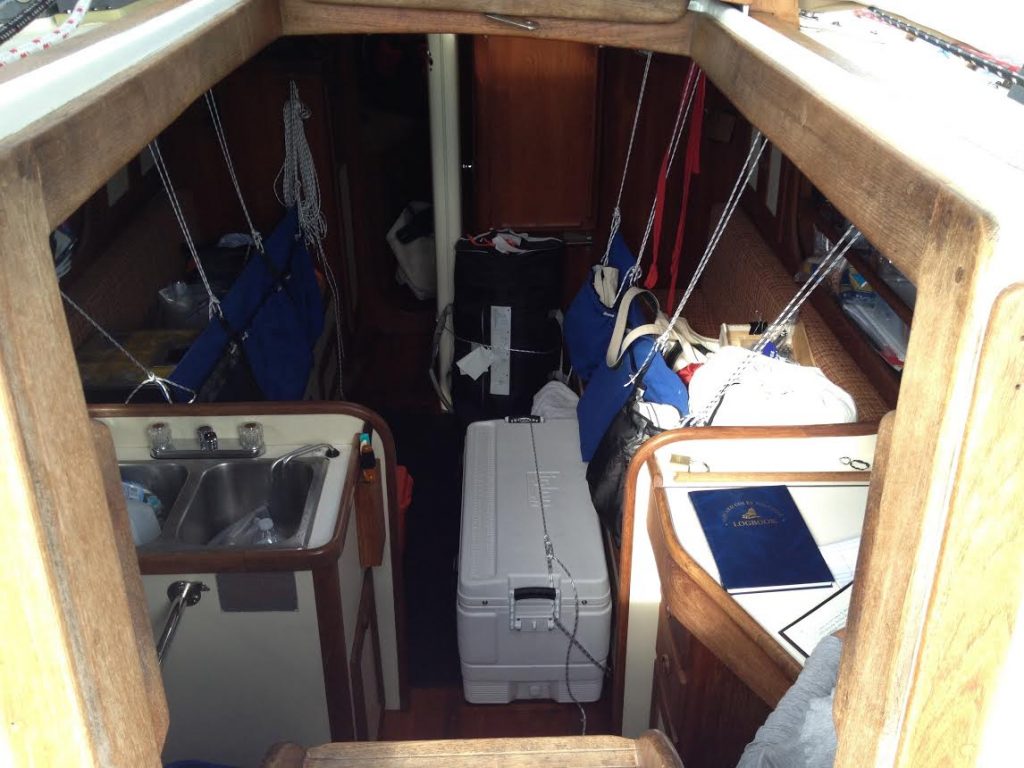 We managed to cover 152 nm in our first twenty-four hours, and 465 nm in the first thirty-six. The winds went up and down over the course of the next two and a half days, with a high being twenty-six knots over the course of the day we crossed through the Gulf Stream. At which point we had our 105% headsail and a single reef in the main.
We knew the wind was going to fade and shift to the south as we closed on Bermuda, and therefore, it was sure to be a light beat into the finish. Many boats in the race spent more than twenty-four hours trying to beat the last 100 miles to the island in very light airs, and while they all sat parked in the Bermuda high pressure system we came flying in from behind. This obviously to our great advantage, though sure enough with just over 100 miles to the finish we too met the inevitable light wind of the Bermuda high, and over the course of twenty-four hours changed headsails eight times. As we approached to about thirty miles of Bermuda, we were hard on the wind. As we closed on the finish in light air we continued to constantly adjust to the shifty light air conditions with many headsail changes.
Closing on the finish, we knew we were and had been going very well, and we knew the wind had been light around Bermuda for the previous twenty-four to thirty-six hours. However, it wasn't until we crossed the finish line and saw several larger boats finish behind us that we knew we had perhaps done quite well. Mark powered-on his cell phone and we quickly learned that we had won our class and possibly the whole damn race.
When we arrived to the dock at the Royal Hamilton Amateur Dinghy Club, we were greeted by an official race inspector who wanted to ensure we had followed procedure. Shortly after his inspection we were handed the victor's signal flag and were told that we had in fact won First Place Overall.
The following days in Bermuda were full of celebration. At the awards ceremony Mark and I were awarded several trophies by His Excellency the Governor of Bermuda, Mr. George Fergusson: First in Class C, First Doublehanded Boat, and the Founders Trophy for best overall performance. The whole experience was surreal, and we felt a great sense of accomplishment to have prepared as well as we did and to have sailed as well as did.
On our return to Oyster Bay, we were greeted by a flotilla of Flag Officers from Seawanhaka Corinthian Yacht Club who passed us a bottle of champagne as we entered the harbor. They then escorted us to the Service Dock where our Commodore had organized a spectacular champagne and caviar reception. While Mark and I felt totally overwhelmed by the pomp and circumstance, we relished the moment. The memory of that reception on the dock at Seawanhaka, bringing our victory home, is perhaps even more memorable than receiving the Founder's Trophy from the Governor of Bermuda.
Our accomplishment embodied the efforts of so many people to make it happen, and we continue to be grateful to them all. However, when I think back I am most thankful to Mark for having the idea to go doublehanded. I am also thankful for my boat. Roust led us to victory and brought us home safely. When it comes to boats, she is, and always will be, my first love. ■
Editor's note: Ian and Mark sailed Roust to victory in the 2013 Marion to Bermuda Race with a corrected time of 3 days, 17 hours, 44 minutes and 35 seconds.