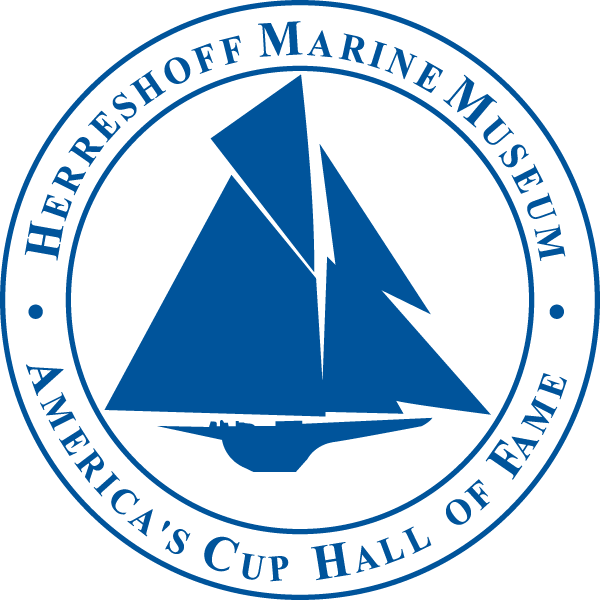 By Tracy McNeil & Anne T. Converse
Editor's note: Our friends at the Herreshoff Marine Museum in Bristol, RI are celebrating their Golden Jubilee year – the 50th anniversary of the museum's founding in 1971, and WindCheck is honored to be the official Jubilee Media Partner.
The Herreshoff Marine Museum is located on the grounds of the former Herreshoff Manufacturing Company where more than 2,000 yachts were built over more than six decades, including eight consecutive America's Cup defenses between 1893 and 1934.
The Herreshoff Jubilee encompasses a yearlong calendar of fresh content and compelling events (both virtual and in-person, COVID-permitting). This article is the first in a series we're publishing throughout 2021, showcasing iconic Herreshoff fleets and their owners as important stewards of Herreshoff boats, both originals and replicas.
It's a sight to behold, thirty sailboats jockeying for a spot on the starting line during a regatta. It's even more special when you learn the boats have a century-long history. Few fleets racing today can claim that distinction, but the H Class and the H12s as they're known today, proudly continue the tradition Captain Nathanael Herreshoff began in 1914.
About the Boats
In 1914, businessman and yachtsman Robert Emmons, and a few friends, commissioned Herreshoff to design and build a boat that could be sailed by children in the challenging wind and sea conditions of Buzzards Bay in southeastern Massachusetts. Nicknamed the Buzzards Bay Boys' Boat, the first 12 ½s were built at the Herreshoff Manufacturing Company in Bristol, Rhode Island in 1914 and began racing in Buzzards Bay in 1915. Though small in stature, H12s boast the elegant design synonymous with other Herreshoff-built craft. And while they have an overall length of just over 15 feet, it's the twelve and a half-foot waterline that gave these keelboats their name.
Beverly Yacht Club member, Ron Wisner, now owns his family's 85 year-old wooden 12 ½, Patricia (HMCO hull #1296, H122), and remembers sailing with other fleet members and aboard his family's boat. "As a kid, my favorite time to sail was after a gale or hurricane passed by," Ron recalls. "I would reef the main and ride the leftover swells out in the bay."
Hurricane remnants aside, it's rare to see a summer day without wind on Buzzards Bay. A stiff southwest breeze around 12-18 knots typically develops each afternoon, providing fuel for some of the best racing conditions around. And though it's often a wet ride, the H12 can handle the chop. Veteran BYC sailor and 1956 class champion, the late Peggs Francis, was once asked if they cancelled races because of too much wind. "No way!" she quipped. "We only abandoned races if there was no wind!"
As it turns out, the boat was perfect for all ages in the family, either as a single-handed boat or with a crew of two. To celebrate the boat's 100th anniversary, the 2014 H Class Championship dinner was held at the Emmons home where the contract for the first original six H12s was signed in 1914.
In 1973, a fiberglass reproduction of the 12 ½ was introduced. The Doughdish, created by Bill Harding, was designed as an exact replica so that it would have the same sailing performance allowing it to compete with its original wooden ancestor in the class. The name Doughdish is a derivation of the Italian word for 12, dodici.
A Longstanding Legacy
As with many of the original wooden H12s and now even with their fiberglass descendants, many boats tend to stay in families through several generations. Former Beverly Yacht Club Commodore, Bill Saltonstall, recalls that his grandfather, Robert Saltonstall, was one of the original wooden 12 ½ owners in 1915 at the BYC where he raced his boat, Junco (HMCO #750, H8). Later, Bill's parents, Katharyn & William G. Saltonstall, purchased Vireo (HMCO #869 H4). "My mother and father kept racing Vireo for many years and the local H12 fleet grew to more than 50 boats," says Bill. "We raced in the inner harbor with so many 12s that we sometimes were split into two divisions. My family eventually sold the original wooden Vireo and purchased one of the early fiberglass boats (Vireo H175) which we are still sailing today."
During their years in the fleet, both of Saltonstall's parents would win the class championship – his father in 1938 and his mother in 1981. Saltonstall's sister, Joey Dubois, the H Class president in 1986, raced regularly in the BYC ladies' fleet, winning the championship in 1978 and in 1991 aboard her boat, Fast Enough (H142), and was a fierce competitor for many years, until retiring from racing just a few years ago.
Saltonstall himself is a lifelong competitive sailor, but not always in an H12 where his racing career began. As a child, he participated in the club's Midget races for skippers 12 and under and then moved up to the 110, the International Tempest, the Laser, the Shields, the J/22, and the J/30 before rejoining BYC's H12 fleet where he'd raced as a young boy. So, what brought him back? "I moved back to the 12 because it was such a strong class, I had so many good memories of the boat, and I knew that I could maintain her myself."
H Class Racing Today
Today, "the gaff-rigged sloops of wooden construction (built by the Herreshoff Mfg. Co., the Quincy Adams Yacht Yard, and Cape Cod Shipbuilding), all built to the designs and specifications of the Herreshoff Mfg. Co., and the fiberglass version of the 12 ½, known by the trademark "Doughdish," (first built by Edey & Duff and presently built by Doughdish, Inc., and Doughdish, LLC), are eligible for membership in the H Class Association," notes the H Class website.
Some boats use tanbark sails, others white, and all spars are still constructed of wood. A few modern conveniences including aluminum spinnaker poles, spinnaker blocks, and digital compasses are now permitted. "The spirit of the H Class Association, based on Nathanael Herreshoff's 1914 design, and launched in a fiberglass version in 1973, is to produce a boat equally suitable for learning to sail, daysailing, and competitive racing by people of all ages and abilities." That effort continues today with over 200 members and an active board working to promote fleet building and maintaining the special characteristics of the boat. Presently, the Class is focused on building its next generation of sailors to carry on this century-old tradition.
Current H Class Association Clubs, the Beverly Yacht Club, the Buzzards Yacht Club, the Edgartown Yacht Club, the Quissett Yacht Club, and the Shelter Island Yacht Club, all have active racing programs to further support the Class. Additional fleets sail in the mid-Atlantic region and individual boats are sailed around the country, and even around the world.
Since 1925, the Beverly Yacht Club has hosted a Thursday afternoon ladies' racing series that's still going strong today. BYC also holds H12 racing on Tuesday evenings and Sunday afternoons, and runs special races including a moonlight race and a single-handed championship. Other clubs have similar racing schedules and all promote activities like rules seminars, rigging training, and discussions about racing tactics, along with fleet gatherings and fun races, to keep their members engaged throughout the season.
They may not be the fastest boats racing today, but these nimble little keelboats have a quiet presence and subtle speed all their own as they move through the water. Camaraderie and great competition are what keep many H Class sailors involved, plus for some, figuring out the boat's quirks is part of the allure. "I do love to race small boats with enthusiastic crews," says Bill Saltonstall. "The gang that sails at Beverly is fun to be with and I am more than challenged to get the most speed I can find in this pretty, old-fashioned boat with such a long tradition on Buzzards Bay."
To learn more, visit www.herreshoff12.org and follow the H Class on Instagram at @herreshoff12.
Current H Class Association Fleets
Beverly Yacht Club – Marion, MA
Buzzards Yacht Club – Pocasset, MA
Edgartown Yacht Club – Edgartown, MA
Quissett Yacht Club – Quissett, MA
Shelter Island Yacht Club – Shelter Island, NY
Sources
H Class Association: herreshoff12.org
Herreshoff Marine Museum: herreshoff.org
Herreshoff Registry: herreshoffregistry.org
Captain Nat Herreshoff: The Wizard of Bristol, by L. Francis Herreshoff, Sheridan House, 1953
Guide to The Haffenreffer-Herreshoff Collection – The Design Records of the Herreshoff Manufacturing Company, Bristol, Rhode Island, USA, from The Francis Russell Hart Nautical Collections, Massachusetts Institute of Technology Museum
Racing Herreshoff Twelves – Southcoast Almanac article by Deborah Bennett Elfers, 2016
The Herreshoff 12 ½ Footer: Evolution Of The Class, Classic Yacht Symposium paper by Steve Nagy, 2014
The H Class Championship
Jay Fisher, Commodore of the Buzzards Yacht Club and current H Class Treasurer, has raced H12s since 1965 at the Buzzards Yacht Club with his father and brothers on Privateer (wooden hull #1400, H28) and more recently since 2005 on Escape (H16). "The H Class Championship is a great opportunity to race competitively at other yacht clubs with terrific people who share a love of the Class and who have become lasting friends," says Jay.
First raced in 1928, The Herreshoff 12 ½ Championship was originally hosted by Beverly Yacht Club as a single long race for the Mary Cummings Cup. Since 1973, the H Class Championship has been held annually on a rotational basis by one of the five original affiliated yacht clubs. The annual championship is a longstanding tradition that class members proudly uphold, with the event typically drawing over 30 boats No championships were held from 1941 – '45, in 1963, and most recently, in 2020.
Junior race on the Friday of the event and senior racing takes place on Saturday and Sunday. A junior trophy is awarded to a qualifying Junior under the age of 19 years who skippers in all the annual H Class Championship races conducted with the lowest total point score of all other juniors in the event. They may have a crew member of any age, but no one over the age of 19 may touch the tiller after the preparatory signal of each race.
The Senior Championship award, the William G. Harding Championship Trophy, is named in memory of Bill Harding, who was prominent in the preservation of the Class. The trophy features a half-hull model built by Bill. Also for senior competitors, the club with the highest combined score receives the Quissett Trophy. This trophy, first presented in 1992, is a team trophy awarded annually to a yacht club or recognized fleet represented by no less than three members sailing in the annual H Class Championship. At the conclusion of the Championship, each club shall have the scores of its best-finishing three members totaled as a team.
Finally, skippers over the age of 65 are eligible for The Savvy Sailor Award. This trophy, first presented in 2006, is awarded to the best-scoring skipper, age 65 or over (as of the start of the Championship) in the H Class Championship, providing there are two or more qualifying skippers. The skipper's crew may be of any age, but no one under the age of 65 may touch the tiller after the preparatory signal for a race. The 2021 Championship will take place at Beverly YC July 30 – August 1. ■
Current H Class President, Tracy McNeil, began racing at the Beverly Yacht Club as crew in the club's J/22 fleet. She and her husband regularly race their boat, Clementine (H178). Maritime photographer, Anne T. Converse, learned to sail with her aunts on her grandfather's 12½, Vera (HMCO #1382 H124), and is a seasoned H12 racer at the Beverly Yacht Club aboard her boat, Dodici (H470). Both women serve on BYC's race committee as co-fleet captains for the club's H12 fleet. ■