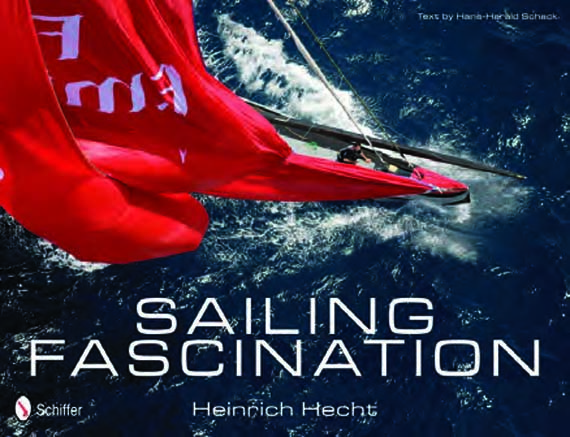 Photographs by Heinrich Hecht
Text by Hans-Harald Schack
Published by Schiffer Publishing, Ltd.
264 pages hardcover $50
A professional photographer since the 1980s, Heinrich Hecht has photographed the America's Cup, the Admirals Cup, Olympic regattas and classic yachting events around the world. Sailing Fascination is a collection of more than 300 of his finest images, organized into chapters that portray the highlights of the sport: the sail, speed, classic beauty, dinghies and keelboats, the crew, regattas, sailors, the wind, waves, and light.
Many of these stunning images were made with a 17 x 6 centimeter wide-angle camera that Hecht uses when he's shooting from a helicopter. While the emphasis is on elite-level racing and racers (particularly European events and classes like the Dragon), daysailers, cruisers and classics are also well represented.
In contrast to the panoramic images are tightly cropped shots that capture the determination of crews focused on winning. We particularly like the chapter entitled "Sailor: The Human Factor," which includes photos of such sailing luminaries as Peter Blake, Russell Coutts, Paul Cayard, Dennis Conner, Bouwe Bekking, Hasso Plattner and our friend Ralf Steitz, the first German to sail in the America's Cup.
In addition to sailing, Heinrich Hecht specializes in architectural, industrial and automotive photography. His clients include Audi, BMW, Daimler Chrysler AG and Volkswagen. A resident of Apelern, Germany, he has sailed and maintained his mahogany planked H-dinghy (which he lovingly calls "my Stradivarius") for 25 years. Hans-Harald Schack is a journalist and author who has reported on sailing since the 1980s. He works in Berlin and sails on the Baltic Sea.
Sailing Fascination is a fine addition to any sailing library, and would make a particularly excellent gift for a young sailor or photographer. It's available from Amazon.com, although you are advised to try your local bookstore first.