New England Science & Sailing (NESS), a US Sailing-certified community sailing center in Stonington, CT that also teaches marine science and adventure water sports to students from age 4 to adult, is fortunate to have Mistral Dodson and Michael Smith on staff. Mistral and Mike have strong backgrounds in outdoor education and have been with NESS since its inception in 2008. She is the Marine Science and Adventure Sports Program Director and he's a Marine Science Program Director.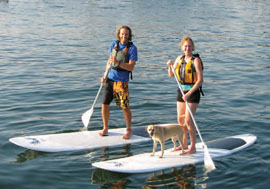 "I grew up on a boat," says Mistral, a native of Canada. "My dad, Derick Dodson, built a boat the year before I was born. When I was eight, we cruised all the way from Maine to the Caribbean. I lived aboard for two years and was home schooled by my parents. Then we sold our boat and moved to Australia."
Mistral, who has a degree in Marine Science & Conservation from Murdoch University in Western Australia, cites acclaimed oceanographer Sylvia Earle as a major influence on her career path. "I went to many of her talks at conferences," she says. "She blew my mind a little bit! David Suzuki [an author, broadcaster and environmental activist] is another of my mentors."
Mike earned a Marine Science degree at the University of Rhode Island, where he was a varsity swimmer. "One of my most influential professors was Dr. Brad Wetherbee," he says. "I worked with him tagging sharks. After graduation, I was a teacher at The Phoenix School in Salem, MA, and two of my mentors were Betsye Sargent and Barbara McFall, who started the school. It's an absolutely amazing school, and so much of what I learned there has helped me in my career."
"I started sailing in California on the tall ship American Pride when I was 26." Mike continues. "I was a sailing instructor on Catalina Island in 2007, and then I worked on another tall ship, the Tole Mour. Mistral and I worked for the Catalina Island Marine Institute, and that's where we met. A lot of our work experience is in teaching kids outdoors – snorkeling, marine science, kayaking and sailing. We decided to apply at NESS, and were really excited about the opportunity."
Mistral and Mike, who live in Westerly, RI, are Red Cross Lifeguard Instructors and enthusiastic surfers. She is also a US Sailing Level 2 Coach and a PADI Divemaster, and he's a NAUI rescue diver, a USCG Master 100 gross ton Captain, a swim and water polo coach at the Mystic YMCA, and a Director at Common Tides, a non-profit organization that provides free marine science education to kids in undeveloped countries. "Wanting to be outdoors and active all the time makes us a good fit for each other," Mistral explains. "We work well together, and we can team-teach. We're both very passionate about being on the water and in the water, and sharing those experiences with kids and seeing how those experiences can change their lives and how they grow as a person."
Founded as a non-profit branch of the Stonington Harbor Yacht Club, NESS was originally called the SHYC Sailing Foundation. "When we started the marine science program we were teaching with a bucket under a tent at the yacht club," Mistral explains. "We changed our name this year to encompass our science and adventure sports programs. We have a very supportive group of people who have helped the program grow, and high quality sailing instructors and marine science educators. In the summer we have teachers who come from all parts of America." Contrary to popular belief, Mistral is unrelated to anyone at Dodson Boatyard, just up the harbor from NESS. "There's a story that one of the Dodson boys escaped to Australia a hundred years ago," she laughs, "so a lot of people believe I'm a long-lost grandchild!"
"Our students are out on the water for sailing classes in the morning, and then they come in for a supervised lunch," says Mistral. "Then it's time for marine biology, so they'll hop in a powerboat and go out to Fishers Island for snorkeling through eelgrass. Our adventure sports include surfing, stand-up paddleboarding and fishing…a group of boys with Mike caught 15 fish this morning! We also have after-school surf classes, and we're hosting the First Annual 'Catch a Curl' Surf Competition on September 22 at Misquamicut State Beach."
Supporters of the Catch a Curl Surf Competition include the Narragansett Surf & Skate Shop, Peter Pan Surfing Academy, the Eastern Surfing Association, Paddle Surf Rhode Island, and the Connecticut Chapter of the Surfrider Foundation. "In addition to advanced surfers that we call 'little rippers,' we hope to attract a lot of beginners who are just starting to develop their skills and passion for surfing," says Mike.
"We were married March 31 in New Zealand, although we had been on a three-month 'honeymoon' prior to that." says Mike. "We visited the east and west coasts of Australia, and Mistral showed me around where she had grown up. We flew to Bali, and then Tasmania to see her parents. We sailed an Adams 40 named Avenger from Tasmania to New Zealand. It took eight and a half days and it was quite the journey…our first experience offshore together. We sailed around New Zealand, and into the Marlborough Sounds where we were married. It was perfect!"
"We recently found a pregnant male seahorse along with his partner," says Mistral. "We brought them back to our aquarium, and he gave birth to about 80 babies! Sharing such wonderful experiences with the kids at NESS is really awesome."